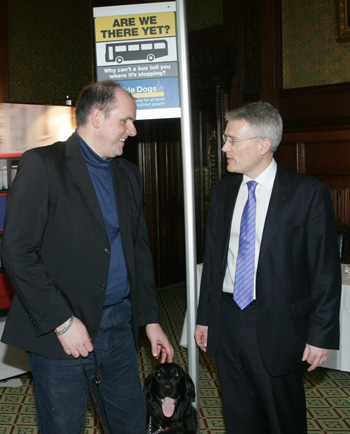 Local MP Andrew Jones pledged his support for a campaign to make bus travel easier and safer for blind and partially sighted passengers, and other sensory impaired people, at an event in Westminster organised by Guide Dogs.
Mr Jones signed up to support Guide Dogs' Talking Buses campaign to get audible and visual (AV) information systems – which clearly tell passengers the next stop and final destination – installed on new buses in Harrogate and Knaresborough, and across Britain. The system is already a requirement for UK trains and trams, so Guide Dogs are encouraging local Councils and bus operators to roll out this system to their existing vehicles.
Mr Jones said: "Using buses independently can be daunting for disabled and elderly people who fear being stranded at the wrong bus stop. Without clear audible and visual signposting on buses, many vulnerable users are left feeling anxious and so don't use the bus as often as they would like.
"Trains and trams already use an audible and visual information system so it makes sense to roll this scheme out to buses. This would improve the quality and access of the bus service for local people who would be more inclined to use the service as a result."
In a YouGov survey, 66 per cent of respondents said they thought it would make bus travel easier if there were on-board announcements about where the bus is going and what stop is coming up.
Sue Sharp, Guide Dogs' Head of Public Policy and Campaigns, says: "A lack of information undermines the confidence and independence of vulnerable people who rely on buses to get around. Blind and partially sighted people, for example, cannot see where they are, and others including wheelchair users who face backwards on vehicles may not easily be able to identify their stop. These people risk ending up at the wrong stop.
"As well as disabled people, Talking Buses would improve travel for all passengers – including visitors to an area – hopefully encouraging more to leave their cars at home."
Guide Dogs' Talking Buses campaign has the support of 35 national disability organisations including Mencap, RNID, Campaign for Better Transport and Leonard Cheshire Disability. People can find out more about Guide Dogs' Talking Buses campaign, and lend their own voices, by visiting www.guidedogs.org.uk/talkingbuses.