The search is on for young people who are making a difference in the region with the launch of the 2014 Yorkshire Young Achievers Awards, sponsored by McCormicks Solicitors of Harrogate.
The Awards recognise outstanding young people in the region aged under 35 who have made an impact, whether nationally, regionally or locally. To nominate a potential winner, just visit the Awards website at www.yorkshireyoungachievers.co.uk or contact Sonia Jones at McCormicks Solicitors on 01423 530630.
Last year the Awards celebrated their 21st birthday with the news that they had raised more than £1 million for young people in Yorkshire.
Awards Chairman Peter McCormick OBE said: The reason for the Awards is twofold: we recognise and reward the achievements and efforts of young people who are making their mark in some way but at the same time we also raise funds to help other young people in Yorkshire to achieve their own successes, whether that is through improving their lives or helping them to attain an ambition.

We have had some terrific winners of the Awards in the past. I am confident there are many young people who deserve recognition this year and we want to hear about them! It doesn't matter whether they are world famous or are known only within their own community. What is important is that they have had an impact because of their talent, fortitude or determination to achieve a better life.
A previous winner and a grant recipient were on hand to launch the 2014 Awards. Emmerdale star Kelvin Fletcher won the Achievement in the Arts Award in 2001 and has been a long-term supporter, usually presenting the Youngster of the Year Award at the event.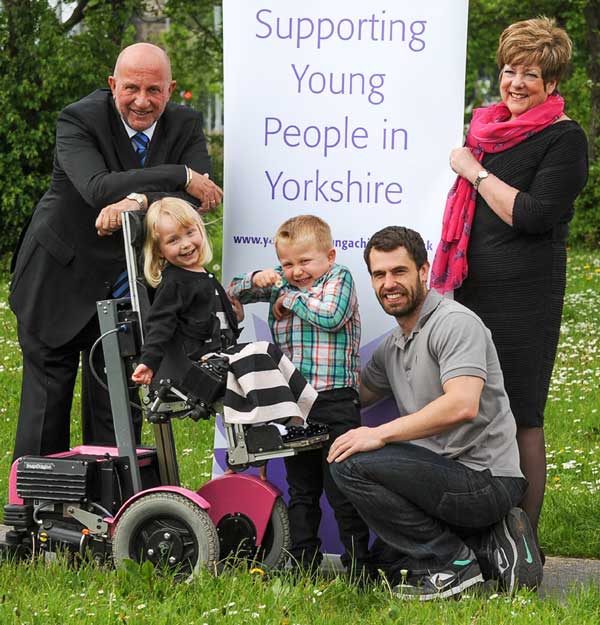 Ellie Renton, aged three, has received a grant towards a new power wheelchair to help her to keep up with her friends. Ellie, who lives in Kirkby Malzeard, has Spinal Muscular Atrophy and is unable to stand or walk.
The closing date for entries is Friday 19 September. The winners will be announced at the Yorkshire Young Achievers Awards dinner on Thursday 20 November at the Leeds United Conference and Exhibition Centre. Tickets for the dinner are also now on sale and are available through the website.
A host of Yorkshire stars have taken Awards over the years, such as Olympic gold medallists Jessica Ennis-Hill and Alistair Brownlee, Girls Aloud star Kimberley Walsh, top Leeds band the Kaiser Chiefs, singer John Newman, Leeds Rhinos captain Kevin Sinfield, and England cricketers Joe Root, Michael Vaughan and Tim Bresnan.
The Awards are sponsored by McCormicks Solicitors of Harrogate. There are seven categories as follows:
Personality of the Year (sponsored by Rudding Park)
Youngster of the Year (DFS)
Unsung Hero (Lunchbox Theatrical Productions Ltd)
Achievement in the Arts (Yorkshire Evening Post)
Achievement in Education (Positive Tax Solutions LLP)
Achievement in Management and Enterprise (The Wetherby Whaler Group)
Achievement in Sport (Leeds United Football Club)
Main facts about the awards:
The Yorkshire Young Achievers Awards were founded in 1993 to celebrate the achievement of Yorkshire's young people, along with raising money for Yorkshire's children's charities.
Due to the success of the Awards, the Yorkshire Young Achievers Foundation was founded in 2010 to further support charitable projects for young people in the Yorkshire region.
The Foundation's Trustees are: Peter McCormick OBE (Chairman), Ashley Barnard, Nicola Corp, Sonia Jones, Charlotte McCormick, Ron Miller, Richard Stroud (Vice Chairman), Christine Talbot, Zoe Ward and Duncan Wood.
The Foundation is registered in England, Charity No: 1135221. then we would love to hear from you.
McCormicks Solicitors offers a full range of legal services from its Harrogate base and among its clients are the Premier League, DFS Furniture and Yorkshire County Cricket Club.