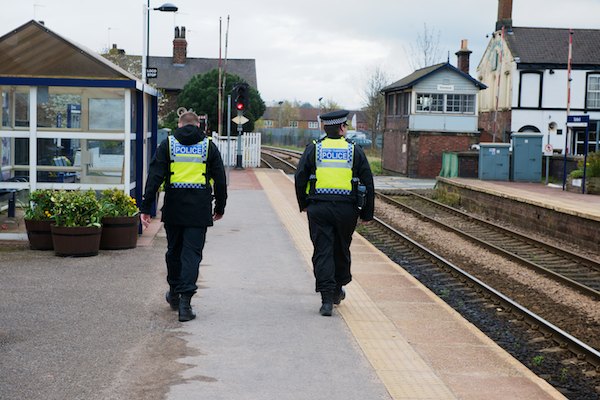 Train driver Mick Ward, 42, from Harrogate, has spoken of his delight at York Crown Court's decision to quash a conviction handed down in 2012.
He was joined at Court on the 12 April 2013 by more than 30 of his colleagues, co-workers and fellow ASLEF members in what has been described as an 'unprecedented' show of support for the veteran railway worker's fight to clear his name.
Last Friday, York Crown Court heard how a series of failings and miscommunication between the British Transport Police and the Crown Prosecution Service (CPS) ultimately led to Mr Ward being wrongly convicted of common assault on 5 December 2012 by Harrogate Magistrates Court. He has been suspended from work since being issued with a summons in July 2012.
It was originally alleged that Mr Ward had taken a young passenger by the throat and pushed him against a wall at Knaresborough Railway Station on 11 April 2012 – charges he vehemently denied. Last week, with the support of rail union ASLEF and Thompsons Solicitors he was cleared of all charges.
Serious shortcomings in communication between the British Transport Police and the CPS meant the magistrates were not told that the young passenger (who as a minor cannot be named for legal reasons) had already been issued with a Youth Reprimand order following unruly behaviour at Harrogate Train Station, en route to Knaresborough, on the day the alleged assault took place.
Instead, during his appearance at Harrogate Magistrates Court, he denied behaving in a disruptive manner at Harrogate Railway Station or on the train to Knaresborough.
Mr Ward strongly contested this and explained how, after being verbally abused by the passenger, he used reasonable force to move him away from the train for his own safety. His testimony was supported by three railway workers who said they had trouble with a group of teenagers behaving 'appallingly' around the train Mr Ward was driving, but the magistrate sided with the youths and convicted Mr Ward.
Speaking at the Court after his conviction was overruled, Mr Ward said:

This has put a great deal of strain on me and my family, both emotionally and financially due to my suspension, but I was determined to set the record straight.

I am disgusted that the British Transport Police stood by and let my reputation be dragged through the mud. I've worked for Northern Rail for over 11 years and not once has my professional conduct been questioned.

Frankly, without the support of ASLEF I would not have been able to get this result and I am extremely grateful to them, my solicitors and my colleagues for standing shoulder to shoulder with me throughout.
Craig Hunn, of Thompsons Solicitors said:

In my opinion, the failure of British Transport Police to make clear that they had formally reprimanded Mick's accuser for his behaviour that day played a crucial role in his original conviction.

I think the unprecedented level of support that Mick has been shown by his co-workers shows just how badly the British Transport Police dealt with this case.
[sam id="4″ codes="true"]
ASLEF's general secretary, Mick Whelan, said:

Mick's story is one of a hard working man with an unblemished record, who was accused and convicted of something he didn't do, and who wouldn't qualify for legal aid in the Magistrates Court. Luckily, he turned to ASLEF and we were able to appoint a solicitor to fight his corner, but those who aren't members of a union might not have been so lucky.

While we're pleased with the Court's decision, we urge the British Transport Police and the CPS to learn from their mistakes and take urgent measures to work closer in the future to ensure the rights and reputations of Britain's railway workers are not threatened in this way again.
A British Transport Police (BTP) spokesman said:

The Force is aware of the conviction of Mr Ward being overruled by York Crown Court at a recent hearing.

As a matter of urgency we will be reviewing the file which was compiled for the Crown Prosecution Service in relation to this case.