"Priscilla Queen of the Desert" at Harrogate Theatre, presented by Harrogate St Andrews Players, proved to be a delightful surprise that reinvigorated a familiar classic. Having been underwhelmed by a previous professional production in 2013, I approached this musical with hesitance, only to be pleasantly taken aback by the refreshing storyline and the sheer passion displayed by the cast and crew.
"Priscilla, Queen of the Desert" based on the 1994 Oscar-winning film "The Adventures of Priscilla, Queen of the Desert" follows the journey of two drag queens and a trans woman who embark on a trip to Alice Springs in the Australian desert to perform a drag show of Kylie classics. Along the way, they encounter a series of comedic mishaps, strange characters, and incidents of homophobia, ultimately leading to personal growth and newfound horizons.
Under the direction of Louise Dennison and with musical direction by Jim Lunt, HSAP truly struck gold with their principal cast. Ben Walton's portrayal of Tick was a wonderful performance, as he masterfully balanced vulnerability and strength. His interpretation breathed life into Tick's personal struggles, adding depth to the character and making him remarkably relatable and endearing.
Clive Kirkham, in the role of Bernadette, emerged as a scene-stealer. His impeccable comedic timing, witty one- liners, and poised demeanour had me in stitches throughout the evening. Kirkham commanded the stage with charm and charisma.
In the role of Adam/Felicia, Luke Wilby brought a touch of Lola from "Kinky Boots" to the character, infusing the trio with a contagious enthusiasm and vibrant charm. His performance of "Go West" was a dynamic and electrifying.
The Divas, played by Kirsty O'Sullivan, Charlotte McCamley, and Nicole Connor, showcased powerhouse vocals and elegance, bringing vitality to their roles.
The ensemble, with its triple threats and numerous cameo parts, offered something for everyone. Standout performances included Dan Stanford as Bob, Susannah Todd as Marian, and Jack Moran as Miss Understanding.
One of the production's undeniable strengths was its live band, which added a dynamic and authentic feel to the iconic songs from the '70s, '80s, and '90s. These tunes not only fit the era perfectly but were also incredibly catchy, transporting the audience back in time and encouraging them to sing along.
The costumes were nothing short of spectacular, ranging from giant paintbrushes to candle-topped cupcakes, adding a fresh, "crazy" dimension to musical theatre. The bus, "Priscilla" herself, though moved by the stage crew instead of an automation system, was a wonderful addition to the production.
Like any live performance, there were minor hiccups, including occasional pacing issues and technical glitches. However, the cast's professionalism and their evident joy on stage more than compensated for these imperfections.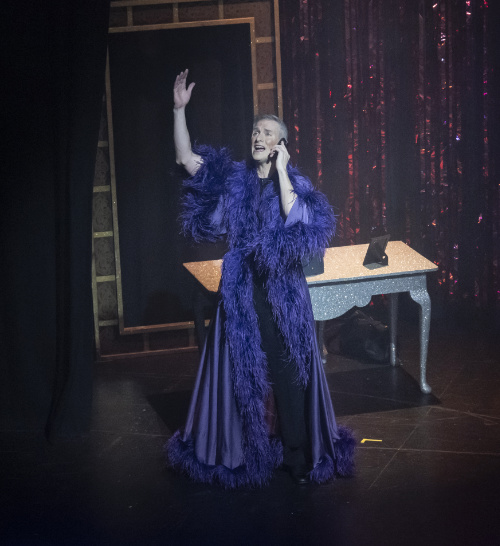 In conclusion, Harrogate St Andrews Players' production of 'Priscilla Queen of the Desert' was a pleasant surprise. Not only did it infuse the musical with a more engaging storyline, but it also showcased the talents of a dedicated and passionate cast and crew. The live band, catchy era-appropriate songs, and the trio's excellent comedic timing all contributed to a memorable and entertaining evening at Harrogate Theatre. Bravo to the entire team for delivering a vibrant and heartfelt production.
Stuart Hutchinson
Tickets available from the Harrogate Theatre Box Office