Deer Shed 12 is set for Baldersby Park near Topcliffe, 29 to 31 July 2022.
The headline music acts this year are Nadine Shah, John Grant and Django Django.
The comedy line-up is once again very strong with the likes of Stewart Lee, Rosie Jones and David Doherty.
The festival has a broad appeal for families with shows, science, literary, theatre, music and comedy.
But head over to https://deershedfestival.com/#lineup for the full line-up.
Many Deer Shedders will know Rory Hoy for his  Dj sets in previous years, and many around Harrogate and Knaresborough will know him for his live appearances or his studio work. The studio work has come to the attention of the BBC, Craig Charles, Fatboy Slim and Afrika Bambaata.
Some tickets are still available at https://deershedfestival.com/
We put some questions to Rory with Deer Shed one-week away.
How do you describe what you do ?
I would say I enjoy being eclectic on the decks and come up with a few surprises from time to time! I play everything from House, Big Beat, Breaks, Funk, Soul, Disco, a bit of Techno– in fact a real 'melting pot' of genres, with 'crowd pleasers' thrown in. I'm a very energetic DJ and like to engage with the crowd a lot.
How did you get into that area ?
When I was a young lad back in the late 1990s, I got into collecting vinyl, and around 1999, I got into dance music, thanks to the likes of Fatboy Slim, The Chemical Brothers, Daft Punk, Armand Van Helden etc.
Without being too modest, what makes you good at what you do ?
As I, said, I'm a very energetic DJ  and I think the audience can see how much I enjoy doing what I do. I think that feeds back into the crowds, so everyone is engaged in the moment and taken on a journey together.
What do you most like about Djing live ?
I like making people happy, and giving them a bit of escapism – tt really does make me feel good!
How long have you been doing Deer Shed, what do you most like about it ?
This will be my 7th year at Deer Shed Festival. For me, it's one of the highlights of the festival calendar, as I get to play to a huge and diverse array of people of all ages.
Over the years  I seem to have built up a good following and I know a lot of families travel a fair way to come and see me perform!
It's a really wonderful family-friendly festival, exceptionally well-organised and they really look after everyone so well.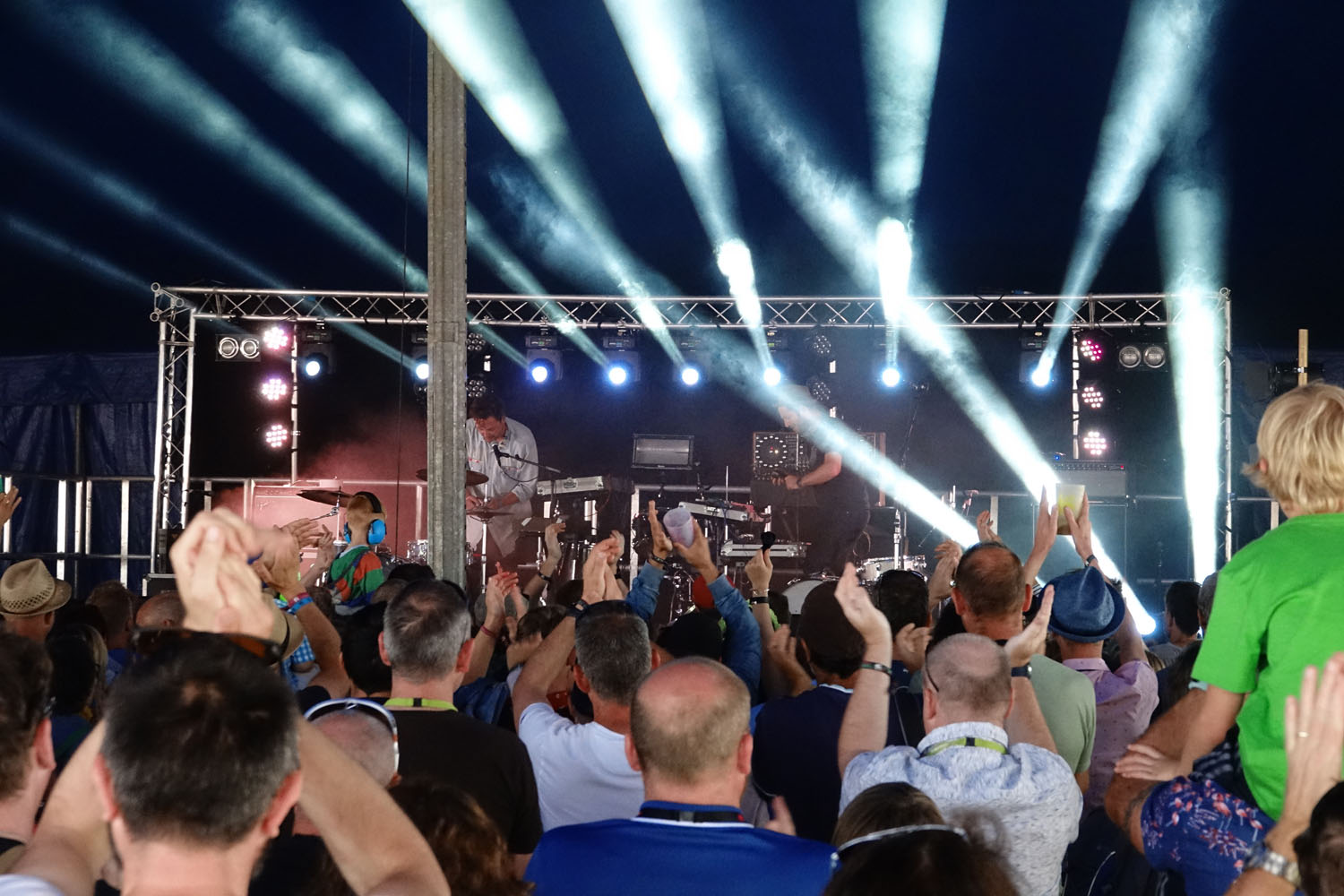 Where and when can people find you at Deer Shed ?
I will be performing at the 'In The Dock' stage on Friday, the 29th of July, at 9:45 pm for a couple of hours, doing a silent disco headphones set. I am so looking forward to doing this, and I hope everyone will sing along and dance and have a great time!
What's currently happening with your recorded releases ?
I've had an extremely busy and productive year on the music production side with releases in a huge variety of genres, including singles in the hip-hop and disco fields with some amazing vocalists.
I've had quite a lot of BBC airplay with these, which has been great! I've also had a chillout album out in the style of my first album "Cosmic Child" which is called "The Traveller's Journal" .
All my releases have featured in the Beatport and Juno Download charts, for which I'm very grateful. I am in the process of getting a techno EP released in October on quite a big label, so exciting times ahead!