In Praise of Snowdrops – Sponsored Item.
Moorcroft are set to release their new Snowdrop collection in the stunning surroundings of Goldsborough Hall and Gardens, near Harrogate.
21 and 22 February at Goldsborough Hall
See https://www.moorcroft.com/goldsborough-hall for tickets
It is a new collection which celebrates the elegant snowdrop – an essential part of a winter garden and one of the earliest flowers of the year, giving cheer to all who see it on even the darkest of days.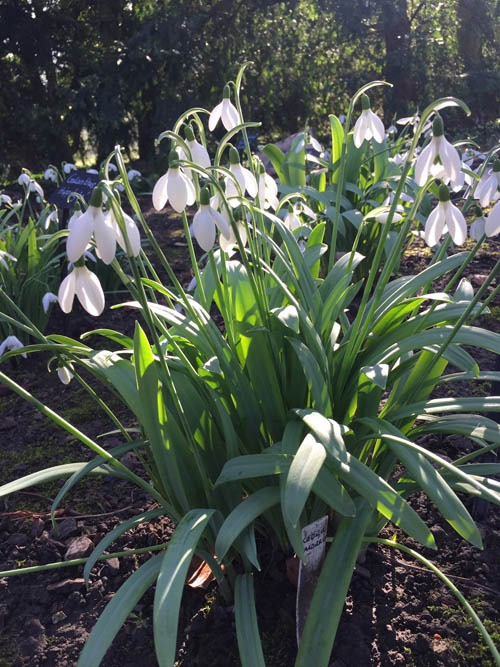 No one could fail to love the simple charm of this late winter beauty.
To botanist, John Gerard, writing in 1597, it was the 'Timely flowring Bulbus violet' while an older English name was 'candlemas bells', a nod to its early flowering habitat at Candlemas, six weeks after Christmas.
Wendy's Gold
Shape: CL1 (Height 16cm)
Senior Designer: Rachel Bishop BA (Hons)
Numbered Edition
One of the most popular yellow snowdrops, Galanthus plicatus or 'Wendy's Gold,' produces dainty, nodding white flowers with a brilliant lime-gold ovary which hangs from an arching, pale green pedicel. The inner petals are attractively adorned with a long yellow marking. Rachel places these superb flowers in a peaceful winter setting where snowflakes silently fall from the sky and settle amongst the silvery-green leaves of this perennial.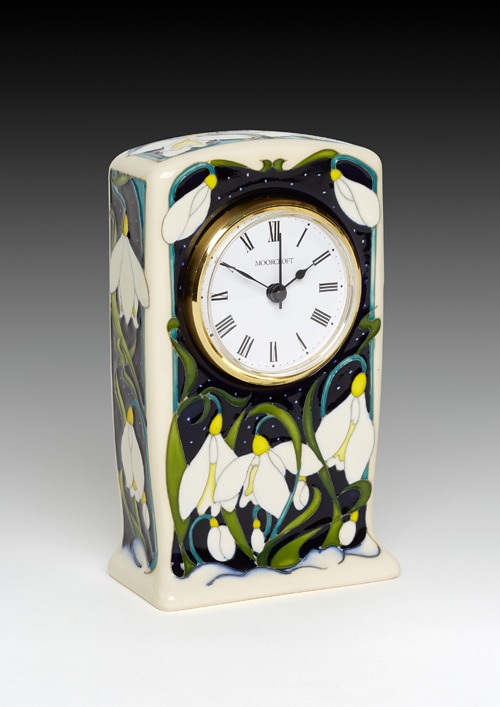 Shape: 84/12 (Height 30cm)
Designer: Vicky Lovatt
Limited Edition: 35
Found as a single clump in Blewbury churchyard in 1975 where it was an obvious oddity amongst other ordinary Galathus nivalis, this frilly, double snowdrop opens nearly flat and tends to look outwards revealing almost totally green inners. In a romantic profusion of apple green and pure white, Vicky summons this spectacular spring beauty in her design. Like classical tutus, the flowerheads burst to life from each miniscule waist. Vicky's backdrop of damson purple is where they take centre stage.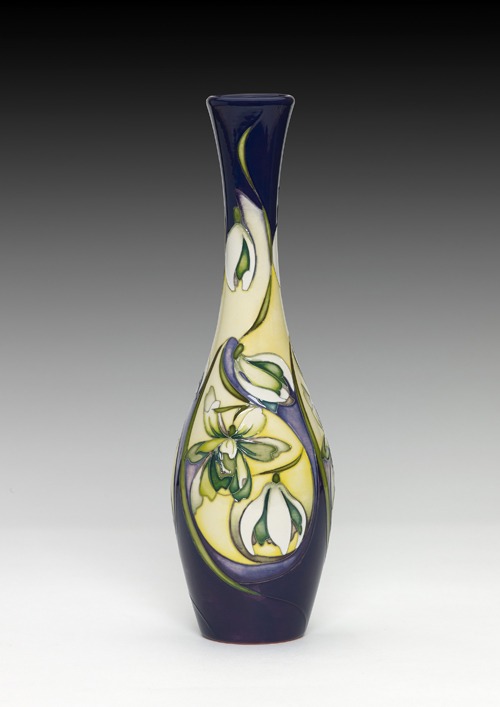 Mrs Thompson
Shape: 93/10 (Height 25cm)
Designer: Kerry Goodwin
Limited Edition: 25
There is an impatience about February, a time lapse of growth quickening its pace. Just skip a day outside and you will find entire clumps that simply were not there before. 'Mrs Thompson' is one such bulbous perennial which appears in little pockets along woodland paths in those late days of winter and early days of spring. With erect, grey-green leaves and variable, nodding, white flowers, this variety of snowdrop whispers tales of winter on Kerry's ombré backdrop of blue to ivory.
Interestingly, this attractive plant also happens to share its name with a very special Moorcroft stalwart of over thirty years standing. Those familiar with the Moorcroft Heritage Visitor Centre and its many nationwide events, will have at some point met Moorcroft's Kim Thompson. A keen collector herself, this design will inevitably make its way into Kim's collection. We have no doubt about that.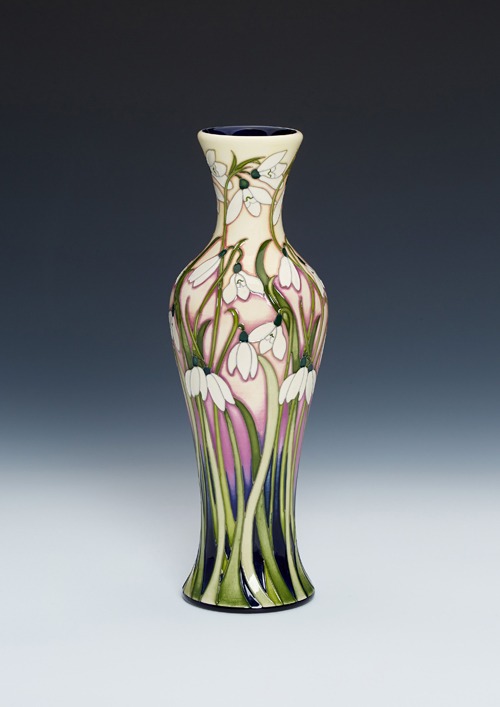 Primrose Warburg
Shape: 80/6 (Height 15cm)
Designer: Nicola Slaney
Numbered Edition
No garden should be without snowdrops: they are perfect companions for hellebores, cyclamen, heather or any winter-flowering shrub. The primrose, in particular, finds a friend in the snowdrop when they both emerge in the shade of deciduous trees or naturalised in grass. Subtly heralding a shift in the season, when hazy light lingers a little longer each day and previously-hardened ground becomes muddy in refreshing and much-needed rain, these two flowers bring the promise of warmth in the very near future. Temperatures are rising, and our gardens are readying themselves for the extravaganza to come. Golden sunshine and pristine white droplets mingle together on Nicola's deepest midnight backdrop.
Pendants
Shape: 32/2 (height 5cm)
Designer: Nicola Slaney
Open Edition
Whilst botanical accuracy is of utmost importance to a Moorcroft designer, so too is their quest for a captivating design. Often the result is exemplary and probably the reason why Moorcroft is so distinctive in its appearance. With a comfortable grasp on geometric designs and the distinctive form of the snowdrop, Nicola casts these pendants of snow into knots and whorls of linework. Heady hues of sapphire, jade and sage glisten on this diminutive vase.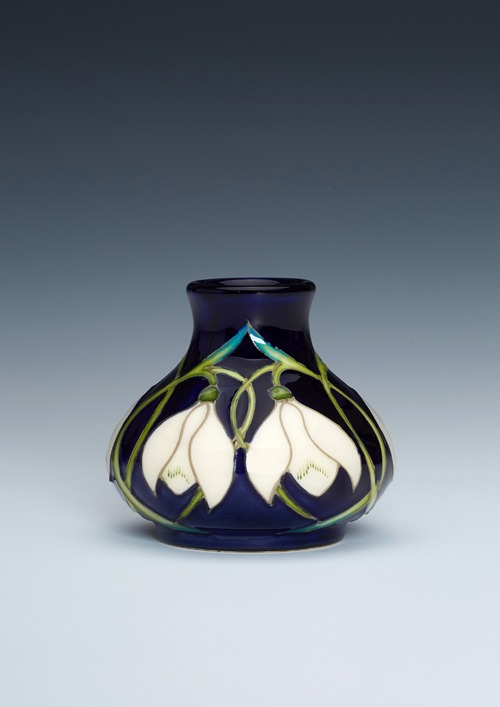 Diggory
Designer: Vicky Lovatt
Shape: 372/5
Numbered Edition
Diggory is a distinctive bowl-shaped snowdrop caused by the heavily textured outer segments turning under at the tips. As the flower matures, the shape intensifies; the claws lengthen allowing the green mark to be seen, even when the flower is not open. The swathes of cascading white flowers in Vicky's design are a sight to behold, wonderfully transferred into the world of Moorcroft on this charming vase. A midnight sky, scattered with delicate flecks of snow, conjures the atmosphere of a wintery snowstorm. Yet the designer's snowstorm is not only confined to the sky. Beneath the whirlwind of flakes, milky-white snowdrops also dance and flutter in the depths of the wild night.
Goldsborough
Designer: Kerry Goodwin
Shape: JU7
Numbered edition
Galanthus Augustus is a robust and vigorous selection of snowdrop, named and distributed by the famous plantswoman Amy Doncaster. She named it in honour of the famous Edward Augustus Bowles; a British horticulturalist, plantsman and garden writer. It is very easily recognised with its broad, bright leaves and its puckered chubby flowers, which Kerry has captured in her design so well. This attractive spring vision has been created in honour of Moorcroft's event at Goldsborough Hall, and takes its name accordingly.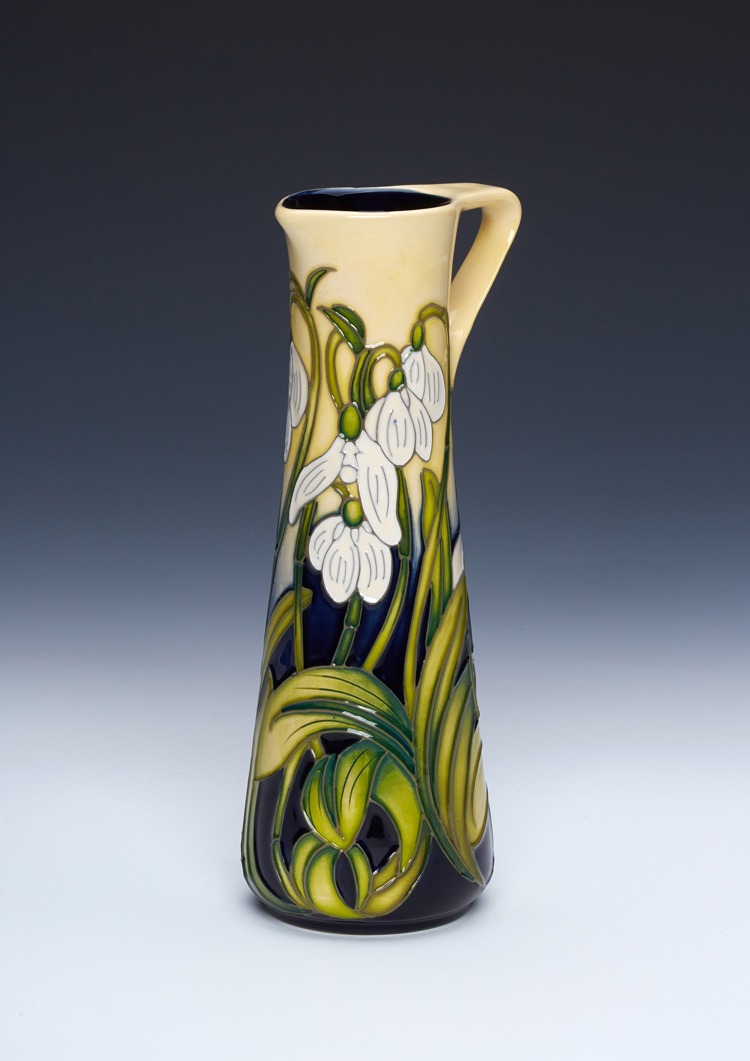 Golden Fleece
Exclusive to Moorcroft Club Gold Members
Designer: Emma Bossons FRSA
Shape: 93/8
Numbered edition
The most expensive yellow snowdrop sold online was aptly named 'Golden Fleece'. A buyer paid £1,390 for one bulb in 2015. However, it took 10 years to breed and another eight to bulk up before bulbs were available for sale. This hybrid was bred by Joe Sharman of Monksilver Nursery. Pollen was taken from the yellow 'Wendy's Gold' and put on to 'Trym', a pixie-hatted green snowdrop. He used his finger, which is more effective than using a brush when small amounts of pollen are involved. The first pod contained only two seeds, both of which resembled Trym. 'I selected the strongest one as a starting point and re-crossed it with another yellow, and from the second generation I got seven or eight seedlings. There were normal greens, normal yellows and halfers with greenish­yellow markings, green Tryms – and one yellow Trym. I was ecstatic' said Sharman. 'Then I had to wait for my yellow Trym to increase. By the third year I had six bulbs and then started twin scaling, chopping the bulb into small pieces.' Emma's design is a simple yet effective tribute to this 'pixie-hatted' snowdrop which flares out at the bottom of each flowerhead, making a lovely bell shape. Her backdrop is coloured in a delicate wash of cobalt blue, reminiscent of a winter evening sky.
See https://www.moorcroft.com/goldsborough-hall for tickets
For further information or to book tickets by telephone, please call 01782 820510.