A campaign called 'Crime Not to Care' has been launched today by Harrogate Borough Council and it is aiming to reduce a growing problem of fly tipping in the Harrogate District
The campaign is about educating residents about the need to check the credentials of anyone they pay to remove waste.
This morning (5 June 2018) the Council dumped some waste, that had been illegally dumped only yesterday, in the town centre and manned an information display for the public.
It is a problem that is increasing and in the last 12 months alone, there were 630 incidents of fly tipping across the Harrogate district which cost more than £40,000 to clear up.
As well as household items such as mattresses and furniture, council staff are having to deal with an increase in white goods.  Rubble, bricks and items relating to building or renovation works also continue to be dumped illegally.
The crime not to care campaign is being run jointly with Keep Britain Tidy and is designed to help educate residents about how they can protect themselves from prosecution.
The easiest way is to ask to see the waste carriers licence of the person hired to take away rubbish.  If they can't produce one, they should not be employed.
Householders are also advised to insist on being given a receipt which includes information about where the waste will be taken and how it will be disposed of.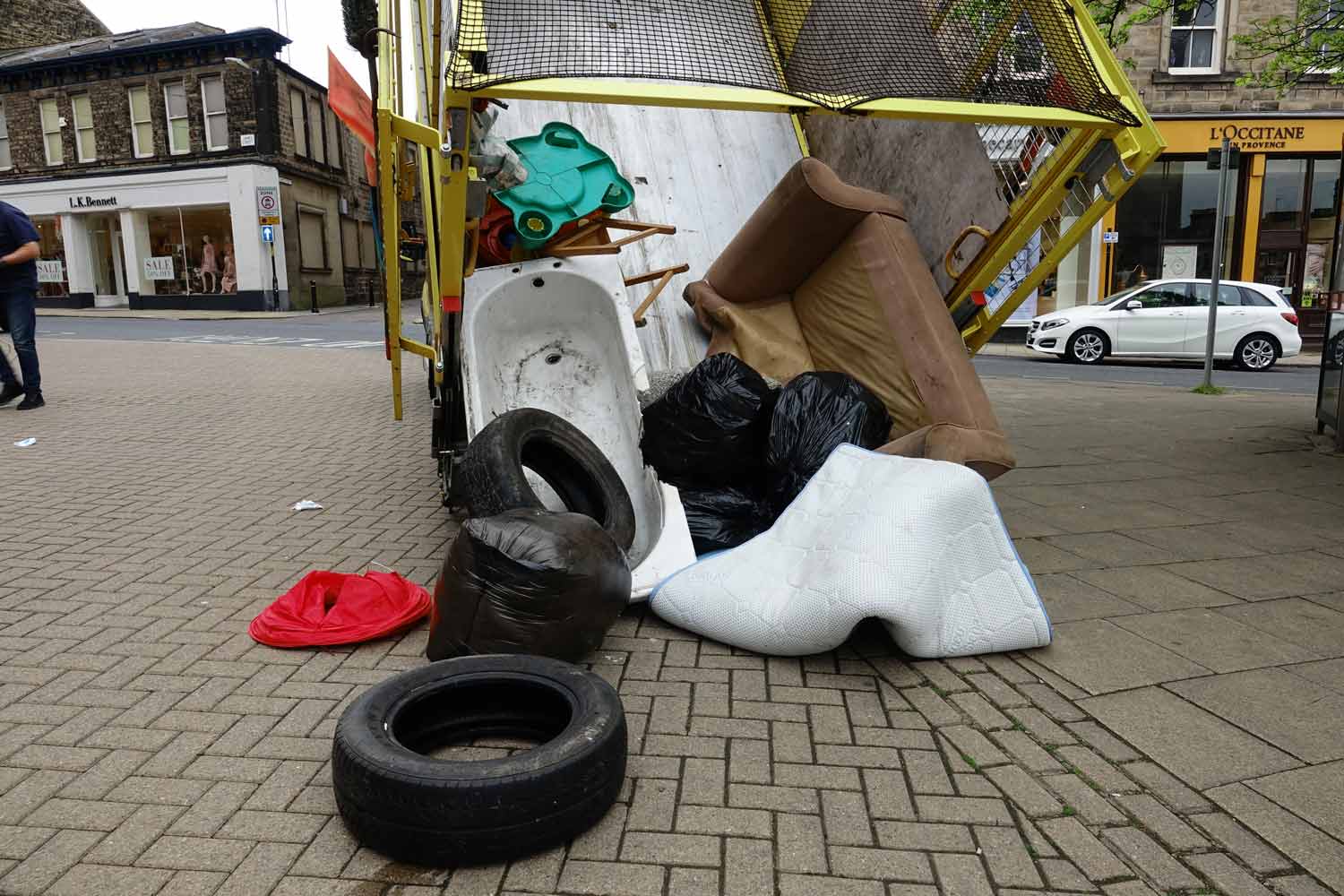 Earlier this year, a serial fly-tipper from Harrogate was successfully prosecuted for illegally dumping rubbish across the district – the man's van was seized and crushed.
A householder who hired the man was also fined.
Councillor Andy Paraskos, cabinet member with responsibility for the environment, said:

Giving your rubbish to a 'man with a van' who offers to take it away for a few pounds could cost you much more if you end up with a criminal record.

We all have a duty of care to tackle the scourge of fly-tipping and should understand our responsibilities.

It's essential to check that the person you've hired has a waste carriers licence, request a receipt and ask where it will be taken.

Illegally dumped rubbish is a real problem in Harrogate district with the £40,000 annual clear-up costs being unfairly paid for by council tax payers.
Jill Reeves, Environmental Protection Manager at Harrogate Borough Council, said:

We have looked as a council in how we are dealing with the problem of fly tipping as an environmental crime.

People to be aware of the duty of care that they have in disposing of waste and we need to stop the casual, man with van type operation that is responsible for a lot of what is going on.