Rudding Park Golf Academy in Harrogate joined forces with 'Golf in Society' to hold a fundraising Putt for Parkinson's event on World Parkinson's Day, Wednesday 11 April 2018.
Over 100 people joined this fun event at Rudding Park Golf Academy to help fundraise through golf competitions including a Texas Scramble on the on the 6 Hole Repton Short Course, a nearest the pin putting competition and chipping competition on the Academy practice holes. The overall winner team was 'Team Davies'
As Golf in Society were celebrating their second birthday it was important to mark the occasion with a birthday cake, but why have one when you can organise a cake competition. Over twenty cakes were submitted in the golf themed cake baking competition and the winner was Sylvia Allinson.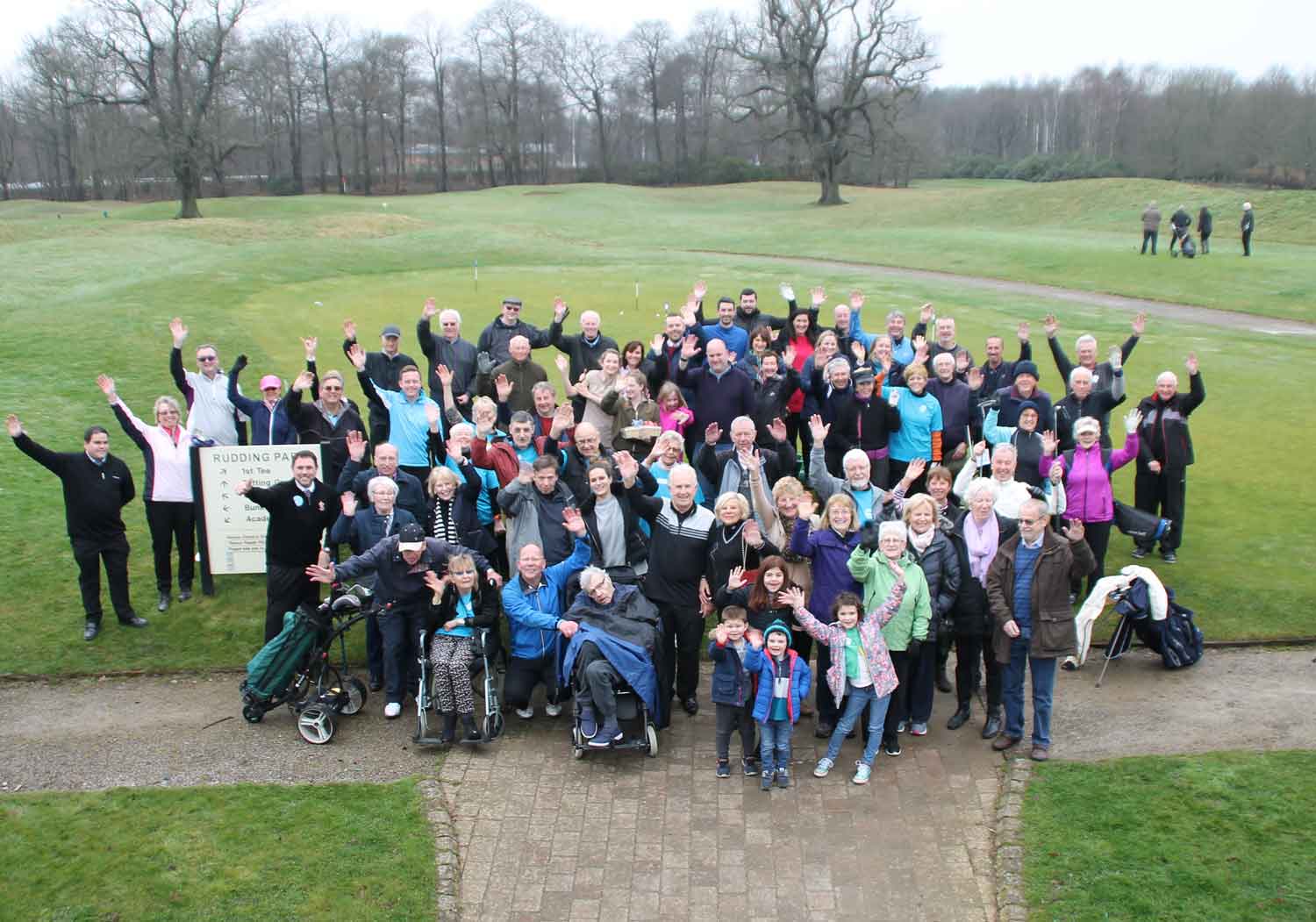 It wasn't just about the golf, as therapists from Rudding Park Spa were on hand to offer Indian Head Massages. The benefits of massage have long been recognised by people with Parkinson's to alleviate joint and muscle stiffness and promote relaxation and well-being.
Antony Blackburn, Founder of Golf in Society commented:

Our aim when we started the project was to prove how golf could improve the lives of people with Parkinson's disease – today was living proof that we've done just that. The Putt for Parkinson's event raised over £1000. To see so many people enjoying a game of golf, socialising and showing amazing generosity was a pleasure to behold. Days like today restore your faith in humanity and show what can be achieved if you get the right people and organisations working together.
James King Rudding Park Golf Manager explained:

Rudding Park has been working with 'Golf in Society' for two years inviting those who suffer from Parkinson's and their carers to play every Wednesday. Our 6 Hole Repton Short Course provides a fantastic opportunity to enjoy the game offering physical, mental and social stimulation for the person living with Parkinson's and we wanted to use World Parkinson's Day to help raise funds and awareness of this worthwhile cause. It was a fantastic event and we were thrilled to receive so much support.
Renee Dickinson, Chair for Harrogate Parkinson's UK says:

The weekly Wednesday golf days at Rudding Park have brought a great deal of benefit to our members. They enjoy the competitive spirit, the friendship and new possibilities for exercise, which is vital to Parkinson's people and we hope the support will continue to grow.
Raising awareness is a major part of what Parkinson's Harrogate strive to do. If you are a golfer with Parkinson's and would like to join the golf days please email Anthony Blackburn email golfinsociety@gmail.com
–