Harrogate Grammar School student, Megan Wilcox (Year 11), is celebrating a very successful 2017-18, which has culminated in being nominated for the Disability Sport Yorkshire Female Young Achiever of the Year Award, and being awarded Equestrian of the Year by the Special Olympic Group, Able 2 Pontefract.
Success began in June 2017, when Meg finished as the top junior in the Intellectual Disability Class at the Regionals held at the Richmond Equestrian Centre, therefore qualifying for the RDA National Championships with her pony 'Dunkie'.
The RDA National Championships were then held in Hartpury, Gloucestershire in July. There were hundreds of competitors from 18 regions. Meg finished an amazing 3rd in the Junior Intellectual Disability class (one of the largest classes) with a huge personal best, and also finished 3rd in the Freestyle to Music class.
Alongside working hard for the RDA Nationals, over the course of Spring and Summer Meg gained enough points to qualify for the Regional Finals of British Dressage MyQuest held in September at Epworth. She was also part of a 'mainstream' team for the British Dressage Team Quest, where she finished a credible 10th, performing a personal best to help the team qualify for the National Finals. Meg was the only young rider with a disability to take part in the National Finals.
In addition, Meg also represented Yorkshire and Humberside in Dressage at the Special Olympics National Games in Sheffield, this time without Dunkie, her trusted pony. Some competitors regularly use other ponies, but this was a new experience for Meg. She overcame her nerves and was determined to do her best. Incredibly, even though Meg had to ride an unfamiliar pony, she secured another personal best and won a Gold medal in Dressage.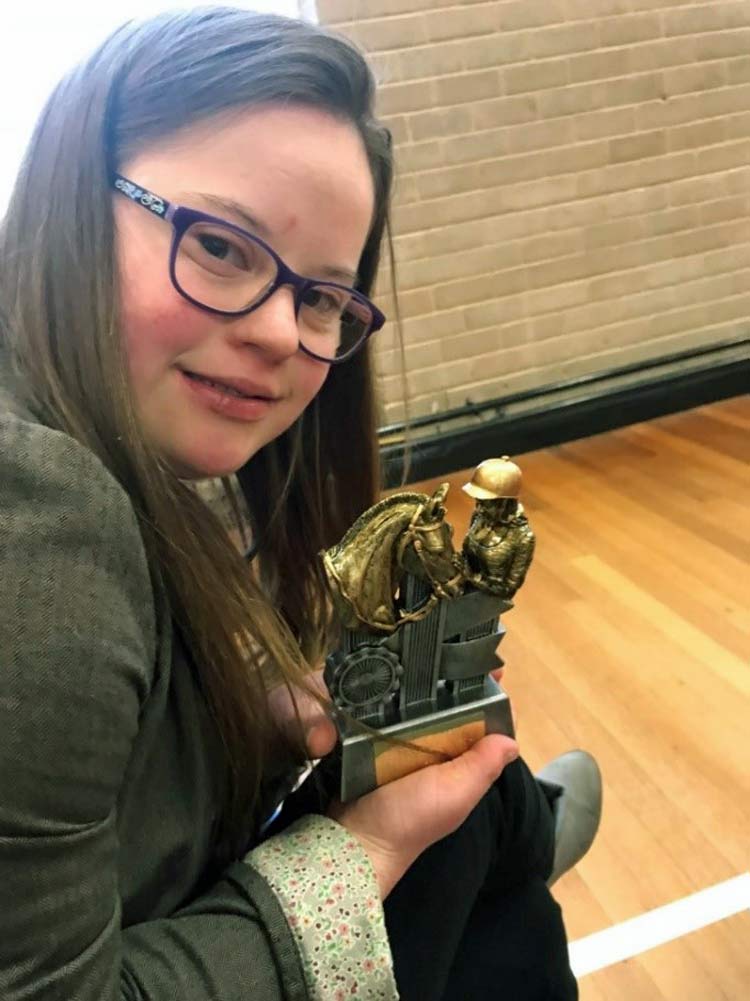 Taking part in the Special Olympics was an amazing experience for Meg, staying in the athlete village and taking part in the Opening and Closing Ceremonies as well as competing with over 5,000 other athletes.
Of course, Meg owes a lot to 'Dunkie' her much loved but rather cheeky pony. She has been lucky enough to have the loan of Dunkie for almost four years allowing her to practice and train regularly – often five times a week. Meg has the sole responsibility of looking after, exercising and training her every day. In the winter, when the weather is wet and cold this can be hard work, but Meg's determination and drive sees her riding in the dark and in all weathers. Harrogate Grammar School has been wholly supportive of Meg's ambition and has allowed her to utilise her PE sessions to have riding lessons.
Meg began riding at the age of two as a form of Physiotherapy at Follifoot Park Riders Group and her love for it was quickly evident. She became interested in all equestrian sport and was keen to compete. After London 2012, she attended a demo by Paralympian Sophie Wells. There she met Dunkie's previous rider, Izzy Palmer. Izzy is now on the World Class Talent programme for Para Dressage and mentors Meg to help her get the best from Dunkie. Meg has also been lucky enough to have lessons from Sophie Wells, and these amazing sessions have resulted in her getting to wear Sophie's Paralympic medals and even ride her London 2012 horse.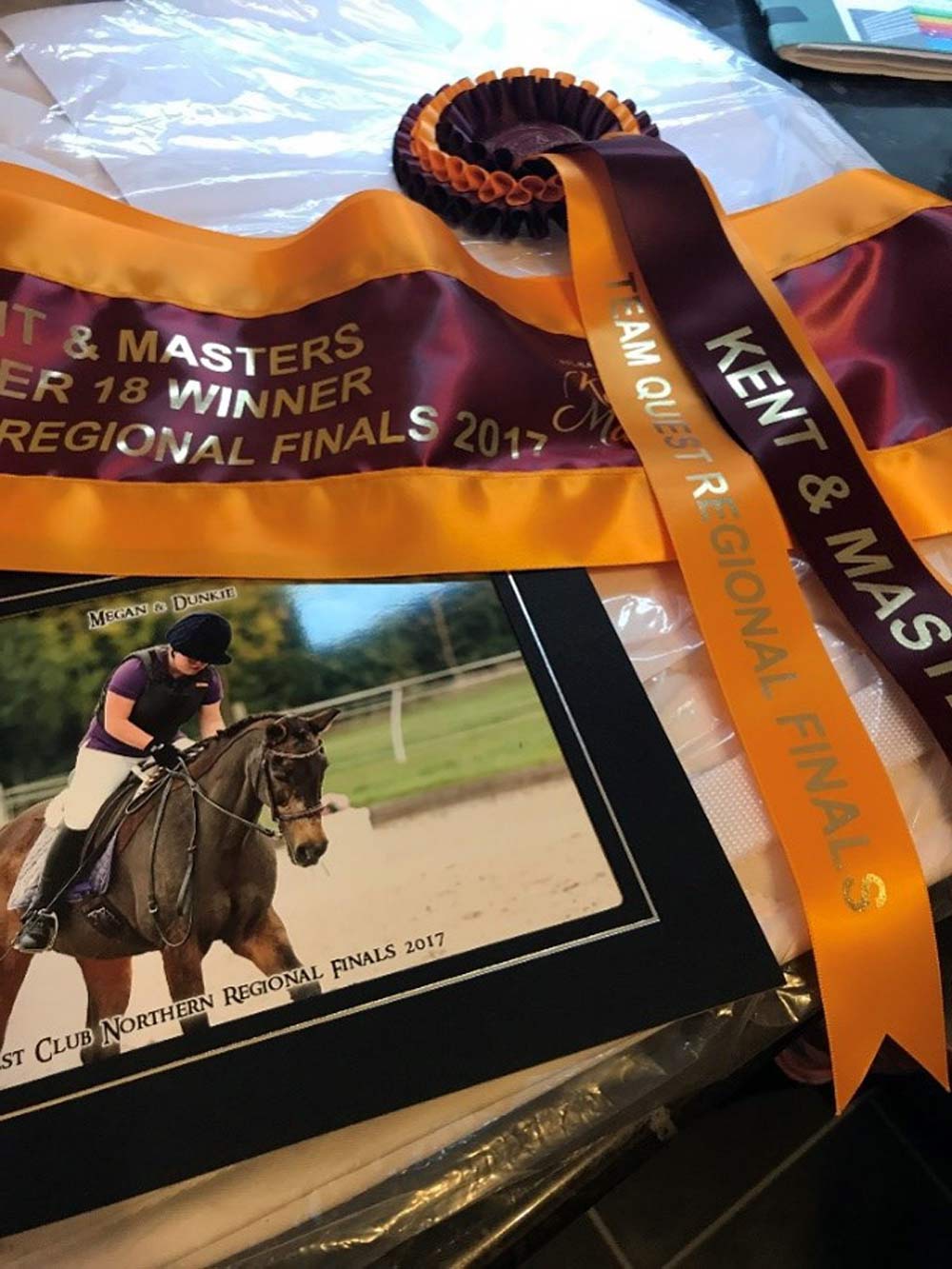 Meg hopes to attend Askham Bryan College next year to obtain qualifications that may help her work in equestrian sport. She also hopes to qualify again for the RDA National Championships at a higher level this year, and continues to compete in mainstream competitions too. When asked what her aspirations are for the future, Meg says, "I love riding and I love my pony. One day I would like to be like my idols, Sophie Wells and Charlotte Dujardin. Maybe I can do that if I work hard and keep going, doing what I love the most." She dreams one day of being a professional rider and being the first athlete to compete for GB in Special, Para and Olympics… a very big dream. But, she says, "if you don't even dream it, it can't happen!"
Meg is supported locally by Harrogate Grammar School, 'Burrell Dressage' in Pannal where Dunkie is kept, local vet Beningbrough Equine, and saddle fitter Propower saddles.