North Yorkshire County Council are about to take a decisive step forward with action against the congestion problem in Harrogate.
A Harrogate Relief Road Review was started in March 2017, being led by the County Council with external consultancy, WSP,  commissioned to undertake work associated with that review. The study has investigated the causes and impact of congestion and considered measures to address the problem.
The scope of the review was to consider the urban areas of Harrogate and Knaresborough only. Looking at traffic flow analysis it found that half the journeys made were internal within the two towns, as against being through traffic. Additionally 90% of all journeys start or end in Harrogate and Knaresborough – this directed any solutions to be based on non-through traffic.
County Councillor Don Mackenzie, Executive Member for Highways, said:

An easy option would be to do nothing, but Harrogate is the most congested town in North Yorkshire and relies on leisure and business visitors.

Meeting a queue of traffic on the main routes into town doesn't make the best welcome.

Around 30-years ago there were plans for a Western bypass, but it received heavy opposition and plans were halted.

We now feel it is time to grasp the nettle and put forward changes.
Members of North Yorkshire County Council's Harrogate Area Committee will be asked for their views on public consultation proposals at their meeting on 7 December 2017 .
A final decision being made by the Corporate Director for Business and Environmental Services (BES) and the BES Executive Members on 15 December 2017.
The aim is to improve the quality of life for people living in the area, support sustainable housing and economic growth, protect and enhance the environment and improve east to west connectivity along the A59, as well as helping to improve local air quality
As a result of significant growth, both town centres are experiencing traffic congestion, extreme at times, leading to delays and unreliable journey times both in the town centre and on surrounding routes
Growth in housing and employment is forecast to continue, with about 11,700 houses and 20 to 25 hectares of new employment land anticipated by the end of the Local Plan period in 2035. Most of this is to be located within the urban area
Journeys are forecast to reach a peak of more than 27,000, an increase of almost 5,700 on current levels
More than 90 per cent of journeys start and/or end in the Harrogate and Knaresborough urban areas. About half of all trips are wholly within these areas
The review has concluded that any shorter term relatively minor improvements to junctions in the towns could provide some benefit, but they are unlikely to bring significant improvements or be the longer-term solution to congestion.
The report also concludes that the complexity of the area's traffic issues means there is no single solution.
A total of five packages combining a range of measures, including sustainable transport improvements, measures to manage demand on the roads and the construction of a relief road, are being put forward for consideration.
There has been no detailed design of relief road alignments, but two inner relief road corridors have been identified as achieving the most benefits.
If you would like to see the detailed reports put together, please see these links:-
Harrogate Relief Road Executive Summary Report
Harrogate Relief Road Report for the Area Committee
Five option packages have been developed with two packages are being taken for as a proposal:
Demand management and behavioural change package
Relief road and highway operational improvement measures, sustainable travel and urban realm improvements
Two options for a relief road are being considered in the proposals, both are inner relief roads and will pass through the Nidd Gorge. On the previously published map, that is green and blue routes. (as shown below)
Don Mackenzie said:

A relief road further out from the centre would not be used as much and would not offer enough benefit to be viable.

I do of course recognise that Nidd Gorge is a very beautiful area, but we do need to consider carefully if benefits outweigh the disadvantages.
There are potentially further difficult decisions to be made at a later stage, such as if the relief road should be linked to Bilton Lane. The would provide significantly more benefit from the new route, but make for an estimated 1,000 cars per hour down Bilton Lane.
Although the relief road is away from Knaresborough, it is believed that Knaresborgh High Street would be downgraded, with lorries not being allowed.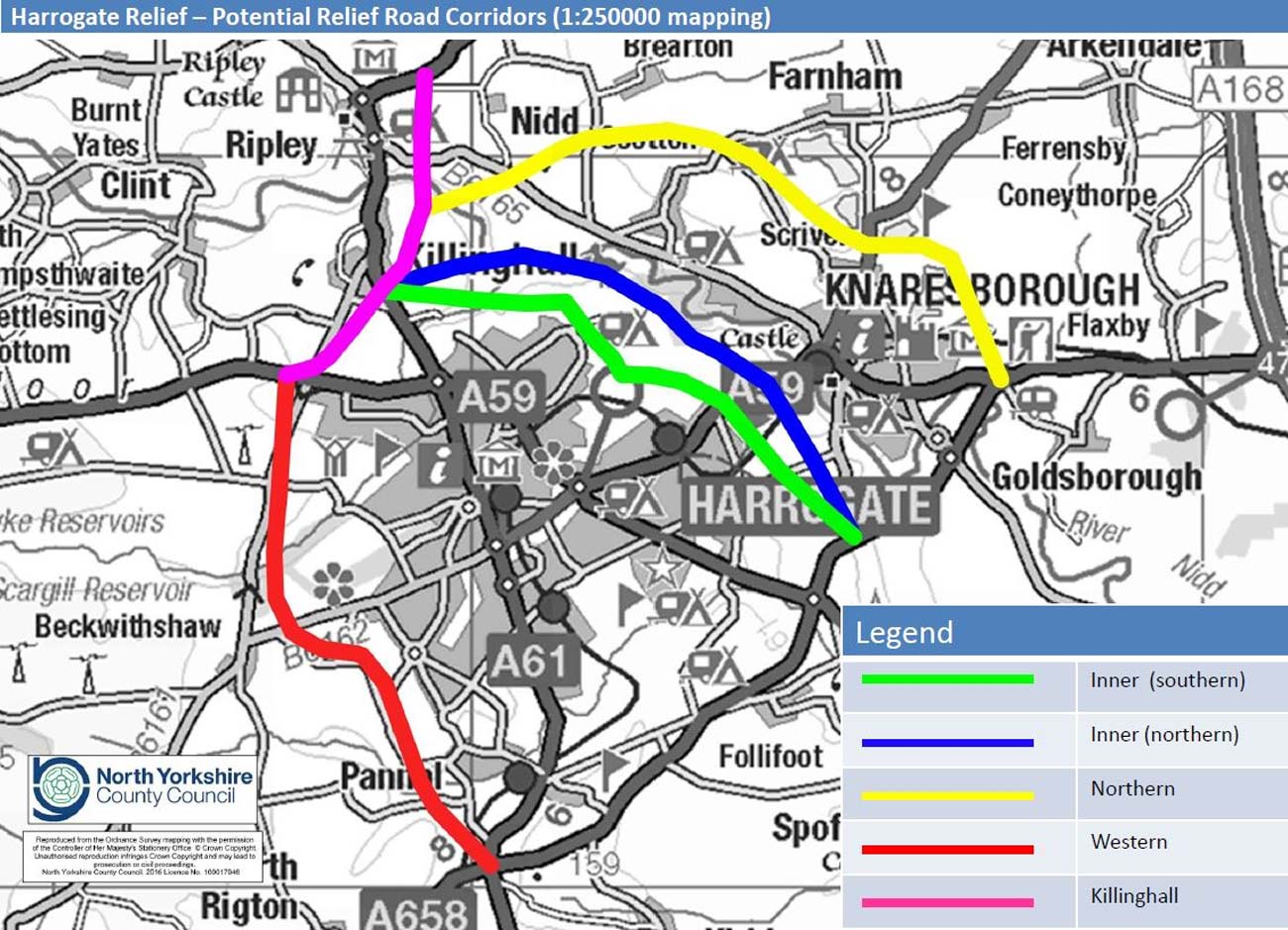 David Bowe, Corporate Director, Business and Environmental Services, said:

We have followed Department of Transport Appraisal Guidance in the review and development of the options.

But we do need the public's support in taking any options forward. If a relief road is the preferred option then we will need to be able show we have followed the correct process and have sufficient backing from the general public.
Opposition to development in the Nidd Gorge has already voiced concerns, not just for the loss of part of the Nidd Gorge due to the relief road itself, but due to a risk of further housing development in the area, area that is currently green belt land.
County Councillor Don Mackenzie, Executive Member for Highways, said:

There is no aspiration to build houses in the Nidd Gorge and we would resist any future application for development.

We also need to remember that the local plan is in the process of identifying the development land allocation for the whole district – it won't include the Nidd Gorge.

A relief road could half the traffic on many internal routes.
Following a decision on the next step, there would be a three-month public consultation beginning later in December in which the County Council would invite anyone who lives, works or travels in the Harrogate and Knaresborough areas to give their views on the findings of the report and their preferred solutions.
County Councillor Don Mackenzie, Executive Member for Highways, said:

This is the first important stage towards understanding what the solutions might be. Nothing has yet been decided and in the consultation we will want to hear as wide a range of views as possible on what people think are the best solutions to the problems Harrogate faces now and in the future.

Congestion is not just a problem for drivers,  it affects pedestrians and cyclists, people who live, work and shop in the towns, young and old, parents who have chosen to raise their families in this beautiful place. Everyone has a stake in making the roads easier to use, safer and healthier for motorists, cyclists and pedestrians.
David Bowe, Corporate Director, Business and Environmental Services, said:

This is very much about what all members of the community see as the issues and what they want. These are questions for everyone, because any decisions taken will have a long-term impact on the towns, so we want any consultation to be as inclusive as possible.
The consultation would be followed by more detailed examination of the preferred options that emerged from the consultation.
More background information about the congestion issues in and around Harrogate and Knaresborough can be found at www.northyorks.gov.uk/take5