A secret message from the past has been uncovered by builders working on a nursery and pre-school in Harrogate.
Tiny Teapots nursery is currently undergoing a full refurbishment, which includes new toilet cubicles for the children.
When builders tore out the old toilet cubicles to replace them this week they made an exciting discovery: a hidden message from nearly 20 years ago.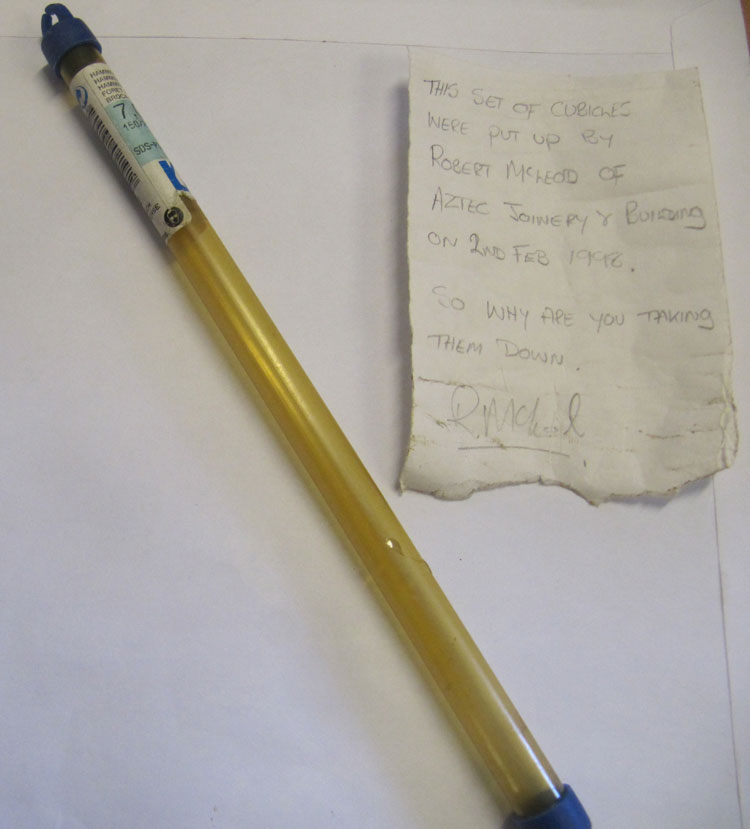 A small scroll was found inside a tube hidden behind a wooden panel stating the name of the person who built the toilets and the date of the installation.
The note is signed Robert McLeod of Aztec Joinery and Building on the 2nd February 1998 and asks the question, 'Why are you taking them down?'
Tiny Teapots Nursery Manager Tracy Hornby said:

The workmanship of the original installation was excellent, we're just replacing the cubicles as part of the full refresh we're doing at the nursery.

The children have found their new toys and resources from the refurbishment very exciting anyway, but this discovery really amazed them.

We have tried to call Aztec Joinery and Building to let them know we found the note but haven't been able to reach them so far. We'd love it if they could get in touch to let us know more about the secret scroll.
The cubicles are part of the full refurbishment at the nursery at 1 Hartwith Way, which includes brand new toys, resources, furniture, flooring and lighting, as well as sensory equipment, a computer suite and a special ballet room.
The nursery's outdoor area, where the children play every day, is also undergoing a facelift with brand new decking and play equipment.