The new Mayor of the Borough of Harrogate was officially appointed at Harrogate Borough Council's Annual Meeting, which was held at the Royal Hall in Harrogate – Monday, 22 May 2017.
The traditional Mayor Making ceremony saw Councillor Anne Jones formerly receive the Chains of Office from outgoing mayor, Councillor Nick Brown. Councillor Jones' husband, Steve was appointed Mayor's Consort.
Anne has served as a local councillor on Harrogate Borough Council for the Knaresborough Scriven Park ward for almost sixteen years, serving 12 years on the Planning Committee; she was appointed a member of the Nidd Gorge Advisory Partnership and more recently has served on the Voluntary and Community Sector Liaison Group.
Anne was one of the founder members of Knaresborough 'feva' festival of entertainment and visual arts and served as event programmer and Chair for seven years. She was also instrumental in raising in the region of £30,000 for the purpose-built facility for Age Concern Knaresborough on Hilton Lane.
Her charity work has also included her role as Chair of Henshaws Yorkshire Events Volunteer Fundraising Committee, which she has held for the past five years, and her work as secretary to the spoken word performance festival 'Release the Hounds'.
Anne was an active member of Le Tour Knaresborough 2014, which was created to celebrate the arrival of the Tour de France to the district, and organised and funded a hot-air balloon rally as part of the Le Tour Festival, which saw Sir Gary Verity, Chief Executive of Welcome to Yorkshire, and cycling legend Brian Robinson take to the skies.
Anne is a keen supporter of the arts, an avid traveller, enjoys golf, cooking and reading, and is a fan of many different types of music, but she is a Northern Soul girl at heart!
After receiving the Chains of Office, the new mayor said: I am deeply honoured to be appointed the 119th Mayor of the Borough of Harrogate and the 13th Lady Mayor – let's put a positive spin on that number and say "lucky for some!"

I would like to congratulate Nick Brown for the hard work and enthusiasm he has shown his role of Mayor over the last twelve months – he will certainly be a tough act to follow.

Our district has much to celebrate, and I hope to highlight the value of our historic market towns and rural areas alongside the respective mayors – affectionately known as the chain gang! In my desire to demonstrate some 'firsts', I am already working on a project with the Mayor of Borougbridge to realise the potential of some community awards.

I'm also looking forward to helping to promote Harrogate town. The town's 'offer' has improved considerably in the last few years with the investment of new independent businesses and larger companies.

We have also recently seen the re-branding of the Harrogate Convention Centre (formerly the HIC) and I have already instigated a Business Engagement event for local businesses in July.  Not only is Harrogate open for business, but I sincerely hope that delegates will return to the district with family and friends to savour the delights of our beautiful county – delights that we, as residents, are fortunate enough to have on our doorstep.
Each year, the Mayor of the borough has the opportunity to support charities of their choice. The new mayor's chosen charities are:
ARCH – a Harrogate based charity established in 2014 which focuses on transforming the lives of troubled teenagers and their families, dealing with mental health and emotional wellbeing as well as community and school conflicts
Henshaws Society for Blind People  –  working to empower disabled people in Yorkshire to live independently and to go beyond expectations. The society is celebrating its 180th anniversary this year.
Dignitaries attending the Mayor Making included Harrogate Borough Council members; the mayors of Knaresborough, Pateley Bridge and Ripon, the Deputy Chair of North Yorkshire County Council, plus invited guests, all of whom enjoyed music from King James's School Riverside Jazz Band. And keeping her strong links with Knaresborough, Anne's Deputy Mayor is Knaresborough Councillor Christine Willoughby, while her husband, Knaresborough Town Councillor Andrew Willoughby, became Deputy Mayor's Consort. The Mayor's chaplain for the year is Rev Bill Snelson from Knaresborough.
The new Mayor also announced that this year's Civic Service will be held on Sunday 6 August at St John the Baptist Church in Knaresborough, saying: I'm delighted that the new mayor of the town, Councillor David Goode, has kindly welcomed my initiative to host a joint service. It's possibly the first of its kind and I would like to think that this is testament to the friendliness between all the mayors across the district.
Outgoing Mayor, Councillor Nick Brown, who has attended hundreds of official functions during his time in office said: The last twelve months has been an amazing experience and it has been a real honour to act as mayor.

During my time in office I have been keen to champion and promote the economy of the borough to ensure its future prosperity, and to encourage and promote philanthropy from within the ranks of individuals and local businesses towards local charitable organisations.

I have had the chance to support a number of worthwhile charities which are close to my heart, promoting their tireless work, and helping them to raise much needed funds.

I have also had the privilege to attend a wide range of incredible events, meet some remarkable people and learn about the work of some extraordinary organisations.

Every moment has been a joy and I will look back on my time as mayor with great fondness. Councillor Jones is a fine choice for the next Mayor of the Borough of Harrogate and I am sure she will enjoy every moment within the role.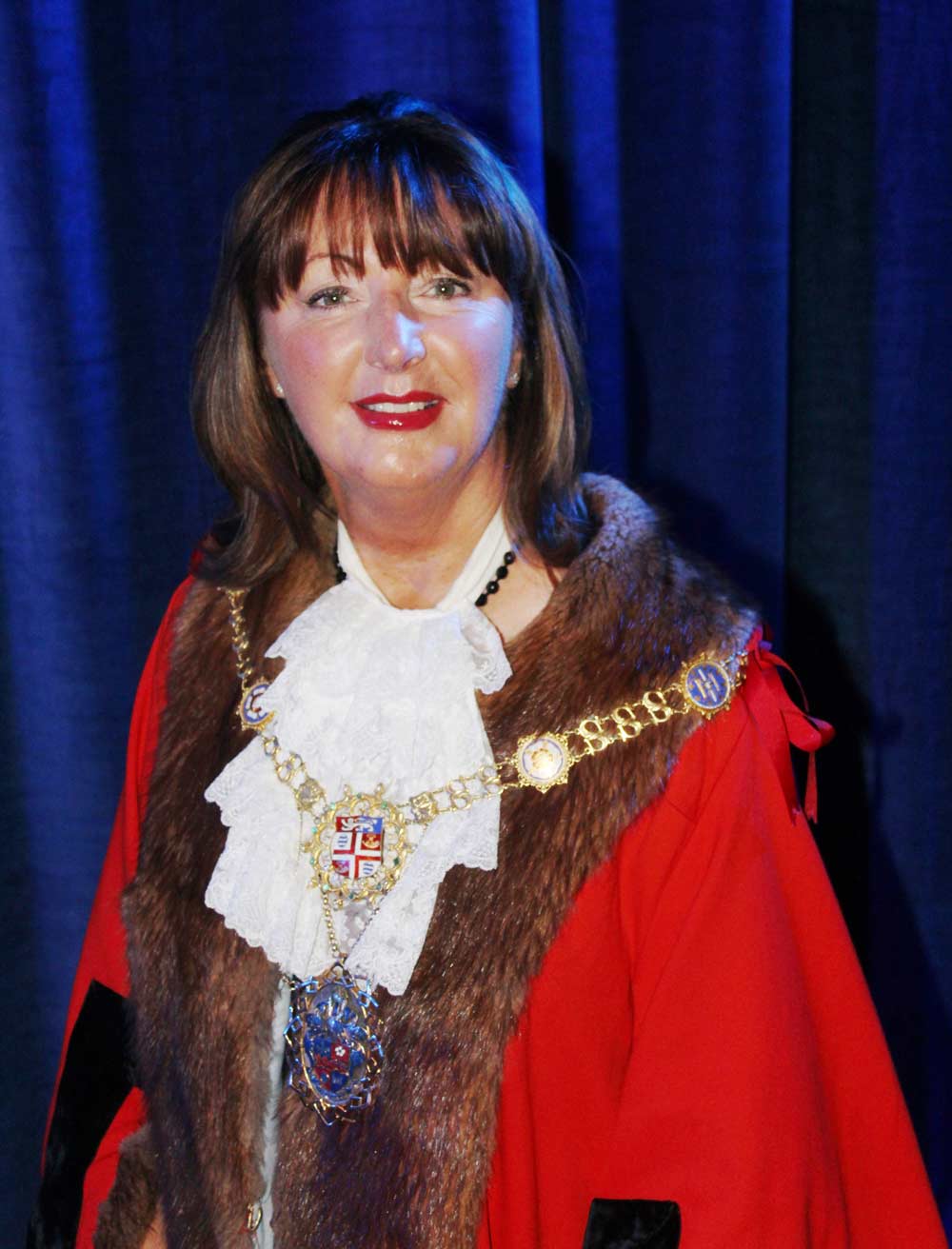 Anne was born in Lancashire, where she trained as a draughtswoman and where she met husband Steve, a graduate teacher.
In the 1970s, as newly-weds, they went to work overseas at Clarendon College in Jamaica, appointed by the Christians Abroad organisation working alongside fellow expats from the VSO programme and the American Peace Corp.
Anne took up the position of college librarian and Steve taught 'O' and 'A' level Chemistry and Maths. It was during their time in Jamaica that they forged a deep love of the Caribbean.
After two years the couple moved back to the UK, settling in Guildford, Surrey, where Anne returned to her profession as a draughtswoman, working for British Aerospace in Kingston-upon-Thames.
Following the arrival of their first daughter Rebecca, the couple decided to return to the north of England to be closer to grandparents and the extended family, settling in Harrogate, where Steve was appointed Principal of Henshaws School for the Blind in 1984. Their second daughter Stephanie arrived in 1986. Both girls went on to attend Harrogate Ladies College.
In May 2013 Anne was elected to North Yorkshire County Council for the Knaresborough Division, a position she held until 2017 when she stood down.
During her time at County Hall she sat on the Young People Overview and Scrutiny Committee and was a member of the Looked After Children's group, carrying out inspections of Children's homes.
Cllr Jones was also the North Yorkshire County Council representative on Renaissance Knaresborough.