Ninety people attended a celebration book and film launch to mark the end of the Washburn Heritage Centre Assemblage Project.
The event was the culmination of two years of research after graves at Fewston church were
excavated before the heritage centre was built in 2010. Archaeologists and volunteers have carried out investigations and research on all 154 sets of skeletal remains, many more than expected.
Among those attending the celebration were descendants of some of those whose lives had been investigated before they were reburied in the churchyard. The centre tearoom is famed for its hospitality and guests enjoyed Buck's Fizz and plenty of home made cake.
The book Churchyard Secrets Revealed, which tells the story of the project and what was discovered, is now on sale in the heritage centre at £4 or £3 for members, and there are now also walks leaflets for the Fewston Assemblage Trail available for £1. The film will be uploaded to the Washburn Heritage Centre website at www.washburnvalley.org.
The Fewston Musick performed The Fifteenth of September, the original piece written by volunteer Ken Fackrell, for the Service of Commemoration when the Assemblage was reburied last year.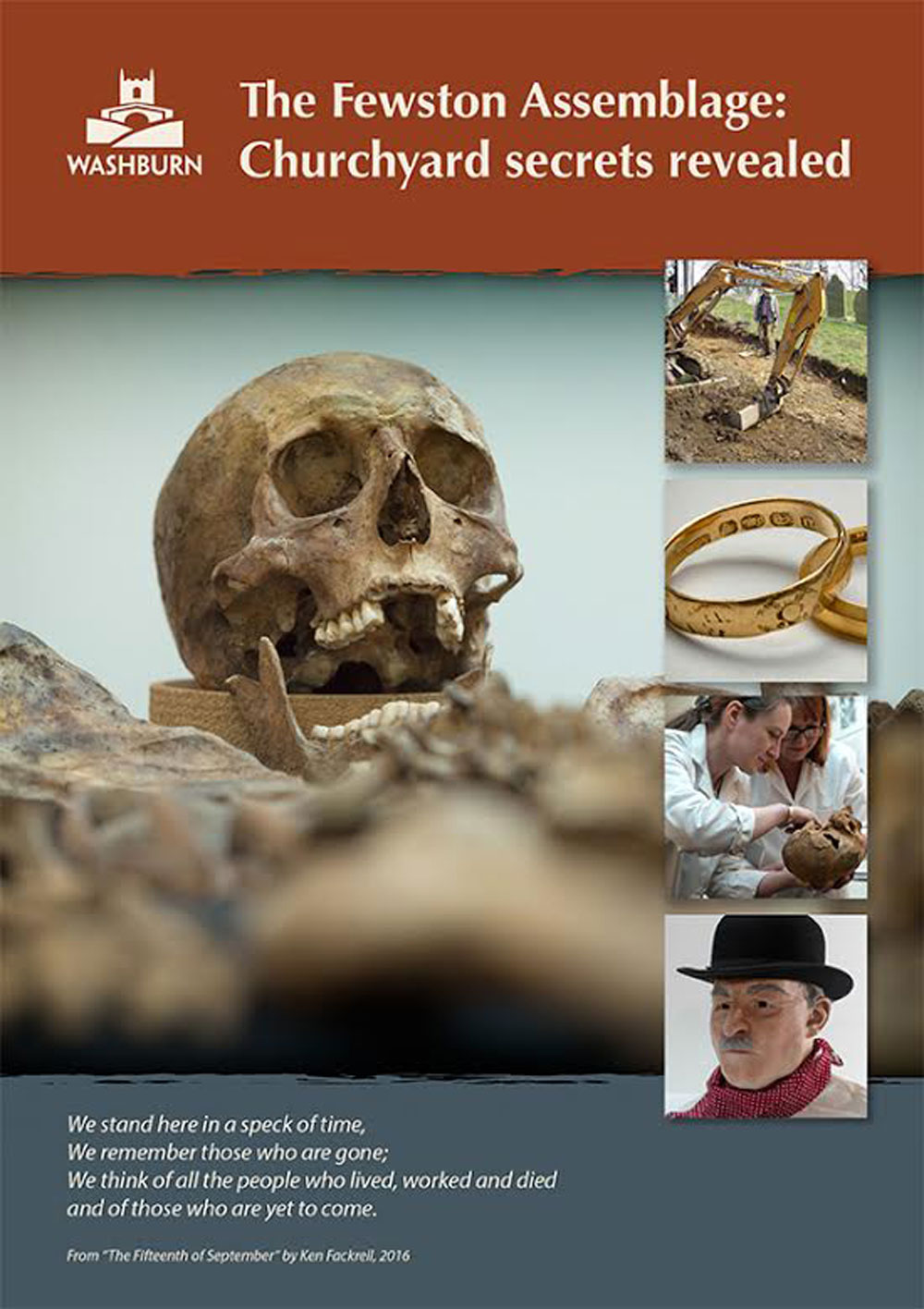 The project was primarily funded by £62,800 from the Heritage Lottery Fund, £5,000 from the Liz and Terry Bramall Foundation and £5,000 from the centre's own resources, along with volunteer hours which, if it had been paid for, far exceeds these amounts.
Coun Christine Ryder, deputy mayor of Harrogate and chair of Washburn Parish Council said: Some people might think that all the main visitor attractions are in Harrogate town centre, but we know that the Washburn Valley also has a lot to offer, wonderful walking, beautiful landscapes and the Washburn Heritage Centre, now with this fascinating project about the Fewston Assemblage.

It seems unique to me, and is certainly a very unusual addition to the list of visitor attractions that the Harrogate district has to offer.
Simon Hill, whose firm Vidar Media was commissioned to produce the book and film, said that the enthusiasm of the volunteers far exceeded that of many other organisations and institutions with whom his company had worked in the past.
Simon Hill said: It is this, perhaps more than any other factor, that has made the Fewston Assemblage such an exciting and thrilling project with which to be associated.
The Fewston Assemblage has a permanent exhibition in the heritage centre foyer and more detail in other displays until the end of April. All the research is available in the Centre's archive.