The stage is set on Crescent Gardens as the Harrogate International Festivals put the finishing touches to the spiegeltent.
A Spiegeltent is a traditional Belgium travelling dance hall.  Each has numerous mirrors, making it possible to make discreet eye contact with other visitors. Traditionally they were known as the domain of night owls, heartbreakers and dream chasers.
Entertainment for the Harrogate dream chasers will start on Saturday, 10 September with something for the younger ones. Tickets are available on the door (if not sold out) or you can get them online www.harrogateinternationalfestivals.com/spiegeltent/
Ignite your child's big imagination with a series of captivating shows, as the Festival features the UK's most sought after authors, museum experiences and attractions.
Bestselling authors include Hilary Robinson with 'Mixed up Fairytales'. Her picture books on princesses, parties and penguins have sold all around the world. Alan Windram, author of 'Mac and Bob', offers interactive drawing and sing-alongs, and Storyteller Mara Menzies invites explorers to join her interactive, rollercoaster adventure across Africa.
The 'Poetry Bloke', Craig Bradley offers poetry, music, imagination and comedy in a creative workshop. Andy Seed won 2015's Blue Peter Book Award (Best Book with Facts) for The Silly Book of Side-Splitting Stuff. His 'Wacky Witty Wordfun' is stuffed with amazing facts and riddles, with challenges and activities to join in with.
'Have a Go at Sword School' offers a swashbuckling workshop for medieval warriors. History's Maid brings the magic of 'Viking Sagas', exploring the gods and giants of the Vikings, re-enacting the myth of Thor and his hammer, and Northern Ballet present a 'Goldilocks and the Three Bears' workshop.
Seven Stories, the National Centre for Children's Books, cater to the dinosaur-obsessed with 'Dino Story Party', with interactive games, songs and stories for the under 5s.
Professor Pumpernickel's 'Superdooper Science Show' promises the greatest show on Earth! Starring exotic chemical compounds, unfathomable physics phenomena and a peppering of jokes.
Gemma Rowland, Operations Manager at Harrogate International Festivals, said:

As well as an exciting, colourful array of brilliant wordsmiths, the Festival also features events from leading children's attractions and museums.

It's a big, family-friendly event in the most captivating of settings. We can't wait to welcome you with balloons and big smiles at the ready!
If you are itching to see the first evening performance then head down for Benoit Viellefon in the evening. Benoit is a French singer and guitarist and fronts one of the leading vintage dance music ensembles in Europe today. Some of the finest musical entertainers in Europe.
The children's entertainment covers this weekend, but there is a full programme of evening and lunchtime shows over the week.
Gemma said:

It's really great to have the Spiegeltent back after a years break.

Today it is in the it's final stages of being built, with the sound system and bar going in.

Over the years it has always proven to be very popular. This  weekend will see many events during the day for the children's festival with events evening events for the grown-ups.

Saturday evening will see Benoit Viellefon And His Orchestra, a particular favourite of mine and something I am looking forward to.

But it's only on Crescent Garden for a week, so catch it while you can!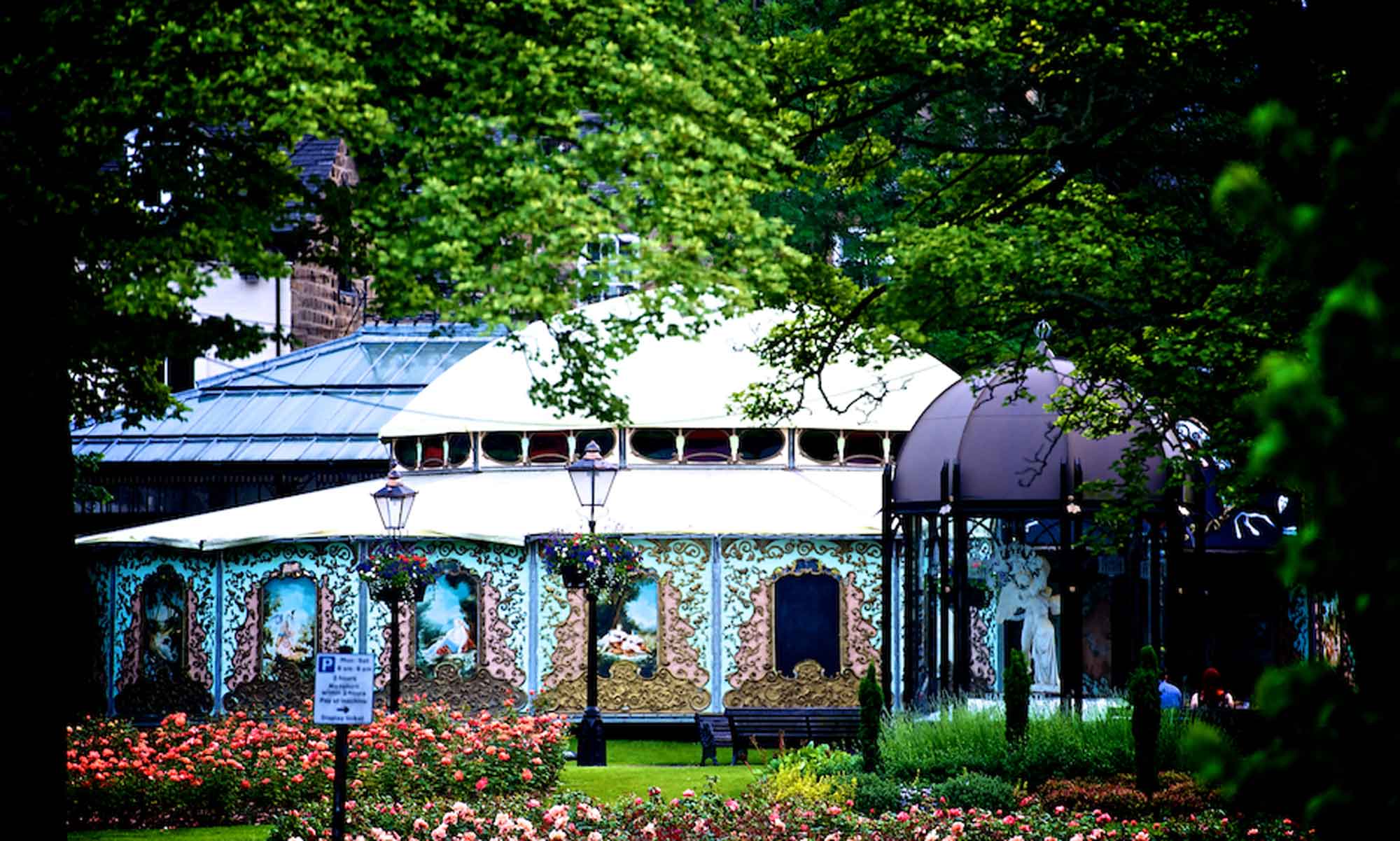 If you want to go somewhere that is a little different to a normal theatre style with more casual, cabaret seats, somewhere with a bar that you can go to at any time, not just in the intervals, then the Spiegeltent could give you what you are looking for.
There will also be free Lunchtime Sessions to experience amazing, eclectic talent.
Marc Dunleavy, Music Manager for Harrogate International Festivals, said:

Forget a soggy sandwich in a soulless office canteen, and enter the mirrored world of music. Audiences are welcome to bring along their lunch to enjoy in the tent.

There are plush, velvet red booths to lounge in, or a wooden dancefloor if the mood so takes you!

It's a chance to experience some incredible emerging artists, and sneak a peek at the wonder that is the Spiegeltent. Be prepared to be moved, uplifted and entertained. We can't wait to welcome you!
The free Lunchtime sessions will occur daily from Tuesday 12 to Saturday 17 September, starting at 12.30pm.
Kicking off are Milestones Trio on Tuesday. The three musicians, who met at the Leeds College of Music, mash up influences and inspiration from the deserts of North Africa to the dark jazz clubs of New York.
They have featured regularly on BBC Radio, toured globally in Europe, Asia, Africa and The Caribbean, and played at some of the world's most renowned festivals such as Glastonbury.
On Wednesday, Vocal Global is a cultural celebration from the Caribbean and the Middle East, full with vocals, ethnic beat box, and lyrics in Hebrew, English and Creole.
Thursday features the acoustic warmth of the Sandrani Duo, who bring the stage to life playing music influenced by Indian classical folk.
Friday, world-music from Manjula, combines Portuguese, African, Latin jazz influences with the haunting ambience of Indian vocals and rhythmic attack of jazz.
The final free show on Saturday is from 19 year-old saxophonist, pianist and composer, Alexander Bone, winner of the BBC Young Musician of the Year- Jazz award, who has worked with Nile Rodgers and Rudimental.
Tickets can be pre booked or will be available at the on-site box office on the day. Space is limited so pre-booking is advisable. Contact the Festivals Office to book for these free sessions on 01423 562303, call into the box office at 32 Cheltenham Parade or book online at www.harrogateinternationalfestivals.com