Andrew Alldred, a Clinical Director at Harrogate District NHS Foundation Trust, along with his friend Nigel Leech, a Footwear company director, is taking on one of the UK's most iconic cycle challenges. From 30 August to 11 September, Andrew and Nigel will be cycling an average of 90-100 miles per day as they cycle from Land's End to John O'Groat's.
Having purchased a bike two years ago through the cycle to work scheme after being inspired to take it up by the successes of the Olympic Cycling teams and Sir Bradley Wiggins winning the Tour de France, and the Grand Depart of the Tour in Yorkshire; Andrew joined his local cycling club (Valley Striders) and soon caught the cycling bug.
When Nigel, who has had triple heart bypass surgery, said that he wanted to cycle Land's End to John O'Groat's, Andrew decided that this was a challenge not to be missed, and the least he could do to support his venture.  Andrew was, however, unaware of the scale of the challenge: over 1,000 miles cycling and 60,000 feet of climbing over 11 days!
Andrew says of the challenge 'I have worked in the NHS for over 25 years and I am extremely passionate about this vital public service. I have worked at Harrogate District NHS Foundation Trust as a Clinical Director for over 10 years now I see every day the commitment, passion and motivation of a wide range of professionals providing excellent care to our patients. Giving something back by raising some money for our charity and enabling the hospital to purchase vital equipment will be hugely appreciated by many.'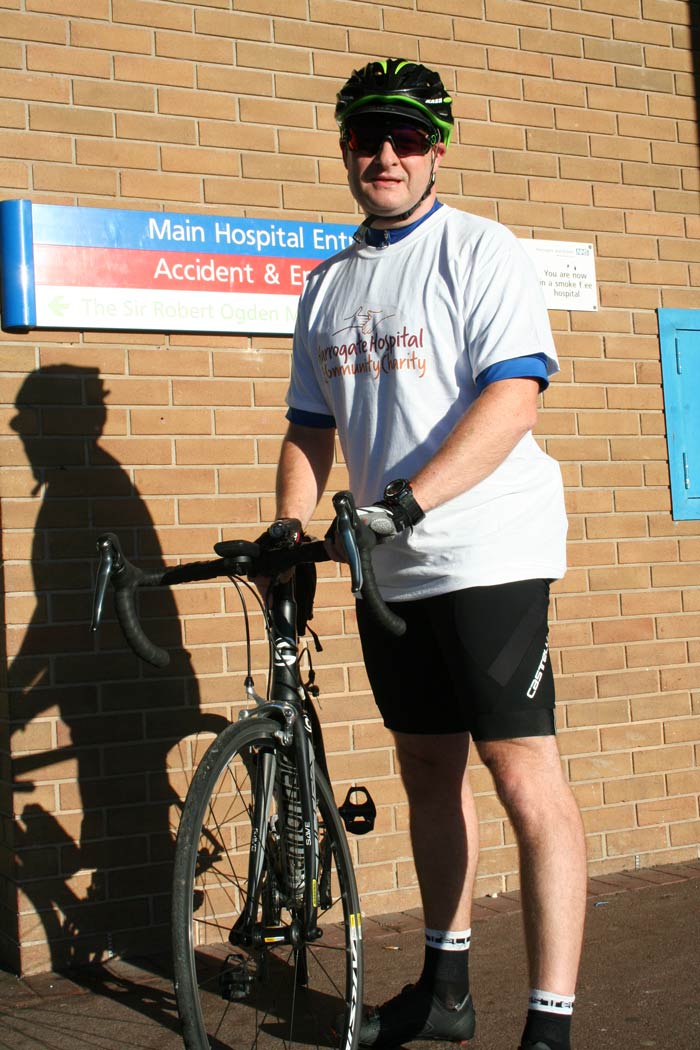 Andrew and Nigel have funded the entire challenge themselves so all money raised by Andy will go direct to Harrogate Hospital and Community Charity to help do more for patients and their families, whilst Nigel is raising money for The British Heart Foundation and St Gemma's Hospice in Leeds.
The Community and Events Fundraiser at Harrogate Hospital and Community Charity, David Fisher said :

It is wonderful when the staff from within Harrogate and District NHS Foundation Trust get involved with fundraising for the charity, it just goes to show how passionate they are, and the commitment they have for their patients. Andy really is going the extra mile to make a difference for local people using Harrogate and District NHS Trust and to help us do more for patients and their families.
You can sponsor Andy at www.justgiving.com/fundraising/Andrew-Alldred