In the annual Sadie Rose Clifford memorial match, held on 2 August 2016, Knaresborough Town overcame Boroughbridge 2-1 in a competitive game in front of a crowd of almost 200.
Sadie Rose died at the age of 2-years-old in June 2012. Sadie battled against  neuroblastoma, a cancer that develops from nerve tissue. Treatment in America was tried and failed as the cancer had spread too widely. There was widespread local support for the family, something that continues to this day.
The match was a fundraising event and a minutes applause was held at the start in honour of Sadie.
Sadie's dad, Darren, did his usual twenty minutes at the start of the game and it was his powerful shot which was deflected home for the opening goal in the 5th minute.
Blaine Hobson then fired against a post from a Dan McDaid cross from the left and just before half time, Daz Simpson's shot was well save by Kieron Horner in the Boroughbridge goal.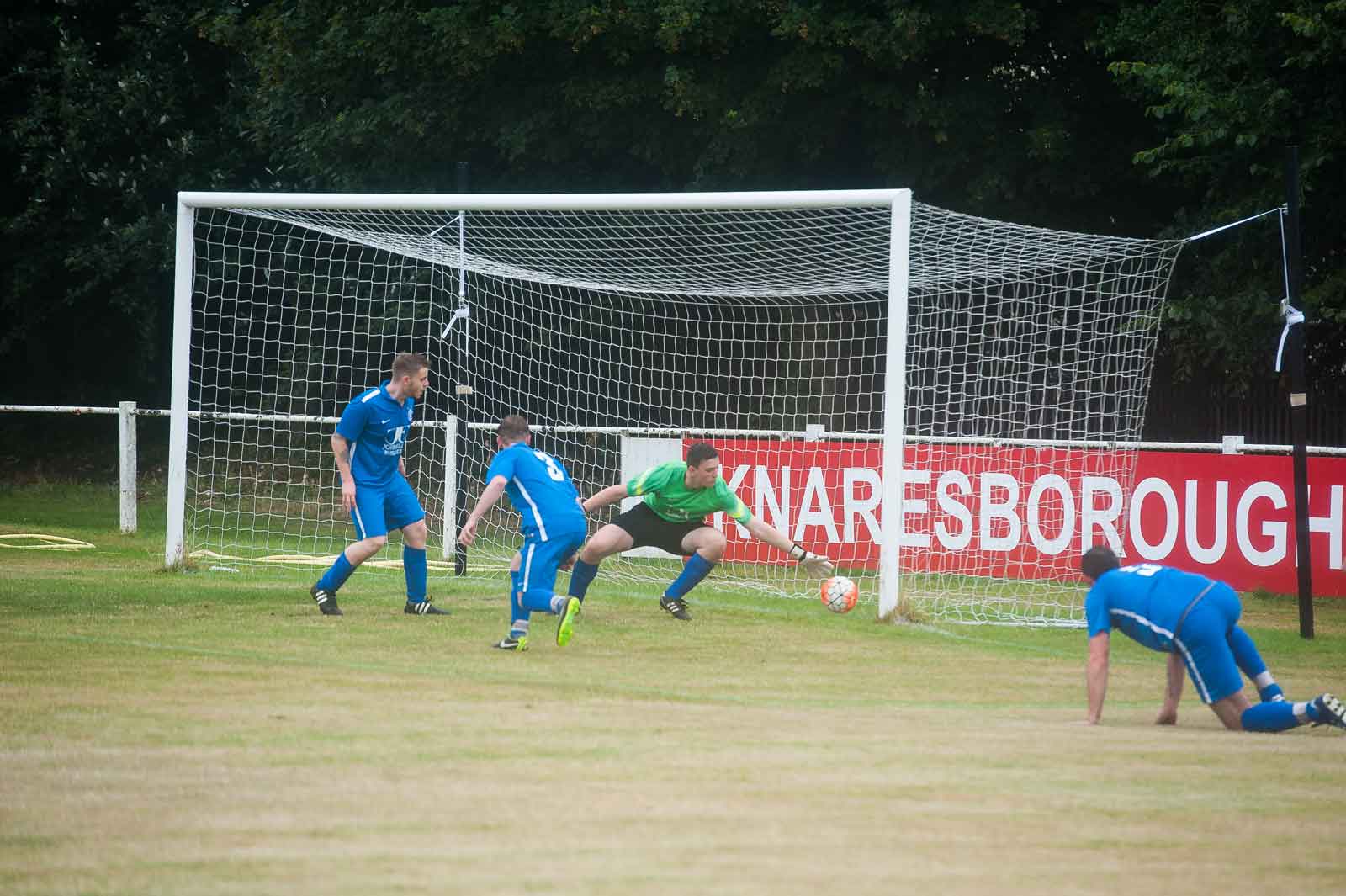 A number of changes were made by each side and the game became a little disjointed, but Colin Heath, who minutes earlier had a shot saved, made it 2-0 in the 52nd minute when he side-footed home Ben Cohen's pass in from the right.
Byron Littlefair had a shot saved and then crossed for Heath to also test Horner.
A misunderstanding at the back allowed Toby Hardaker to pull a goal back in the 68th minute before Alastair Hogg made the save of the game when he got in the way of Gary McLeod's strong effort and saw the ball bounce safely away.
Knaresborough Town 2  – 0 Boroughbridge
Team: Dan Dekanski; Jack Powis (Dominic Wilson), Matt Donnelly, Michael Harper (Brandon Bligh), Dan McDaid; Ben Cohen (Harvey Johns), Conor Donoghue (Gary McLeod), Lewis Pye (Daz Simpson), Lewis Riley (Byron Littlefair); Blaine Hobson (Colin Heath), Darren Clifford (Matt Thompson).
Fewer than 100 children in the UK are diagnosed each year with neuroblastoma.
Most children who get this cancer are younger than five years old.
Neuroblastoma is the second most common solid tumour in childhood, and it makes up 8% of the total number of children's cancers.