Knaresborough's annual festival of entertainment and visual arts – feva – has something for everyone in its 2016 line-up. The festival will be held over 10 days from 12 to 21 August 2016.
Tony Cerexhe, chairman of the volunteer organising group, said:

This year's festival features 65 different mainline events, plus 16 art shows and 11 special flavours of feva menu offerings from local restaurants.

There are plenty of free events and all prices for ticketed entertainment have been kept to the same levels as in previous years.

This year's Programme features the widest array ever, with something for everybody, we believe. There is lots of street entertainment and activities for the kids during the day, and in the evenings for adults there is music, theatre, literary and, making a welcome return, poetry readings.

The festival is bookended by the Lions' beer festival, to be held over three days at the start of feva, with Picnic in the Park being staged on the penultimate day and Henshaws' exciting Beach Party on the final Sunday.
Music
This year's feva features a wide choice of music ranging from classical concertos by candlelight in St John's Church, 14 August, performed by the excellent Pro Musica, to jazz at Carriages, folk with one of the UK's top acts in Faustus, the wonderful virtuosity of Project Jam Sandwich and the exquisite vocal harmony group Cadenza, playing at Dower House on 21 August.
To mention just a few! And this is before we get on to the fabulous tribute acts of Weetwood Mac and David Live – David Bowie. Not to be missed.
Knaresborough Silver Band will stage a free concert in the garden of Knaresborough House on the afternoon of Saturday 13 August during the Lions' Beer Festival. St John Church Choir will join forces with Voix Celestes and friends in a varied selection of choral works while the St John's feva Eucharist will feature Hadyn's Missa Sancti Nicolai.
What feva does better than anything is to provide a large range of free and low cost musical performances, and there are different acts around almost every corner during the Festival. You just need to look for them on the free feva Programme.
Copies of the Programme detailing all of the 90 plus events are available from outlets in Knaresborough, the Tourist Information Office or the Library, with full details online at www.feva.info.
During the day of 13 August the feva busk stop offers opportunity to a number of local musicians in the Market Place. Local familiar faces: Two Well Worn, The Blarge, Song Birds and Sounds Like Us, are playing at pubs and in gardens and restaurants during the 10-day event.
Phil Lyons and the New Vintage Band will perform jazz and swing; Simon Mayer and Hilary James will present their wide classical-to-pop repertoire at the Frazer on 19 August.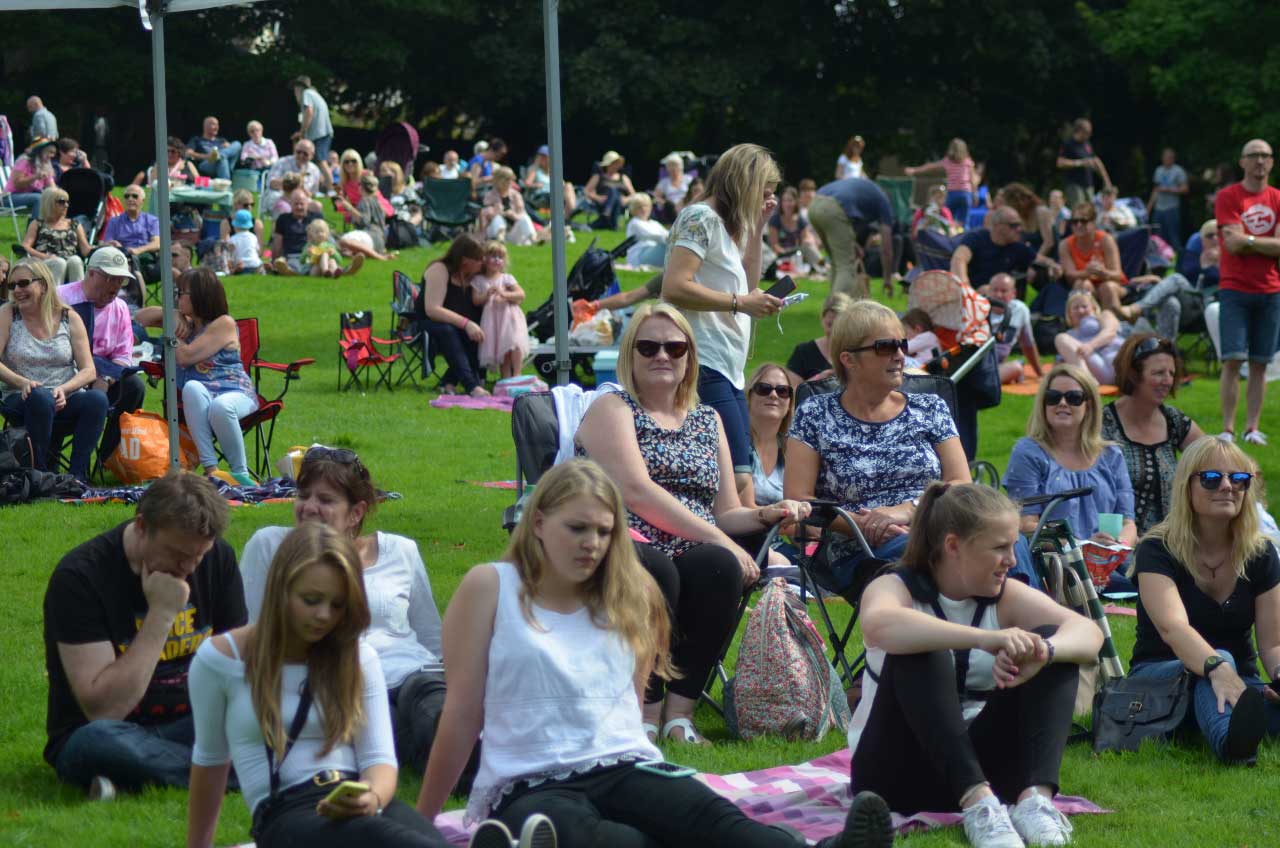 Dynamic folk fusion quintet, Project Jam Sandwich, much acclaimed during the festival in 2015 are returning on 16 August, giving an audience-participation performance for children during the day, before putting on their stupendous storm of folk fusion from around the world in the evening. Those who saw them last year will know just how good an event to expect. In the past year they have attained national recognition through the BBC Proms and are building an international following by performing at festivals all over Europe.
Faustus, recently nominated for Radio's 2's best folk act award, will be playing on the first night, 12 August, at Henshaws. Knaresborough Choral Society will be a running singing workshop based around their recent hugely successful performance of Carl Orff's Carmina Burana at COGS on 14 August. Tickets to take part in the workshop are priced at £8 or £4 for under 18s.
Four different acts will be performing at this years' the free Picnic in the Park and three, including the top David Bowie tribute act, at Henshaws Beach Party on the last day of feva.
Poetry
Poetry is playing a larger role this year. Barnsley's bard Ian McMillan, whose distinctive Yorkshire dialect poetry has caught the imagination of the county, will be appearing at the Frazer Theatre on the first Friday of feva, 12 August. His performance will be assisted by cartoonist of the year Tony Husband and together they will craft an illustrated poem with participation from the audience.
On the following evening there is a chance for people to read their own poems or those they especially love at the 'Poetry Yes Please' event at the Art in the Mill, while at Henshaws Chris McCully will be reading from a selection of his eight published collections, including poems and photos from his latest highly-regarded work, Serengeti Songs, inspired by time he spent in Tanzania.
An unlikely combination of cadence and chemistry will be the source of wonderment on 17 August, when Dr Sam Illingworth presents the creative similarities between science and the performing arts. Reading from his award-winning poetry, Sam will take his audience on a journey of discovery with heartache, laughter and tears-before-bedtime as biology meets balladry.
Plays, Dances, Art Shows, Talks and Walks
Jolly Hockey Sticks, a take on girls' education by those popular feva regulars The History Workshop, will entertain audiences with the clothes and activities of another time and age, while Freyja the Fairy will entertain children with tales of goblins, pirates and mermaids during the day on 20 August.
The tots of Studio 3 will present Beauty and the Beast, this year's dance at the Castle. Their older Studio 3 friends will give an evening's performance of ballet, tap and Riverdance at the Frazer. The Harrogate Society of Magicians will cast a spell or two on 13 August; Barry and Larry will take crowds to the edge of the universe on the 15th, and author Karen Lloyd will read from her latest book at the Library a night later.
Brian Forshaw is leading a walk around Knaresborough looking at the sites that inspired artist J B Fountain, while the Castle will host a medieval day on 13 August offering the chance to joust, shoot bow and arrow, and engage in arts and crafts all with a 12th century theme.
There will be 16 different art events staged during feva, some of which feature the artists at work, many of which will run each day during the festival highlighting local talent from around Yorkshire.
A special event not to be missed is the rare chance to see the work of Ray Mutimer, the original illustrator of Postman Pat, which will be open daily in Calcutt.
Street Entertainment and Workshops
Want something else to occupy children during August? Then come to the Market Place where each day during feva there will be those stalwarts of the festival such as The Great Mandavi, Bob's Your Uncle, Mike Hancock's Pick and Mix and Proper Punch.
The Four Shadows Theatre Group will reveal the secrets of Knaresborough in their hilarious walking tour and Frolicked Puppet Theatre will be back to stage their amazing tale of The Alchemist.
On 18 August there will be an attempt to fill the Market with Bubbles with the audience being expected to join in. On the first morning, 12 August, children can learn to make scarecrows and there is an arts workshop for children at the Castle on 17 August.
The Knaresborough Lions are again staging their three-day Beer Festival at Knaresborough House and where would we be without the popular Saturday Night Burlesque with first-timer Lady Wildflower at Henshaws. There are literary readings, walking tours and other events throughout the town during the 10 days of the festival. You can't – and shouldn't – miss it.
Background
Tony Cerexhe said:

The festival is as big as ever.

But this year we have made a special effort to broaden the array of attractions to suit as many tastes as possible.

Bookings can be made on line, by post, phone or in person at the Knaresborough Tourist Office. As in past years, we expect tickets to be snapped up so people are encouraged to move quickly to make their bookings.
feva is an annual event organised by volunteers as a not-for-profit community festival. It was held for the first time in 2001 and has grown to become one of the best-known festivals held in the north of England during the summer school holidays in August.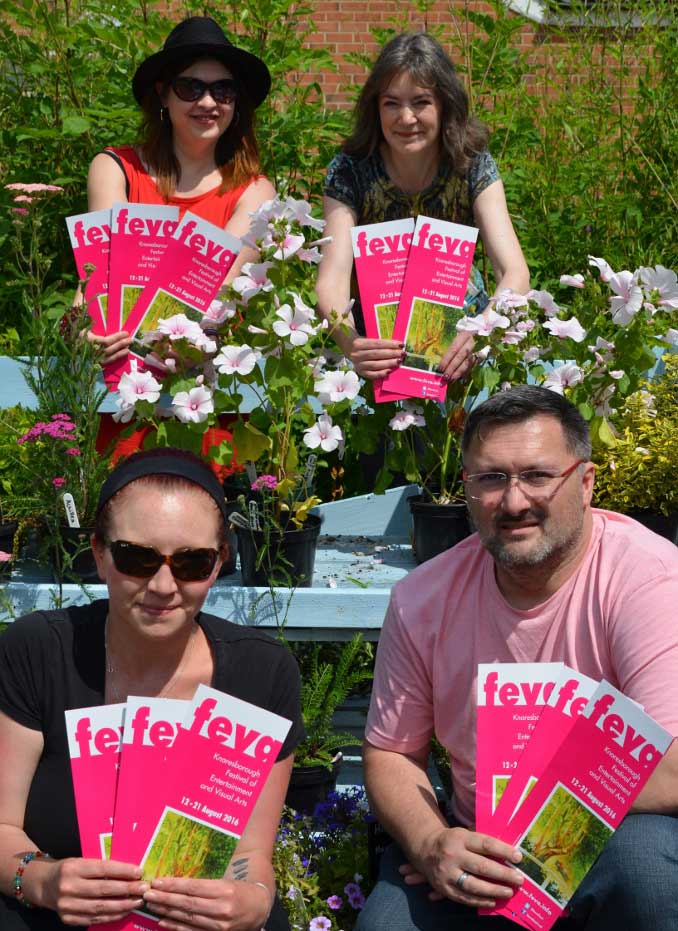 Details of feva 2016, how to become a 'friend of feva' at just £10 a year, to become a volunteer helper, and for those wishing to contact the feva organising committee to put on their own activity are available on the website: www.feva.info