Cyclists, conservationists, councillors and the local cycle forum got together to put up a plaque to mark the upgrade of the Bilton-Starbeck greenway on Tuesday (10 May 2016).
The improvements have been made to the main link of the greenway between Bilton Lane and The Avenue in Starbeck.
Local cyclists joined Councillor Rebecca Burnett, Harrogate Borough Council's Cabinet Member for Sustainable Transport, cycle repair and training outfit Veloheads, members of the Harrogate Cycle Forum and Bilton Conservation Group to put up a plaque to mark the improvements.
Before the upgrade, the surface at this point of the cycleway consisted of compacted stone, which had a tendency to puddle and become muddy.  The new tarmac surface should prevent puddles forming and ensure that this section is now an all weather path.
Funding for the work has come from both national and local organisations.  Harrogate Borough Council contributed £2,310 towards the work through its congestion reduction budget. The council also secured £19,117 through WREN's FCC Community Action Fund. Taylors of Harrogate have given £1,000 towards the improvements, and £100 has come from Bilton Conservation Group. WREN is a not-for-profit business that awards grants for community, conservation and heritage projects from funds donated by FCC Environment through the Landfill Communities Fund.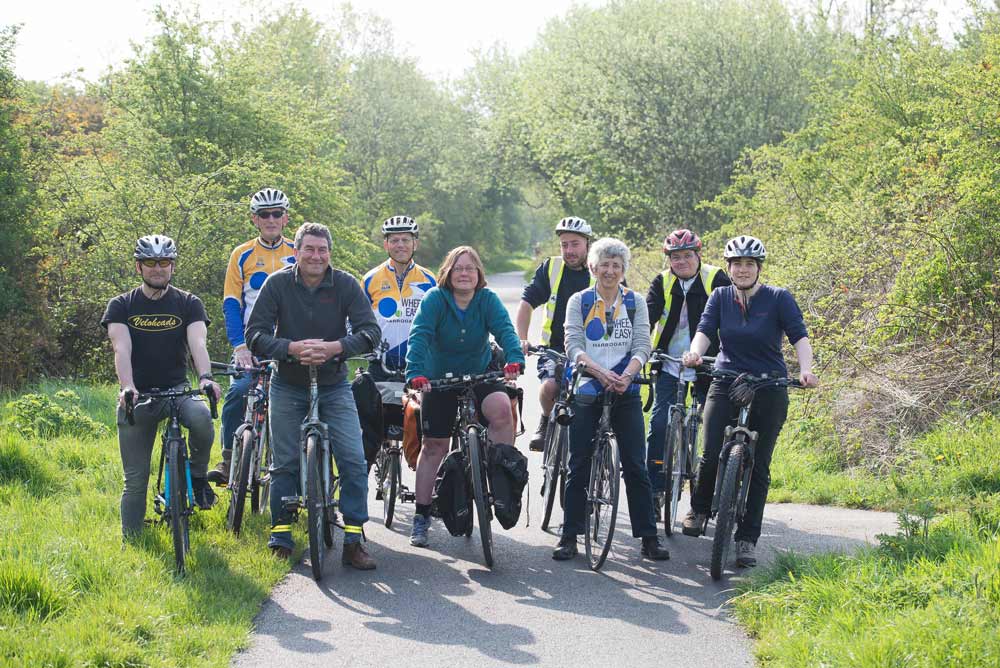 Councillor Rebecca Burnett, Harrogate Borough Council's Cabinet Member for Planning and Sustainable Transport said:

As the council continues to prioritise congestion reduction I am committed to ensuring that the district has good quality cycling routes.

This is not simply about looking at creating new routes, we must also ensure that the current ones are up to standard. I would like to thank WREN, Taylors of Harrogate and the Bilton Conservation Group for their generosity in helping us fund the improvements to the cycleway which runs between Bilton and Starbeck. I would also like to thank the Harrogate Borough Council staff who worked hard to ensure this project was delivered.

These improvements are of benefit not just to cyclists but everyone who uses this path, such as joggers, dog walkers and families travelling to our nearby schools.
Local cyclist Rebecca Black said:

These improvements mean that the cycleway is accessible for everyone, from experienced cyclists to young children who use balance bikes.

We now have a surface which is suitable for year round use. Cyclists and walkers can use the route together, without having to worry about traffic safety or noise. Local people are enormously proud of these routes and these improvements will mean even more people will be able to use them.
Keith Williamson MBE, Honorary Secretary of the Bilton Conservation Group said:

We now have a fantastic route from Harrogate, through Starbeck to Ripley. It is great to see it being so well used and it is extremely satisfying to see the job is now complete.
Penny Beaumont, WREN's grant manager for Yorkshire said:

It's always nice to see something we have funded come to fruition. We're delighted to have been able to support such a worthwhile project which will benefit people across Harrogate.
WREN is a not-for-profit business that awards grants for community, conservation and heritage projects from funds donated by FCC Environment through the Landfill Communities Fund. Since 1998, WREN has granted over £150m to more than 6,000 projects which benefit people living within 10 miles of a FCC Environment landfill site.  For more information please visit www.wren.org.uk
FCC Environment is the leading UK waste and resource management company and is part of a global group with a strong heritage in providing services for communities and business. Its vision is to be the environmental company of choice, delivering change for a sustainable future. It employs 2,400 people and operates more than 200 facilities across England, Scotland and Wales.  FCC Environment donates the LCF tax credits that are generated by its operations to WREN, in order to add value to the environmental and social infrastructure of the communities around landfill sites. www.fccenvironment.co.uk
The Landfill Communities Fund – any waste that is discarded which cannot be reused, reprocessed or recycled may ultimately be disposed of in a landfill site. To encourage the re-use, recycle and recovery of more value from waste and use more environmentally friendly methods of waste disposal, Landfill Tax is charged on each tonne of waste sent to landfill. Landfill Operators (LOs) are able to redirect a small proportion of landfill tax liability (currently 6.8%) to support a wide range of community and environmental projects in the vicinity of their landfill sites through the Landfill Communities Fund (LCF). The LCF is regulated by ENTRUST on behalf of HM Revenue & Customs, and the projects are delivered by enrolled Environmental bodies (EBs). Since its inception in 1996, over £1 billion has been spent on more than 32,000 projects across the UK. For further information, please visit www.entrust.org.uk or see HMRC's general guide to Landfill Tax