The team of volunteers behind Harrogate Christmas Market has spent the last week putting the finishing touches to the site on Montpellier Hill.
From putting up marquees to laying out signs around the site, the 'Market Makers' have worked non-stop to get ready for the tens of thousands of visitors expected to visit over the next four days.
Now, with traders set up and the funfair ready to begin, they are awaiting the arrival of Santa and his reindeer, who will officially open the Christmas Market – with help from the Mayor of the Borough of Harrogate, Coun Nigel Simms – at 10am on Thursday, 19 November 2015. Throughout the four days of the event, the Market Makers will be helping traders, welcoming coach parties and giving directions to visitors.
Brian Dunsby, who leads the organising committee of Harrogate Christmas Market, said:

The popularity of Harrogate Christmas Market shows no signs of fading, so we're looking forward to another busy four days.

We have a great schedule of local buskers lined up to keep the crowds entertained, our funfair rides will be running all weekend, and of course Santa will be in his grotto ready to welcome young visitors. Add that to the 200 stalls selling everything from local cheeses and home-made chutneys to Christmas decorations and hand-made accessories and beauty products, and you have the perfect recipe for a festive market.

We're hoping many of our visitors will also take advantage of the fantastic shops, cafés, restaurants, bars, hotels and other local businesses which are right on the doorstep of the Christmas Market site.
The Big Switch-On of Harrogate's Christmas lights also takes place on Thursday, ensuring the town will be surrounded by twinkling lights throughout the Christmas market and the rest of the festive season. Crowds will gather at the Victoria Shopping Centre Piazza for entertainment from local bands from 4pm.
Father Christmas and the Mayor will reunite once again at 6pm to switch on the lights, after which everyone will be welcome to attend a short carol service at St Peter's Church.
Both the market and the lights aim to support local businesses by bringing more people in to the town centre at a vital time of year for Harrogate's economy. They are both run by teams of volunteers who give up their time throughout the year to ensure the town thrives during the festive period.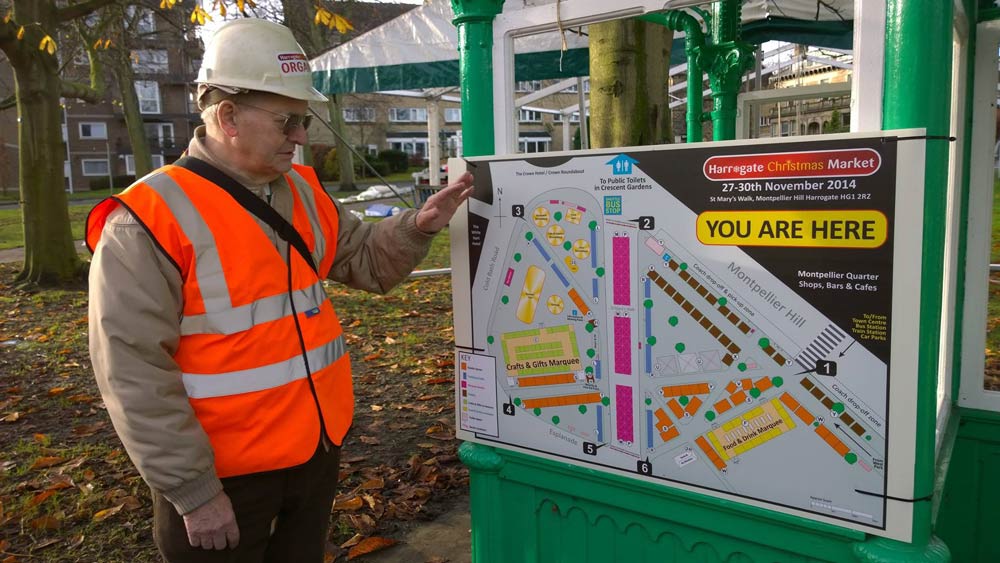 Harrogate Christmas Market takes place on St Mary's Walk in the heart of Harrogate from Thursday, November 19 to Sunday, November 22. It opens daily at 10am and closes at 8pm (5pm Sunday). Now in its fourth year, it is proving more popular than ever with both traders and visitors.
For more details, visit www.harrogatechristmasmarket.org and www.harrogateatchristmas.org
Harrogate Christmas Market first took place in 2012, run on a not-for-profit basis by Harrogate Chamber Secretariat and a group of volunteers, with any surplus being used to support events and organisations which contribute to the local tourism economy, including the annual Christmas Lights appeal.
The Christmas Market will be situated around St Mary's Walk North at the bottom of Montpellier Hill, HG1 2RZ.  It runs from Thursday, November 19 to Sunday, November 22, opening daily at 10am and closing at 8pm (5pm on the final day).
Harrogate Christmas Market has contributed £50,000 to the Harrogate tourism sector in its first three years, including £17,000 of support to the annual Harrogate at Christmas festive lights campaign.
Twitter: @HGChristmasMkt               facebook.com/HarrogateChristmasMarket