Just one week remains before the festive season officially begins in Harrogate.
Thursday, 19 November 2015, will see the start of Harrogate Christmas Market, as well as the Big Switch-On of the town's Christmas lights.
The day begins at 10am, when Santa arrives on his sleigh ready to cut the ribbon with the Mayor of the Borough of Harrogate, Coun Nigel Simms, and officially open Harrogate Christmas Market on St Mary's Walk. Six hours later, the pair will be back together at the Victoria Shopping Centre piazza, with live music and entertainment from 4pm before the lights are switched on at 6pm.
There will then be a short carol service, open to all, at St Peter's Church in Cambridge Street. Harrogate Christmas Market will be open daily from 10am to 8pm until Sunday, 22 November 2015, when it closes at 5pm.
Brian Dunsby, who leads the organising committee of Harrogate Christmas Market with his wife Beryl, said:

Having both the opening of the Christmas Market and the Big Switch-On on the same day means it really will feel like the start of the festive season in Harrogate.

Although many of our local shops already have their Christmas gifts on sale, and our hotels and restaurants have been advertising their festive menus for some time, it's only when those lights get switched on that we all really start to feel festive. Being at the bottom of Montpellier Hill and surrounded by twinkling Christmas lights, Harrogate Christmas Market is the perfect place to visit to get into the Christmas spirit.
Both the market and the lights aim to support local businesses by bringing more people in to the town centre at a vital time of year for Harrogate's economy. They are both run by teams of volunteers who give up their time throughout the year to ensure the town thrives during the festive period.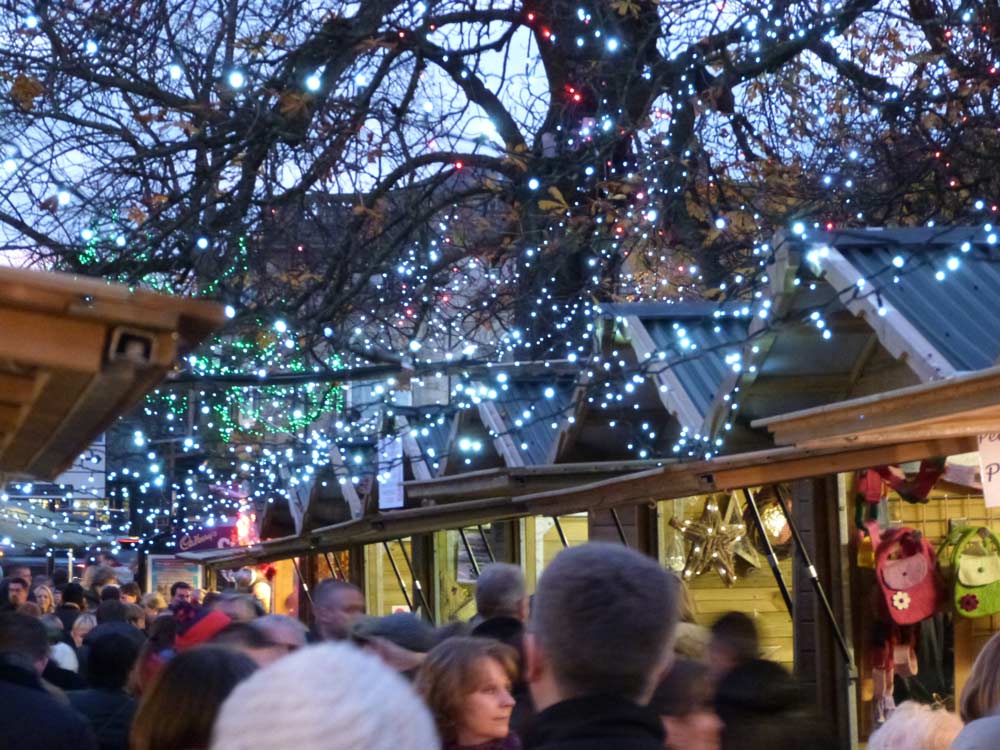 Coun John Fox, who is chairman of both teams, said:

Without the volunteers who put in so much effort to make Harrogate a brilliant Christmas destination, we certainly couldn't achieve as much as we do each year.

The thousands of visitors and the many compliments given to both the lights and the market are testament to the commitment of our volunteers. We hope that, once again, the people of Harrogate will support us and will bear in mind our slogan this Christmas: shop locally, celebrate locally.
Harrogate Christmas Market takes place on St Mary's Walk in the heart of Harrogate from Thursday, 19 November 2015 to Sunday, 22 November 2015. It opens daily at 10am and closes at 8pm (5pm Sunday).
Now in its fourth year, it is proving more popular than ever with both traders and visitors. The 200 spaces for traders sold quickly when they were released and the number of coach parties booked to attend is already higher than in previous years.
The Harrogate at Christmas formed in 2009 to secure the future of Harrogate's Christmas lights. Each year, it raises more than £30,000 in donations from businesses and individuals to fund the festive displays around the town.
Fore more details, visit www.harrogatechristmasmarket.org and www.harrogateatchristmas.org
Harrogate Christmas Market first took place in 2012, run on a not-for-profit basis by Harrogate Chamber Secretariat and a group of volunteers, with any surplus being used to support events and organisations which contribute to the local tourism economy, including the annual Christmas Lights appeal.
The Christmas Market will be situated around St Mary's Walk North at the bottom of Montpellier Hill, HG1 2RZ.  It runs from Thursday, November 19 to Sunday, November 22, opening daily at 10am and closing at 8pm (5pm on the final day).
Harrogate Christmas Market has contributed £50,000 to the Harrogate tourism sector in its first three years, including £17,000 of support to the annual Harrogate at Christmas festive lights campaign.
Twitter: @HGChristmasMkt               facebook.com/HarrogateChristmasMarket