A Harrogate cyclist whose life was saved by a St John Ambulance volunteer when he suffered a cardiac arrest earlier this year, has visited young Badgers during a first aid demo event held at the charity's Starbeck Unit.
St John Ambulance youth leader, Sue Grant, 51 from Starbeck successfully resuscitated 80 year old David Inman, who collapsed from his bicycle after returning home from his regular 30-mile cycle to Fountains Abbey, on January 25.
David was invited by Sue to meet the next generation of first aiders to help drive home the message that first aid saves lives and talk about her own experience of putting her training into action.
Sue Grant said:

I have been a volunteer with St John Ambulance for nearly 40 years and have first aid trained many youngsters.

David is a living, breathing success story on how first aid can be the difference between life and death and the Badgers loved meeting him and demonstrating their first aid skills.
Sue has since been recognised for her life saving actions by the NHS Trust Yorkshire Ambulance Service who presented her and fellow good samaritans with a Local Commendation award, a monthly award that honours life savers in the local area.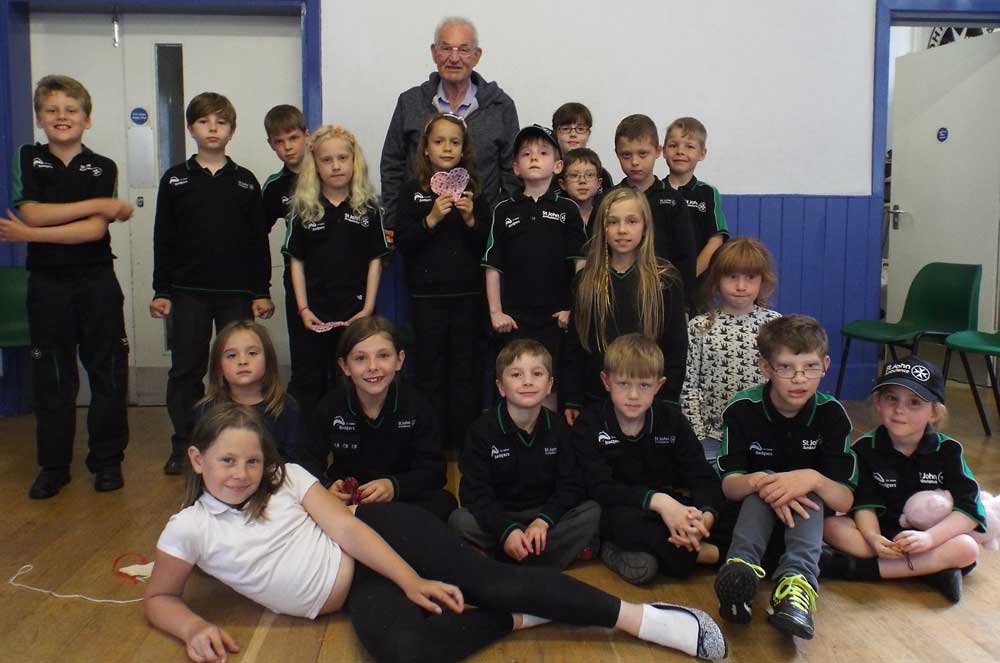 Walking back from church after midday near Prospect Road on January 25, Sue was alerted to the incident by a fellow churchgoer in distress. Sue offered assistance and immediately jumped to action.  A bystander had already called for an ambulance.
After assessment Sue knew David was not breathing and immediately started cardiopulmonary resuscitation (CPR) along with a passer-by who also stopped to help.  He had been first aid trained but had forgotten what to do, so Sue taught him the technique and they continued for 20 minutes.
A nurse driving by also came onto the scene to assist and Sue also showed her the CPR technique, as well as a local off-duty policeman, PC Graham Frostick, who was in the area.
The group of good Samaritans, led by Sue, continued CPR until the ambulance arrived and paramedics took David to Harrogate Hospital, before transferring him to Leeds General Infirmary, where he underwent surgery and was kept in an induced coma for 3 days.  David is now recovering well just a few months after the incident.
Sue joined St John Ambulance aged 12 as a Cadet and has held a number of volunteer roles with the charity for nearly 40 years.  Sue is now a Unit Manager for the Starbeck and Knaresborough Badgers and has been an active first aider with a strong presence at many events in and around Harrogate and Knaresborough.
David, a retired shopkeeper and former bus driver and his family was reunited with Sue earlier this year to thank her for her life saving actions.
David said:

I'm so grateful to Sue as without her first aid intervention I wouldn't have survived.  It really is a miracle and I am living proof that first aid really works.

I'm still undergoing treatment, but am recovering very well and I have Sue and a group of good Samaritans to thank for that.

I was delighted to visit the young Badgers in Starbeck to give them the opportunity to see how I was doing thanks to Sue's amazing actions that day.