A police constable from the Harrogate Safer Neighbourhood Police Team has set herself a personal challenge and will be raising money for charity at the same time.
PC Amanda Hanusch-Moore will be running the Great Cumbrian Half Marathon on 4 October 2015.
Amanda said:

This will be the  first half marathon that I have done and I am hoping to raise money for the Cystic Fibrosis Trust and Yorkshire Cancer research.

I have chosen the charities as they mean something to me.

There is a family member that lives with Cystic Fibrosis, so I am very aware of the difficulties that it can cause.

Also, like many, we have had close relatve that has had to battle cancer. Yorkshire Cancer Research is a Harrogate-based charity and I think they do some great work.
The half-marathon route takes runners follow along an undualting route from Carlisle Castle into the surrounding countryside and back into the town, finishing in The Sheepmount Athletics Stadium.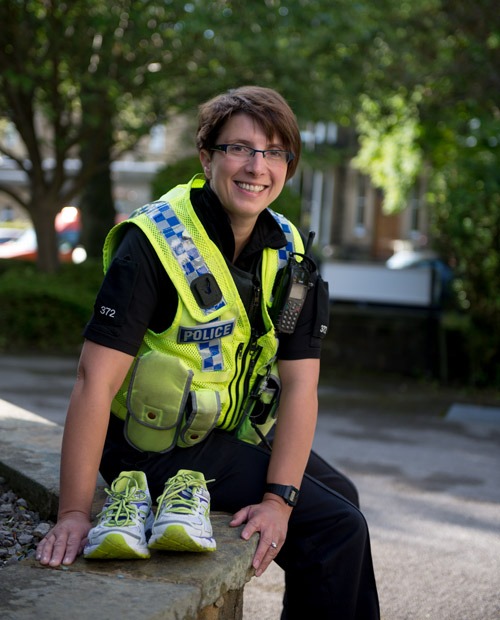 Yorkshire Cancer Research is Yorkshire's cancer charity, helping the people of Yorkshire avoid, survive and cope with cancer. Based in Harrogate and funded entirely by our donors, we have supported vital projects across the county for 90 years in our region's universities and teaching hospitals. We are committed to reducing the devastating impact of cancer on the lives of people living in and around Yorkshire.
The Cystic Fibrosis Trust is the only UK-wide charity making a daily difference to the lives of people with cystic fibrosis and those who care for them.
Cystic fibrosis is a life-shortening genetic condition that slowly destroys the lungs and digestive system. The faulty cystic fibrosis gene controls the movement of salt and water in and out of the cells within the body.
People with cystic fibrosis face a lifelong challenge, involving vast daily intakes of drugs, time-consuming physiotherapy and isolation from others with the condition, just to stay healthy.
Amanda said:

Around 1 in 25 of the UK population carries the faulty cystic fibrosis gene and there are 3 babies born each week and 2 people sadly die every week due to the condition.
In the UK 50% of people with cystic fibrosis in the UK will live to their 40th birthday.
You can follow Amanda's training progress from her twitter page @pcthreeseventwo
And you can donate to her chosen causes http://uk.virginmoneygiving.com/AmandaHanuschMoore