The Bed Race was born out of the enthusiasm of the newly-formed Knaresborough Round Table in 1966, which was looking for a major charity fund-raising event. They came up with the idea of a time-trial in which teams would follow a pre-determined course pushing beds around the town.
The basic part of the course – starting and finishing at Conyngham Hall grounds, a climb to the Castle with a swim across the River Nidd – has remained largely unchanged since that first race in 1966, though the route through the town has altered, mostly for reasons of safety and crowd control. The rough distance of the course is 2.4 miles.
Only four teams competed that first year – from HMS Forest Moor, RAF Linton-on-Ouse, the Army Apprentices College in Harrogate, and the US Army from Menwith Hill. The winners were the Army Apprentices who finished in a time of 24 minutes 22 seconds. The US team entered the river several hundred yards before they needed to and, from being in first position, they finished last!
The race was held on the second Saturday in June, a tradition that continues to the present. The weather was poor and this led to the small number of spectators who turned up. Nevertheless, £300 was raised for local charities and a pageant known as much for its eccentricity as for its competitive rigor was born. The essential nature of the event, being organised entirely by volunteers in their spare time for the entertainment of the community and to raise money for good causes, has been continued to this day.
The second year of Bed Race was blessed with better weather and an amazing crowd of 10,000 people came along to cheer the 21 teams who entered. The winners were Knaresborough Young Farmers in 18 mins 21 secs, and £800 was raised for charity.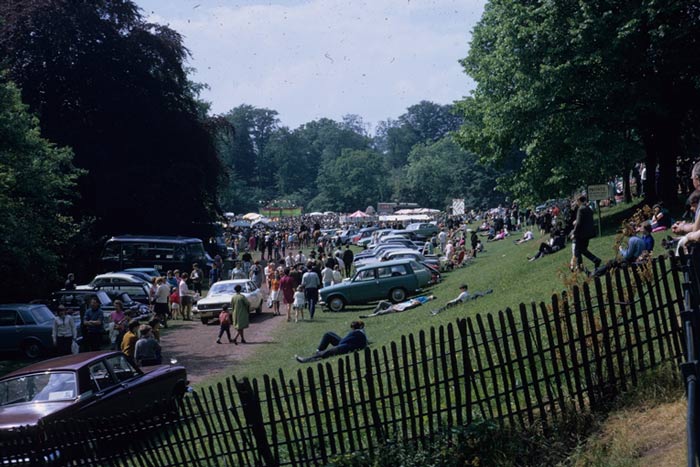 Following their success in the inaugural event in 1966, the Army Apprentices College again stormed to victory in 1968, setting a record of 17 mins 8 secs. Once more, the notoriously fickle North Yorkshire weather intervened to keep crowds down and just £650 came in for good causes.
By 1969 the fame of Bed Race had spread. BBC Radio Leeds covered the race with an outside broadcast unit from 3 pm till 6 pm. Once more the rain came down, but did nothing to dampen the enthusiasm of a field of 32 teams. The Leeds Regional Hospital Board won in 20 mins 36 secs, and £500 was raised for local charities.
The 1970s
And so into the 1970s. Baking hot weather attracted 15,000 people in 1970, with a record field of 36 teams. But after a really successful race in 1971, the following year was an absolute disaster, marred by torrential rain and only about 2,000 spectators turned up. The weather was so bad the river crossing had to be abandoned because of the high water level – something that happened again in 1998. According to reports at the time, it was a real achievement that the Bed Race could be run at all in such fearful conditions – the race started and finished in Conyngham Hall Field.
The difficulties of the 1972 race were quickly forgotten and balmy temperatures characterised the 1973 race, won by the Leeds United Supporters Club. The Guinness Book of Records entered the record winning time into its annals. They came back in 2014 but it is not always easy to compare times one year with another due to course conditions and the height and speed of the waters of the Nidd.
The eighth Bed Race in 1973 witnessed an innovation to the attractions with a prize awarded for the best decorated bed. This was a recognition of what had been happening for a few years in any case, as more and more teams turned up in fancy dress with decorated beds. It seemed to go together. Teams were contacted and it was agreed that they all should have decorated beds and, in fact, the 36 teams complied. They paraded through the town before most removed the decorations for the start of the race.
Later, an annual award was also presented to the Most Entertaining Team and the organisers started to issue an annual theme.
Thus the dual nature of Bed Race was established: part pageant, part grueling athletics challenge and it has remained so ever since. Though there is always a split between entertainers and athletics, most try to do well in both categories. This being Yorkshire, all teams are very competitive and have rivals and past times they always wish to beat.
It is believed that a crowd of about 20,000 people came to Knaresborough to watch the 1974 race which was won by the Royal Ordnance Factory Apprentices of Leeds. The Best Decorated Bed was from the George Hotel, Knaresborough.
1975 saw the first international entry to the Bed Race with a team from Knaresborough's twin town of Bebra taking part. The Harrogate Athletics Club won in a fast 14 minutes, 9 seconds, and started a dominance in the fastest team stakes that would last for several years.
The organisers introduced a children's painting competition in 1976 to go with other attractions, which by then included a beauty pageant judged the night before Bed Race.
Rain came again in 1977 in such quantity that the local Knaresborough Post newspaper wrote that it was as if a cloud had enveloped the town. By now the event was so well established in the calendar of regional festivities that there was no fear of it being called off. As many as 10,000 hardy souls braved the inclement weather to watch the 44 teams take part. The best-decorated bed was from the Mitre Hotel, which depicted a royal coach pulled by four local ponies.
Harrogate Athletics Club's run of success came to an end in 1978 when ICI Flying Fibres won in 14 minutes 7 seconds. The theme was 'Knaresborough in the 21st Century'. Debbie Kay became Miss Knaresborough and the Best Decorated Bed was that entered by Hull Round Table.
In 1979 a new world was entered in the Guinness Book of Records. ICI again won, this year in 13 mins 28 secs, finishing ahead of a field of 50 teams on a perfect day with streets filled with some 15,000 people.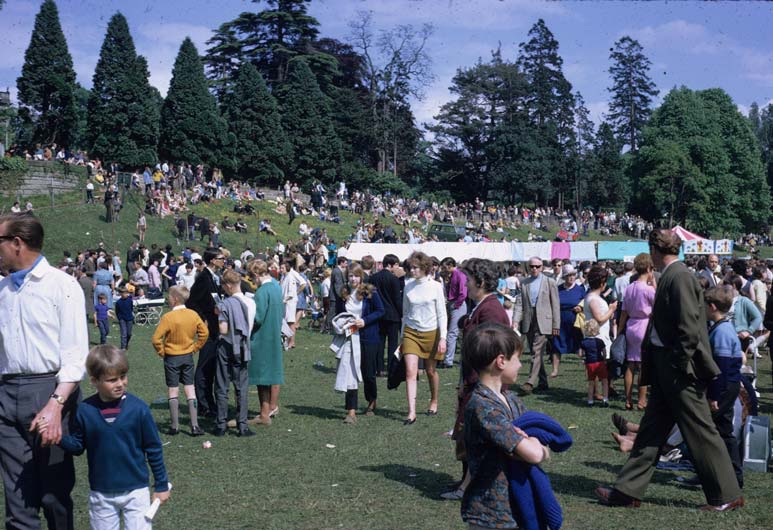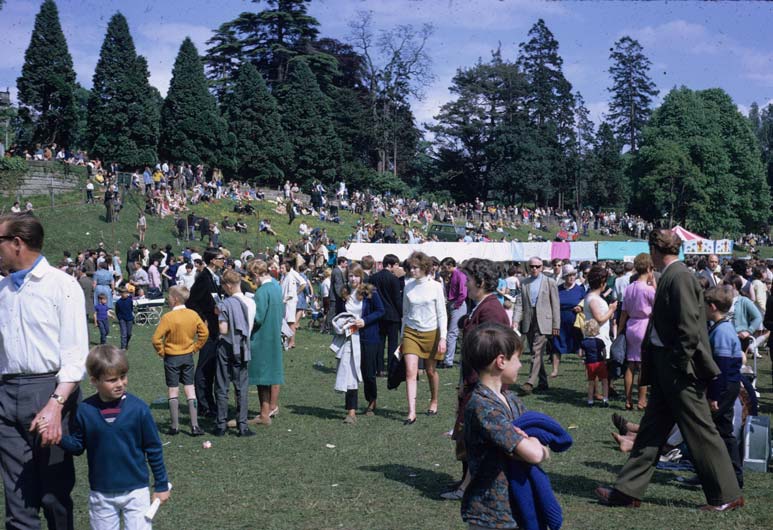 Charities

In 1975 the money raised by the organisers was £1,700 and this was put towards the cost of a community mini-bus. Community centres, scout huts, playing fields and many other facilities have been built or improved with Bed Race money since then. On occasions there has been a nominated charity but more often funds have been allocated to charity accounts that support a range of good causes. Current organisers the Lions Club, have a policy that at least 80% of sums raised go to local causes.
In the 1970s teams also started to use the event to raise money for their own charities. It didn't take long for funds raised by teams to outstrip that of the organisers. Other charities became involved in different ways and also raised cash for causes. So, Bed Race became to be seen as a vehicle for a whole raft of bodies to do good.
By the time of the 44th race in 2009, the organising group – by then the Knaresborough Lions – raised £15,000, while the teams themselves brought in over £60,000 more, based on information they provided. Through subs paid for marshalling, selling programmes and by running charity stalls and attractions, other groups raised up to a further £10,000.
These days the organisers believe that Bed Race is used to develop up to £100,000-worth of funds each year. Allowing for inflation, the event must have raised millions of pounds at today's prices for local good causes. Quite an effort!
The 1980s

The theme in 1980 was 'Nursery Rhymes' and a record number of 55 beds entered. So many teams wanted to take part that the organisers decided to close the entry period some weeks prior to the event. ICI continued their dominance; the Most Entertaining Team was the Half Moon and the weather again was very wet.
Three months later, in September 1980, the team from the Wellington pub pushed their bed a gruelling 62 miles from Knaresborough to Scarborough for charity, raising £300, and carrying Miss Knaresborough Yvonne Wood along the route.
The 1981 event raised £3,000 for Round Table charities and ICI again led the way. Also, the first ever all-female team – the Mitre Birds – took part. Bed Race was featured on the ITV programme 'Game for a Laugh' in 1981.
ICI changed their name to ICI Fibres European Express following a titanic push all the way to Knaresborough's twin town in Germany, Bebra, a mere 500 miles. This was so that they could take part in Bebra's first Bed Race, which they called Sanftenrennen. In the 1990s, Bebra's other twin town in the old East Germany, Friedrichroda, started its own Bed Race. Bed Races started to pop up, too, in the USA taken back by returning GIs and civilian workers at Menwith Hill.
In 1982, the fastest team was the Long Distance Walkers Association showing you can't judge a book by its cover.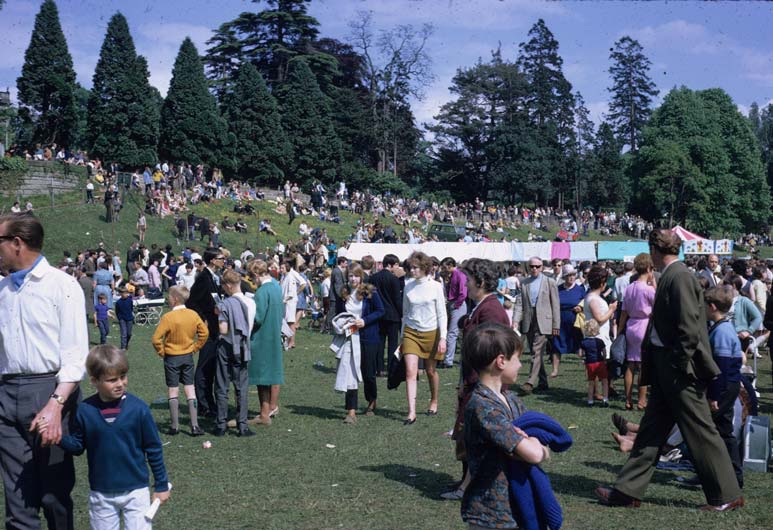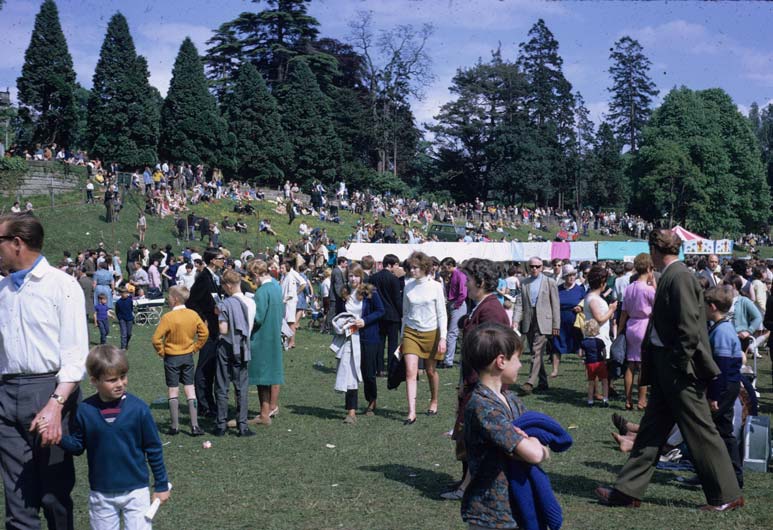 A list of the winners later in the 1980s:
Winners from 1983 Team Time
1983
1. Haskins 13.08
2. Bebra Bears 13.10
3. Vibraplant plc 13.26
1984
1. Bebra Bears 12.36
2. Long Distance Walkers 12.55
Nothing more mentioned.
1985
1. Vibraplant plc 13.02
2. Bebra Bears 13.03
3. Haskins 13.07

1986
1. Haskins 13.10
2. Vibraplant plc 13.16
3. Bebra Men 13.18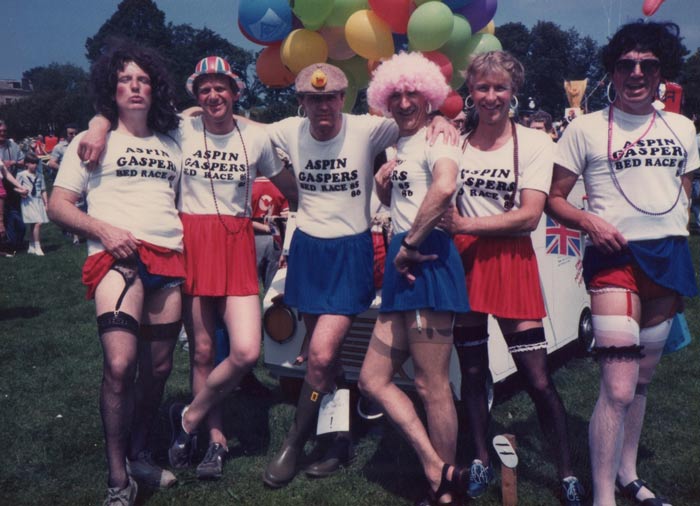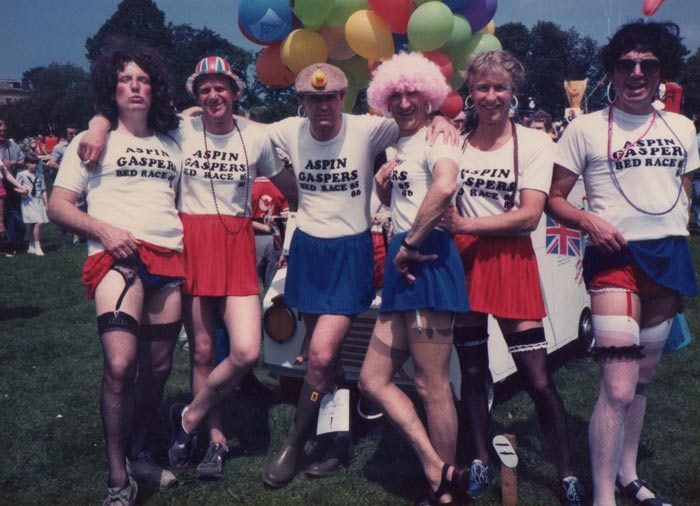 1987
1.Vibraplant plc 12.44
2. Bebra Beavers 13.11
3. ICI Fibres Flying Fiasco 13.19
1988
1. Bebra Beavers 12.25
2. Harrogate Athletics Club 12.27
3. Vibraplant plc 12.54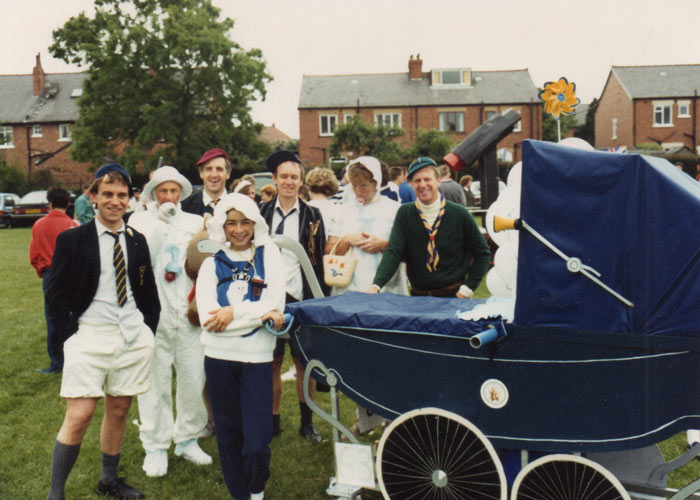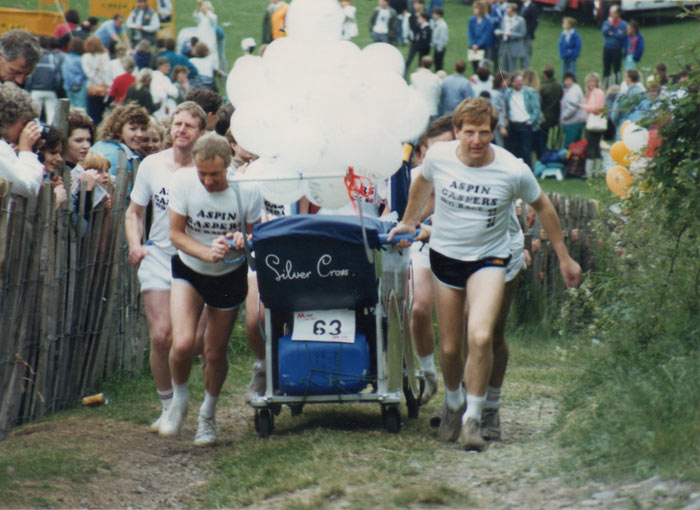 1989
1. Harrogate Athletics Club 12.16
2. Vibraplant 1 12.22
3. ICI Fibres Flying Fiasco 12.58
The 1990s

Through the 1990s the race prospered. Despite this the organising Round Table had come under pressure due to declining membership. They had done much to establish this great event and had even won a special award from the British Round Table organisation for their work with Bed Race, but a change in the business landscape meant that there were fewer young people stepping up to join the organisation in Knaresborough.
In 1995 an agreement was struck with Knaresborough Lions Club, which had formed in 1986 and was not affected by the tides of business. Now, for a few years there was a dual organising group, though by 1999 the full responsibility for the event was passed to the Lions as Round Table was disbanded.
What had been known as the Knaresborough Bed Race until 1994 now became officially termed 'The Great' on account of its having spawned other bed races in Germany and the USA. This continues, of course, and it is good to hear of similar events in Auckland, New Zealand, Naples, Florida and Gauteng, South Africa. In 2014, the organisers were contacted by a group in Polop near Benidorm in Spain, who are looking to stage their own event. Good luck to them!
Yorkshire-born entertainer Roy Castle turned up to film the 1990 Race for his Record Breakers TV programme, with the event now well established in the calendar of the nation's favourite dotty sporting challenges. These days TV crews turn up each year and short segments are beamed by stations all around the world. We are told that Bed Race was a hit with viewers in Barcelona in 2012 and visitors to the World Cup in Brazil in 2014 reportedly saw a few minutes aired on local television.
Looking at the list of fastest teams in the 1990s one thing stands out: the sub-12 minute time in 1998. This was a result of that cancellation of the river crossing due to heavy rain, teams instead finishing in Conyngham Hall Grounds. It made a big difference not having the icy 16-metre swim to finish the Race, but it wasn't as much fun!
Bed Race Winners in 1990s
Year Fastest Team Time (mins/secs)
1990
1. Record Breakers 12.09
2. Bebra 12.22
3. Harrogate Athletics Club (Hacs)13.41
1991
1. Record Breakers 12.17
2. Hacs 12.31
3. CSMA/Frizzell 13.26
1992
1. Record Breakers 12.34
2. Hacs 12.46
3. Service with a Smile 13.14
1993 1. Stray FM Record Breakers 12.35
2. National Grid Company 13.01
3. CSMA/Frizzell 13.39
1994
1. Nidd Valley Flyers 12.34
2. Stray FM Record Breakers 13.09
3. Flying Fiasco 13.14
1995
1. LGA Bebra 12.48
2. Stray FM Record Breakers 13.12
3. Nidd Valley Flyers 13.20
1996
1. Record Breakers 12.46
2. LGA Bebra 13.09
3. Nidd Valley Flyers 13.18
1997
1. Record Breakers 12.55
2. Station Masters Team 14.54
3. Forest School Flyer 14.55
1998
1. Record Breakers 11.35
2. T&G Tornadoes 13.00
3. Station Masters Team 13.01
1999
1. Record Breakers 12.57
2. Forest School Flyer 14.47
3. Robinsons T&G Dream Team 14.52
What a record! Eight times the Record Breakers won Bed Race in the 90s; in the other two years they came second.
Female Teams

By early 1990s the number of all-women teams had increased and a special Fastest Female Team award was inaugurated. The record books show these winners as:
1992
1. Kegal Kats 23.44
2. Harrogate Nursing College 25.04
3. Leeds DA Girls 26.43
1993
1. Power Posse 19.04
2. Bebra No2 19.18
3. U Name It (Printing) 20.29
1994
1. Nidd Valley Nymphs 19.15
2. Blue Flyers 20.22
3. Friedrichroda II 23.29
1995
1. Nidd Valley Ladies 17.31
2. Yorkshire Lasses 18.56
3. Bebra Ladies 19.32
1996
1. Imperial Lemmings 17.28
2. Nidd Valley Ladies 18.33
3. Snac Attack 18.54
1997
1. Nidd Valley Ladies 19.39
2. Mother Shipton Inn 25.53
3. Grove Road Groovers 28.03
1998
1. Imperial AC Ladies 17.27
2. Bebra Ladies (no time recorded)
1999
1. Last Hope 20.21
2. Disco 2000 22.11
3. Millennium Babes 28.09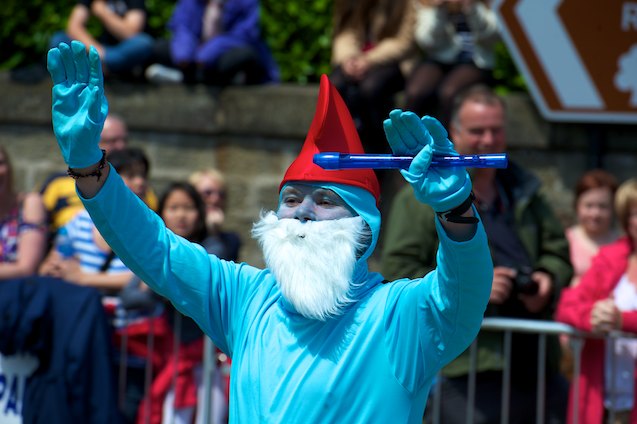 Bed Race Today

More and more teams have sought entry to the Great Knaresborough Bed Race leading to the capping of the maximum field at 90 teams. Still, they enter: 120 aspirants teams applied in 2010; 129 in 2011, 125 in 2012; 109 in 2013 and a record 133 in 2014.
A public draw is held each year in early March to select the 90 contestants. Sponsors' teams and the prior year winners are given reserved places. Teams are seeded in the draw to favour junior teams and those who have entered the race for several years.
On Bed Race day teams assemble at Knaresborough Castle from 10 o'clock where they are judged for the 'Best Dressed Bed' awards. Their beds – these days specially made vehicles characterised by strength and lightness – are checked to ensure they meet Bed Race rules. Some teams face time penalties and occasionally there have been disqualifications.
At 1 pm the teams embark on the parade through Knaresborough's pre-industrial streets, past its medieval market and down the High Street to Bond End and into the fields of Conyngham Hall. Mid-way they are judged for the 'Most Entertaining Team' award. The paraders are joined by local dignitaries and bands in a panoply of noise, colour and much good humour. The Red Arrows flew over the market in 2004 to coincide with the parade.
At Conyngham Hall, the beds are stripped of decoration and the teams don their racing attire. Then the Race, run as time trials, begins with teams departing at 10-second intervals. The fastest set off first. They charge out of Conyngham to High Bridge and along the narrow and winding Waterside through the Nidd Gorge, before climbing the very steep slope of Castle Ings to the Marketplace. The descent down the High Street comes as a relief to aching limbs, and the teams cross the river at High Bridge, before facing the bumpy ride through the parkland of McIntosh Field. The final and toughest hurdle, and the favourite thing to see for spectators, is the swim across the River Nidd. The beds have to have float and both runners and passengers need to be able to swim. Divers are on hand to provide assistance where needed.
What is absolutely unique about the Great Knaresborough Bed Race is the topography of the town itself. Still very largely medieval with a Castle, cobblestones and narrow streets, the route is enhanced by the run along Waterside and through the Nidd Gorge with overhanging cliffs towering above the teams. The difficulties of steep climbs and descents, bridges and alleyways, culminate in that chilly, thirty yard swim through the fast-flowing River Nidd means that event the slowest teams have to be fit. Members of athletics and fell running clubs say that few things are quite as hard as the Bed Race.
The runners pull the beds and their passengers from the river and gasp the last few yards across the finishing line. Winning trophies are awarded to the fastest team, the fastest all-female team, the fastest first-time team, junior male and female teams, mixed teams, non-athletic teams. Prizes are presented to those who won the earlier categories for decoration and entertainment value. Such has become the excellence of the decorations that a raft of 'highly commended' awards, in addition to the first, second and third places are recognised in the Best Decorated Bed category. Those teams who raise significant sums for charity win awards and there is a yearly prize to the group or individual who has made a special contribution to Bed Race.
Teams dry off; decorations are dumped in the skips or taken away; the weary runners and spectators mingle as they move home, and Bed Race banners are taken down for use another year. The roads around Knaresborough, closed to traffic for five hours, reopen. Knaresborough returns to how it was before but, hopefully, proud and pleased with another contribution to what it means to have fun while boosting good causes.

What it all means

With a 90-team race field there are 630 runners and passengers who take part in Bed Race. Teams are allowed to have additional helpers in the parade – often small children also dressed in fancy dress. There are marching bands involved in the day and dance groups so that there are probably more than 1,500 people involved as participants. All carry home with them a special memory of the day.
The Knaresborough Lions have 30 plus members who shoulder the months of organisation. This starts in the preceding September and takes the club through to cleaning up in the weeks following the event. The club has separate groups for event management, health and safety, teams' coordination, marshalling, top field and bottom field, programme production and sales, sponsorship and publicity.
In addition, various other Lions clubs, Rotarians and Harrogate Round Table help out on the day, as do air training cadets, scouts and guide troops, school groups from King James and St John Fisher's, sports clubs, social clubs and other organisations. Teams provide a marshal each as a condition of entry and other volunteers swell the numbers past 300 of those assisting in making the event flow safely and smoothly.
The police turn out in force to ensure that it is a family day and Northern Rail adds extra services. GSPK and ALM Manufacturing allow their properties to be used for park and ride, and Eddie Brown Tours provide a free bus service to ferry people between these locations and the town centre. Sira Studios films the event and arranges a Big Screen TV for people to watch in Conyngham Hall. Stray FM provides entertainment for spectators and gives live updates through their radio broadcasts. Harrogate Hospital Radio ensures that patients are kept up-to-date. For the Knaresborough Post it is, in their words, 'our Olympics and World Cup.'
Fantastic help is received from Harrogate and Knaresborough Councils, from their workers and street cleaners and from North Yorkshire Highways.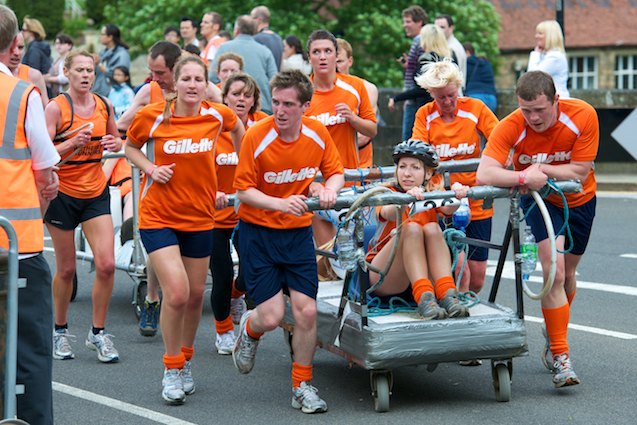 The event brings in great business for Knaresborough. In 2013, the Chamber of Trade estimated that it is worth £350,000 to the town. In addition, most of the charity money raised goes to local recipients.
Then there are the thousands of people involved in sawing, chopping, welding, sticking and painting the bed decorations, and sewing, stitching and dying the fancy dress. It really is a whole community event, galvanizing the town, giving a focus for those who need to get fit, for those who want to learn to swim, for those who want to build and for those who just want to enjoy the enormous fun.
Call it quirky? Well perhaps you are right. The Great Knaresborough Bed Race, run in an unbroken line since 1966, captures all the eccentricity and competitiveness of this North Yorkshire market town. It has grown to become one of the largest community events of its kind in the UK, attracting attention from all over the world. And it is something that Knaresborough and Knaresborians – Crag Rats all – can call their own!
Keep informed via www.bedrace.co.uk