Harrogate based Daleside Brewery, producer of cask real ales, kegged lager and premium bottled beers has signed up as a key sponsor of the forthcoming Harrogate Big Bike Bash weekend, taking place 19th – 21st June.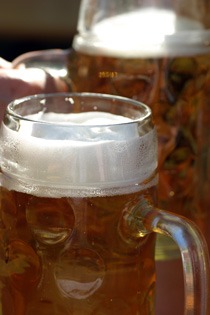 Daleside Brewery, which last year developed a special beer called Pedal Power to celebrate the Tour de France coming to the county will be sponsoring the VIP area of the Event Village as well as providing the public bar at the Harrogate Big Bike Bash.
Commenting on the sponsorship, Eric Lucas, Managing Director of Daleside Brewery said:

Last year Daleside fully embraced the Tour de France Grand Depart and it makes absolute sense for us to continue to support and promote the Harrogate Big Bike Bash and be part of the team to bring once again the excitement and thrills of a cycling spectacular.

Daleside Pedal Power beer, which has a low alcohol strength of 3.4% with a modern hoppy flavour and will make a welcome return as well as our usual range of real ales, kegged lager and full range of soft drinks.
Harrogate's Big Bike Bash is being organised by Pennine Events on behalf of Harrogate Borough Council to celebrate the anniversary of last year's Tour de France and it is providing the opportunity to once again enjoy the pleasure of a key cycling event in Harrogate.
The Team at Daleside has enlisted the help of Yorkshire Events Taverns to manage both the VIP bar and the main public bar within the event village.
Yorkshire Events Taverns Directors Hamilton Mattock and Tricia Lightfoot have been running events for just over a decade. The two companies combined make the perfect partnership.
Commenting on Daleside Brewery's support, Harrogate Borough Council Leader, Councillor Richard Cooper said:

This is a great local event which we hope will attract over 10,000 people over the course of the weekend. Gaining the support of local businesses like Daleside Brewery not only helps add to the occasion but underlines that this is a Harrogate focused event and provides a perfect platform for them to promote their business and range of products to a captive audience.
Organisers say a  range of sponsorship opportunities are still available with prices starting from £250. For more information please contact: mandy@pennineevents.co.uk
For further information about the Harrogate Big Bike Bash follow regular Twitter updates @HarrogateBBBash or via www.facebook.com/harrogatebigbikebash