More than 650 people have attended events put on by a volunteer-run charity in Harrogate as part of a campaign from national cycling charity CTC.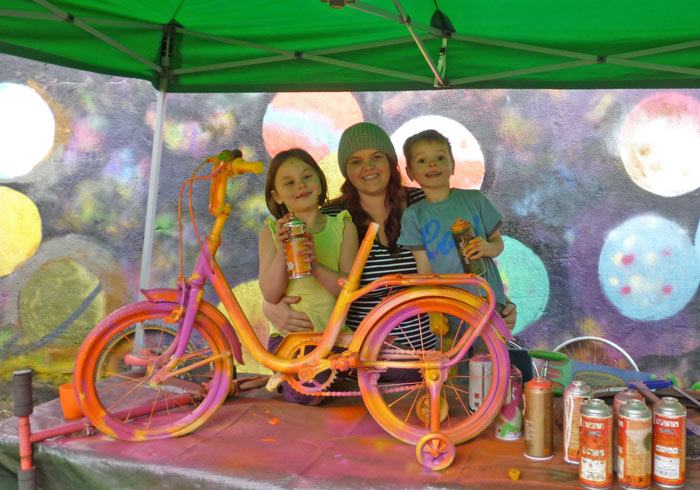 Resurrection Bikes, based at Westcliffe Hall, is participating in The Big Bike Revival, an initiative being delivered by cycle centres across England that aims to get forgotten bicycles back into use.
At nine events over the half-term week of 23 – 31 May, a total of 658 people visited the centre, part of the Kairos Network Church, to receive free safety checks and repairs, buy recycled bikes or enjoy fun activities, tea and cake.
John Rowe from Resurrection Bikes said:

Our involvement in The Big Bike Revival has been a tremendous success and demand for the sessions has really exceeded our expectations.

It has been fantastic to see so many people, young and old, coming to us with their bikes, getting them fixed and riding away happy.

Lots of people bought one of our affordable recycled bikes, and we also had quite a few generous donations that mean even more people will be able to purchase a bicycle of their own in time for the summer.
Resurrection Bikes even teamed up with community art project Beulah62 to create a cycling-inspired on-site mural – which local children helped to paint at the events.
John added:

The mural looks brilliant and we will be working with Beulah62 to keep it up to date and fresh on an ongoing basis.
Ian Richardson from CTC, the national cycling charity, said:

It is great to see so many cycle centres in Yorkshire running successful events as part of The Big Bike Revival.

The campaign is proving very popular and we are confident that it will help increase the number of bikes that are in active use across England.

It is also good that cycle centres like Resurrection Bikes – which offer so much to the public and are available throughout the year – are receiving so much exposure thanks to their involvement.
The Big Bike Revival runs until Sunday 7 June.
To find your nearest event or for more information about The Big Bike Revival, visit www.bigbikerevival.org.uk