A dementia café in Knaresborough has proved so popular for people with dementia and their carers that it is now set to run twice weekly.
The café at Gracious Street Church will now run on 2nd and 4th Wednesdays of each month from 1:00 til 3:00. Currently around 8 people people attend the existing group.
Alison Wrigglesworth, Services Manager for Alzheimer's Society in Ripon, Harrogate & Craven, York & Selby said: Alzheimer's Society's Dementia cafes can really help improve people's quality of life.

They give people with the condition and their carers the opportunity to socialise with others in similar situations and receive vital support. They're also a great source of information and guidance which can help people to live well with the condition.

We are delighted to be able to open a second session at the café to offer even more support to people living with dementia in the Knaresborough area.
Dementia Cafés provide people with dementia and carers a platform to talk openly about living with dementia within a relaxed and informal environment. The group will also hear from a variety of guest speakers, including health and social care professionals and representatives from the local community, about topics and services relevant to them.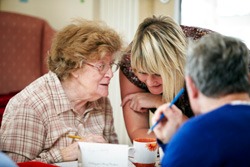 Users of this service are asked for a voluntary contribution of £2 towards tea and coffee.
There are over 2,500 people with dementia in the Harrogate area. With the right support people can live well with the condition for a number of years.
As well as Dementia Cafés, the Alzheimer's Society runs a number of services including Singing for the Brain and Strollers Group.
For more information contact Alison Wrigglesworth Services Manager on 01423 813463 or visit alzheimers.org.uk/localinfo