A new social enterprise project, Resurrection Bikes, has been launched in Harrogate to raise money for charity by recycling and selling old, donated bikes.
What began as a hobby for local cycling enthusiast, John Rowe (pictured with volunteer James Forrest), fixing up unwanted bikes in his garage, reached the point this year where garage space wasn't enough. Over the past four years John has fixed up several hundred bikes with the proceeds going to charity but demand has been increasing and the project has outgrown John's home.
Now with the help of volunteers, Lottery funding and a local church, space has been found in the basement of Westcliffe Hall on Harlow Terrace near Cold Bath Road, a Lottery bid was assembled and Resurrection Bikes has been formed.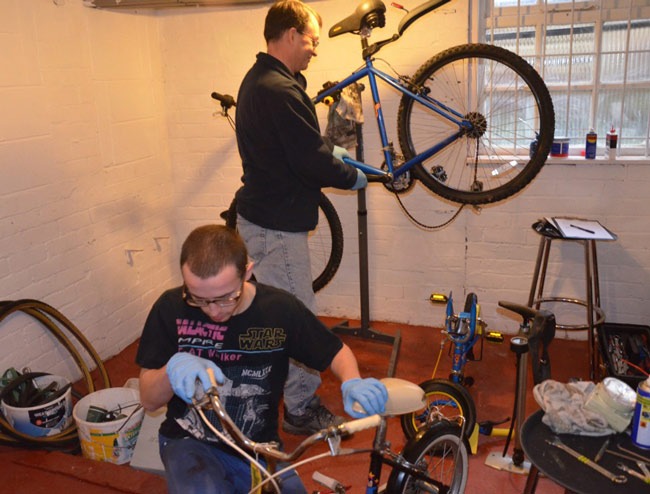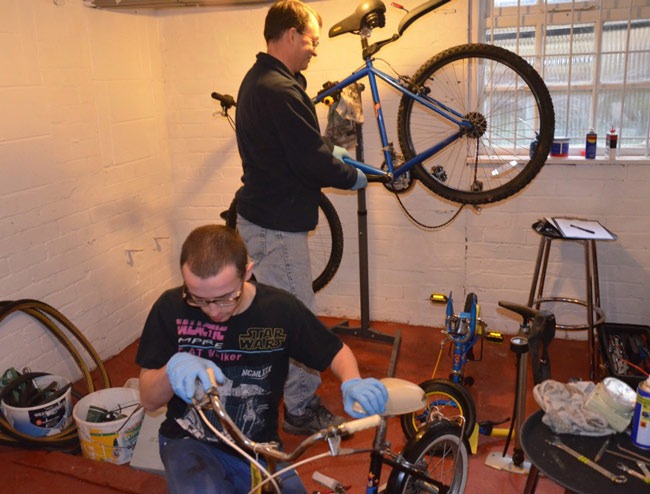 Volunteers (such as Diocesan Rural officer Andy Ryland, and many others) have spent the last few months transforming the basement which has been donated by the Kairos Church – and the project has become part of the Kairos community.
John said: St Mark's Explorer Scouts and various friends got involved to help get the basement cleaned up, plastered, painted and kitted out as a workshop.

Initially the workshop will be operating a couple of afternoons a week with monthly sales events but the hope is that this will expand as more volunteers join the team.
Now Resurrection Bikes is appealing for donations of unwanted bikes and spare parts and John says they are open to volunteers from the local community to join the team.
John said: We will take anything from toddler bikes to adult size – no bike is beyond resurrection!
John's wife, Heather also has been putting her creative talents to work creating jewellery and clocks out of scrap bike parts and old inner tubes – virtually nothing goes to waste!
Resurrection Bikes is online and with Christmas coming and excellent bikes being sold at very modest prices they are hoping for lots of buyers. They will be holding their first sale event on Saturday 6th December at Westcliffe Hall and will also be at St Mark's Christmas Fair on 27th November. Further events will follow.
For details of the bikes, sale events and the charities being supported visit the Resurrection Bikes website www.resurrectionbikes.org.uk
You can contact the team about bike donations, offers of help or sales requests via the website or via info@resurrectionbikes.org.uk