While most people are still gearing up for the Tour de France Grand Depart in Yorkshire next month, one Harrogate artist has already grabbed herself a slice of the action.
Anita Bowerman, who has long been inspired by the Yorkshire countryside she grew up in, has painstakingly recreated the Stage 1 route from Leeds-Harrogate as a paper cut, chiselled from one piece of paper. The image measures 72cm x 62cm and took Anita five months to create.
Her intricate work has to be seen to believed. To the uninitiated, her map looks like a gigantic doily and features all the highlights along the breathtaking 191km (118.6mile) course. It is, of course, much more inspiring than a cut-out pattern and deserves a place on a very grand wall somewhere as spectacular as the scenery it depicts.
Look closely and you'll find tiny rabbits, sheep, cows, horses and chickens, birds and even a sheepdog. Splendid highlights include Yorkshire businesses Theakston's Brewery, Wensleydsle Creamery and the Forbidden Corner. Among the great and the grand of North Yorkshire's castles are Middleham, Bolton and Ripley; abbeys – Bolton, Fountains and Jerveaux and landmarks – Brimham Rocks, Almscliffe Crag, The Cow and Calf Rocks and Buttertubs Pass. There's also the stately homes of Harewood House and Newby Hall.
It took Anita two weeks to do the research for this work of art. She drove the entire route, often taking her family along the way to enjoy the best Yorkshire has to offer.
The idea for this map was borne when Anita heard the announcement that Welcome to Yorkshire had successfully won the bid for the county to host the opening two stages of Le Tour on July 5th and 6th.
Anita said: I love Yorkshire and wanted to create something really special to mark the occasion.

I was born in Leeds and had a very happy childhood there.

My brothers and I spent many hours in the countryside having breakfast on a little stove with our father; playing by rivers, flying kites, running through the fields strewn with wild flowers, exploring with Bertie our Beagle.

We visited lots of famous landmarks and places all around the county.

I have nothing but fond memories.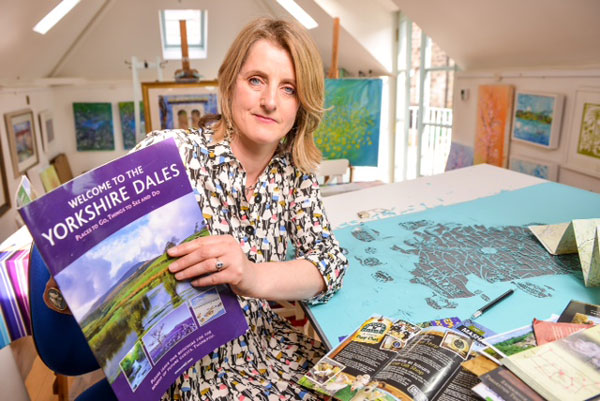 Anita has already created three Yorkshire maps – Harrogate, Ilkley and most recently York. Each measures approximately one-metre long. The Harrogate original was bought by an American collector and the York map is staying in the city – it has been snapped up by a York enthusiast. Anita has created numerous other paper cut designs, mainly based on the Yorkshire countryside.
She has been a professional artist for 20 years. She was originally a retail buyer working for Liberty London and other well known brands.
So what price would she put on her Tour de Yorkshire paper cut? "It's something you can't put a price on. All I can say is that I'm open to sensible offers!" she said. The price would have to reflect the seemingly-endless hours Anita has spent on the project.
In order to get a true representation of the profile of the buildings on the map, she approached owners or managers to ask which view was the most accurate. She then made sketches of the varied countryside, ranging from the endless dry stone walls and barns in Coverdale to the sweeping landscape of Nidderdale and Wharfedale.
Back at her studio in Harrogate, she chose a large piece of turquoise paper for the map – a colour that most people love and one which works well with yellow – the official Tour de France colour.
Then began the process of laying the map onto paper.
Anita said: I love tiny details and telling a story so began to sketch the map with relish on the reverse of my large piece of paper. For instance at Middleham Castle, I included Richard III. This was his childhood home.

At Bolton Abbey there are deer, people crossing The Strid and the Embsay Light Railway.

At Bolton Castle near Leyburn, one of the most well preserved castles in England, there are birds of prey signified by owls in the trees and wild boar in the grounds which have recently been reintroduced, an archer and Queen Mary of Scots who fled here from Scotland. Harewood House includes the red kites, penguins and parrots from their bird garden and the statue in the formal gardens at the back.

I then added tiny cyclists around the route starting at Leeds Town Hall. Included on the map are the four winners' jerseys on the riders which I hand painted. The yellow jersey can be seen at the finishing line opposite Hotel du Vin, West Park Stray, Harrogate, being greeted by flag-waving crowds.
To begin with, everything in the map is drawn in reverse. So all buildings and writing are backwards way round. It's not until the cut out is finished that the paper is turned – with baited breath!
The cutting out process is entirely by hand using a tiny sharp blade. It took more than 200 hours to cut out this map.
Anita added: A building can take me all day to create.

Every window, each detail are only millimetres high. I went through more than 100 blades and wore my pencil down to a stub. I can only usually work for three hours a day since my eyes get tired, but latterly to finish the map on time, I've been cutting out for eight hours. I don't currently wear glasses!

This map was finally finished on May 19th. Anita hardly dare turn it over.

It is like lace and so delicate. It is at this point that any mistakes would appear. Luckily, none did.

People ask me what happens if I make a mistake. The answer is I don't, especially as I have spent so many hours on something. With this, I daren't drink a cup of tea or put a vase nearby!
Anita's deadline was 20 May 2014. It had to be ready for a grand unveiling by the Mayor of Harrogate in front of 100 people as part of a preview for Art Harrogate. The art fair, at Harrogate International Centre, showcases local artists and will be scrutinised by the world's media in town from June 28th-July 5th for Le Grand Depart.
The original is now framed and on display at Anita's gallery and working studio, The Dove Tree Art Studio, Back Granville Road, in central Harrogate, Yorkshire, just behind the theatre.
In this converted stunning 19th century coach house you can see her paper cuts and brightly coloured paintings. Anita also teaches watercolour and mixed media courses here also.
You  see the map on display at Weetons, West Park, Harrogate and at the Grammar School, Leeds. With interest growing daily as news catches on, the prints will be popping up at other locations both locally and nationally – and worldwide!