A programme of road closures to facilitate the Grand Départ of the Tour de France this summer has been drawn up by North Yorkshire County Council, in co-operation with the emergency services and other partner agencies.
Precise timings for the closures cannot yet be given, as they will be dictated by variable factors such as race timings, the numbers of spectators and their arrival times. But today the county council is able to give an overview of which roads will be affected, and some indicative guidance.
 Councillor John Weighell, the Leader of the County Council said: It is important to remember just how massive this event is going to be, we are told that possibly one million people will be converging on North Yorkshire from all over the world to watch this incredible, free sporting event.

It's estimated that in North Yorkshire and West Yorkshire, for Stage One of the Grand Départ from Leeds to Harrogate on Saturday July 5th, up to 900,000 spectators will be wanting to watch the action. That's enough people to fill Wembley Stadium ten times over – and it's been estimated that 650,000 of those spectators will be here in North Yorkshire.

On Sunday July 6th, for Stage Two between York, Knaresborough, Starbeck, Harrogate and Sheffield, the estimate is that there will be more than a million spectators – although the bulk of them are expected to be in West and South Yorkshire.

This is a huge logistical challenge. It will not be confined to the two days of the weekend. We anticipate that the build-up – and some disruption on the roads – will occur throughout the preceding week.
Read the Road closure Questions and Answers.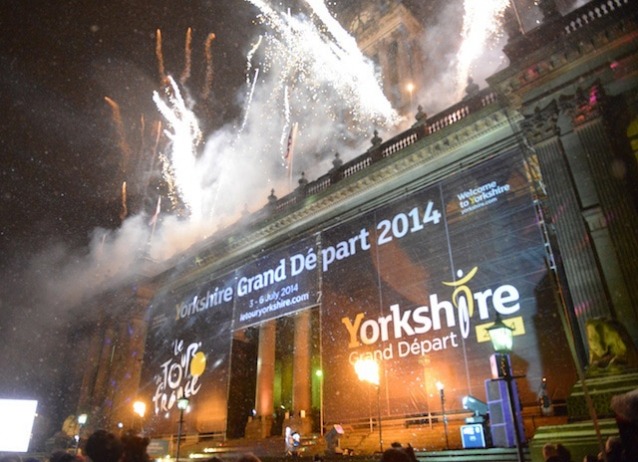 As well as dealing with the spectators along the route, the county will also have to accommodate them … in hotels and bed-and-breakfasts, in self-catering accommodation, in caravan parks, and on campsites.
Councillor Weighell added: There is no question but that the Grand Départ will bring enormous benefits to North Yorkshire. As well as the visitors physically coming to Yorkshire for the event, there will be a global television audience of many, many millions who will see the spectacular landscape of North Yorkshire. The value to our crucial tourism industry, and the wider economy of the county, will be measured in millions of pounds – not just this year during the event, but in years to come. Across the Yorkshire region as a whole, it is estimated that the economic value of hosting the Grand Départ will be £100 million. In return for this, the people of North Yorkshire will experience some transport disruption, and I am confident that they, like me, will consider it a small price to pay for such a massive return.
North Yorkshire County Council is working closely with the emergency services to ensure that emergency access is maintained to communities along the route of the race.
Stage 1 (Saturday 5 July 2014)
The roads listed below will be closed for a minimum period of eight hours to allow preparation of the race route, the handover to the Tour de France organisers, access for the publicity caravan (which comprises more than 150 sponsors' vehicles), the race itself, the removal of race infrastructure, and the safe dispersal of spectators. Given the anticipated number of visitors to North Yorkshire, it is likely that the roads will be closed for most of the Saturday. Wherever feasible, access will be maintained on key routes that cross the closed roads for as long as possible before the race.
Craven District
A65 from the county boundary to the A6069 Otley Road junction
A6069 from the A65 to Skipton High Street
A6131 Skipton High Street
B6265 from Skipton High Street to Threshfield
B6160 from Threshfield to Kidstones
Richmondshire District
B6160 from Kidstones to A684 junction near West Burton
A684 from B6160 to Hawes
C32 from Hawes to Thwaite (Buttertubs)
B6270 from Thwaite to Grinton
C106 from Grinton to Leyburn
A6108 from Moor Lane, Leyburn to Wensley Road, Leyburn (West of Leyburn Market Place)
A684 from the roundabout next to the Bolton Arms to A6108 Middleham Road (Leyburn)
A6108 from Leyburn to Jervaulx
Hambleton District
A6108 Binsoe to West Tanfield
Harrogate Borough
A6108 Jervaulx to Binsoe
A6108 West Tanfield to Ripon Bypass
A61 Ripon Bypass to A59/A61 New Park roundabout
A61 Ripon Road Harrogate
A61 Parliament Street Harrogate
Most of Harrogate town centre
Stage 2 (Sunday 6 July 2014)
To facilitate stage 2 of the Tour de France 2014 the roads listed below must be closed for a minimum period of 8 hours on the Sunday.
However, given the anticipated number of visitors to North Yorkshire, it is likely that the roads will be closed for most of the Sunday. Wherever feasible, access will be maintained on key routes that cross the closed roads for as long as possible before the race.
Harrogate Borough
A59 Moor Monkton to A658 / A59 roundabout (Harrogate Bypass)
A59 A658 roundabout to A59/ A661 roundabout (Empress Roundabout)
A59 Empress Roundabout to Blubberhouses Moor
Craven District
A59 Blubberhouses Moor to Bolton Abbey roundabout
B6160 Bolton Abbey to county boundary
Road closures and various forms of temporary traffic management will also be deployed on other roads in North Yorkshire leading to the race route to facilitate the safe movement of motorists, pedestrians and cyclists to the various spectator points along the race route. The county council is working with partner agencies and landowners across North Yorkshire who are identifying temporary car parks, campsites and event/ spectator hubs. Further information on these road closures, one way systems and prohibitions on vehicular movement will be released in the spring.