Eastern Airways' new service from Leeds Bradford International Airport to Southampton, aimed primarily at business travellers, launches on Monday 20 January 2014.
The UK's second largest regional airline will offer three flights each weekday in each direction, as well as a Sunday service to ensure business communities in Yorkshire and on the south coast of England have a high frequency air service enabling them to do business.
A convenient early morning departure from Leeds Bradford at 6.50am allows for a full day in Southampton and south coast region before returning back to Yorkshire just after 5pm or 7.40pm on the same day.
The schedule services depart Leeds Bradford on weekdays at 6.50am, 10.20am and 5.10pm, arriving in Southampton at 7.50am, 11.20am and 6.10pm respectively. Flights leave Southampton at 8.20am, 4.05pm and 6.40pm, landing in Leeds Bradford at 9.20am, 5.05pm and 7.40pm.
Sunday services leave Leeds Bradford at 4.15pm arriving in Southampton at 5.15pm, then return at 5.45pm landing into Leeds Bradford at 6.45pm.
Yorkshire and the north of England have strong business links with Hampshire and the south coast of England, particularly in finance, insurance, IT, petrochemical, pharmaceutical, construction and manufacturing industry sectors.
Southampton is also steeped in maritime history with a world class port for cruise liners.
Kay Ryan, Eastern Airways' commercial director, said: We're offering a frequent business schedule with an all inclusive on board service, both of which are equally important to business travellers. Our services are quicker and more convenient than road or rail alternatives and provide good value for money with a comprehensive range of fares.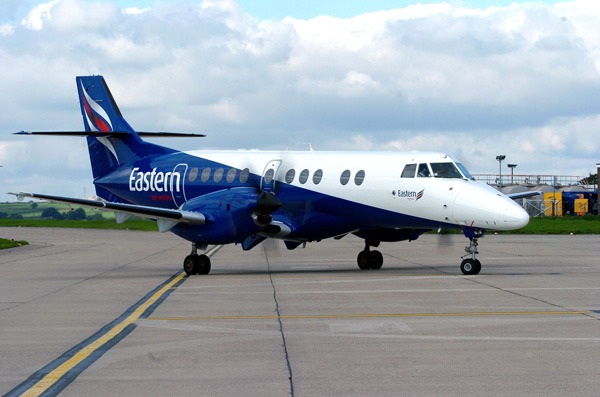 Tony Hallwood, Leeds Bradford Airport's aviation development & marketing director, said: I am delighted that Eastern Airways are expanding their services at Leeds Bradford Airport by introducing Southampton, an important route for the airport. Regional businesses across Yorkshire will welcome the frequent, well timed weekday schedule which allows a full business day in both cities.
Eastern Airways has been providing scheduled flights from Leeds Bradford since 2003, and also provides a choice of daily weekday services from the airport to Aberdeen.
A dedicated fast track security channel is offered at Leeds Bradford and Southampton airports for all Eastern Airways passengers to avoid any queues at security search, enabling the airline to close check-in just 30 minutes before the departure time. Complimentary drinks and snacks are offered on board the aircraft and passengers are not charged for check-in, baggage or choice of seat.
A network of services across to 20 airports in the UK, Norway and France is operated by the airline on a fleet of 30 regional aircraft.