A Harrogate teenager's home delivery drama has helped inspire supermarket stores and shoppers throughout Yorkshire to raise more than £50,000 for the region's air ambulance.
Asda driver Scott Harris, 19, was delivering to a house in the remote village of Middlesmoor when the accident happened.
Scott said:

I parked at the top of the drive and started walking down to the house when I heard gravel noise behind me and turned to see the van rolling down the hill towards me.

I ended up trapping my left arm and right hand between the van and a Range Rover on the drive. I was shouting for help but no-one could hear me.

The family had been away on holiday and fortunately came back from the airport about ten minutes later. They managed to free me and take me inside and called the ambulance.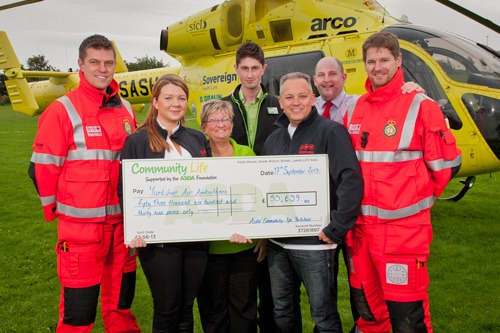 Scott, from Harrogate, fractured his left elbow and badly damaged ligaments in his right hand and was flown by Yorkshire Air Ambulance (YAA) to the specialist treatment centre at James Cook Hospital, Middlesborugh.
Scott, who is still recovering from his injuries, added:

It just makes you realise how important the air ambulance is. The paramedics were great and I'm just really grateful for what they did.
Scott's rescue gave an extra spur to a Summer fund raising spree by Asda staff and shoppers for Yorkshire's helicopter heroes.
During the three months between June and August, the supermarket's 17 stores across Yorkshire – including Asda Harrogate – raised a staggering £53,634 for the life saving charity.
Money was collected through a wide range of activities and events including sponsored bag packing, tins on the tills, in-store Yorkshire Day celebrations, sponsored walks, raffles and the sale of YAA merchandise.
Angela Smith, Community Life champion at Asda Harrogate, said:

We have wonderful staff who have responded fantastically to this fund raising campaign.

Yorkshire Air Ambulance is such a fantastic, life-saving charity and a service that is close to our hearts particularly after what happened to Scott.

So Asda stores in Yorkshire are delighted to be providing them with a substantial donation.
Yorkshire Air Ambulance (YAA) is an independent rapid response charity, which has carried more than 5,000 people in its 13-year history, needs to raise £9,900 each day to keep its two helicopters in the air and maintained. That's equivalent to £3.6 million a year.
Kerry Garner, YAA regional fundraiser, said:

We have had a fantastic few months working with Asda colleagues and customers across Yorkshire.

To raise over £53,000 in such a short space of time is brilliant and we cannot thank them enough. Given we are an independent charity, we rely on organisations such as Asda and their customers to help us raise the vital funds we need.