Harrogate businessman, Steve Rowbottom, and his business partner of 26 years, Marc Westerman, Directors of Westrow, have  secured a place in the final of Creative HEAD's 2013 Most Wanted awards.
Shortlisted in the Business Thinker category, Marc and Steve, who have seven salons across Yorkshire, including one on Station Parade in Harrogate, will now head to London for the Most Wanted Grand Final, taking place at the Natural History Museum on Monday 2 September 2013.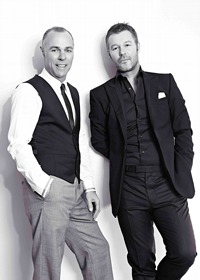 Judged by a  panel of experts including model-turned-businesswoman Jemma Kidd and Michelle Feeney, CEO of PZ Cussons Beauty (owners of a host of beauty brands including St. Tropez), Business Thinker finalists have led a flourishing salon business, devised a cast-iron strategy combining both marketing and public relations, impeccable customer service and staff development alongside efficiency and innovation to achieve unrivalled business accomplishment.
Catherine Handcock, publisher of Creative HEAD, says:

Difficult trading conditions on the British high street have meant people have really dug deep this year, and this has been reflected in an incredible standard of entry. The list of finalists is really impressive, and everyone who has made it this far should feel incredibly proud of themselves.
Steve Rowbottom and Marc Westerman, directors of Westrow said:

Finalising in Business Thinker for the second year running is a great feeling. We want to continue to position ourselves as leaders in our craft, not just locally but in the hairdressing industry at large and we look forward to the awards in September.