People around North Yorkshire are to be asked to give their views on a proposal to reduce the county's bus subsidies in the face of big cutbacks in public spending.
North Yorkshire County Council is committed to saving £92m in the four years ending on 31 March, 2015. It has warned that, following recent announcements by the Government over future funding, it will need to find a further estimated £66m between 2015 and 2019, so further difficult decisions will have to be taken.
Last month, members of the council approved public consultations on a range of proposals designed to meet the new savings target.
They include a proposal to consider reducing the amount spent on bus subsidies by 25 per cent, or £1.1m a year.
The council spends some £4.4m a year subsidising the 20% of bus journeys which are not commercially viable. In assessing the options for a reduction, a strategy would be adopted of ensuring that as many communities as possible retain a basic bus service to their nearest market town,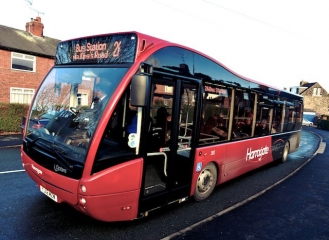 and that an "inter-urban" network with a minimum set frequency is maintained.
In order to understand the detail of how this will affect people, the council has launched an open consultation exercise. The consultation documents explain why a reduction is necessary, the council's overall strategy to achieve the reduction, and the impact of implementing the strategy on the bus services for which the council currently pays.
County Councillor Chris Metcalfe, Executive Member for Passenger Transport said:

We know that bus services are a lifeline for many people – not everyone has access to a car.

However, we have huge financial pressures and we have to reduce our expenditure across the board. We have produced some detailed information which identifies the potential impact of this proposal, and hope that people will make constructive comments as part of the consultation process. We will take careful account of all the comments we receive before making a final decision as to what action we will take.
The consultation runs until 25 November. Details are available online at www.northyorks.gov.uk/busconsultation or by calling the customer service centre on 0845 8 72 73 74, or by visiting any of the county council's libraries.