Pupils at Harrogate Ladies' College have recently created their own Homework App which will be launched throughout the school over the coming weeks ready for the next academic year.
Working closely with McKenna Consultants, the project ran seamlessly and supports the philosophy of the HLC Business School of looking for new and fun 'enterprise' activities for pupils with an eye to the future, the App development were an attractive idea.
Mrs Judith Grazier, Director of the HLC Business School, approached McKenna Consultants who were keen to be involved in running an 'HLC App' Competition. Aaron McKenna, McKenna Consultants, led a number of App development workshops for the girls and supported them throughout their design process.
The winning design, 'Digiplan', a homework planner, was selected because of its simplicity and universal appeal. The girls' design was subsequently developed by McKenna Consultants and accepted by Apple. The enterprising journey from classroom to global App store has been a fascinating experience for all those involved.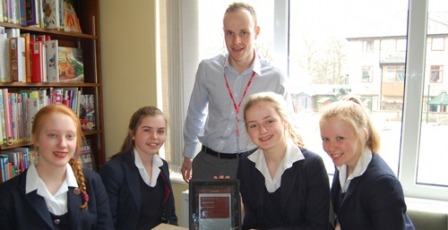 Aaron McKenna, Commercial Director, said:

At McKenna Consultants we have been building mobile apps across all platforms for a number of years now. We also actively get involved in the community in local projects for businesses and charities so when Judith got in touch with her idea for the app competition we jumped at the chance.

Mobile Apps are quickly becoming an integral part of our lives with more and more people reaching for their phone for information rather than jumping on their laptop or even opening a book!

We saw this as an ideal opportunity to engage with the pupils and teach them about the thought process that goes into designing, developing and marketing a successful app.

We delivered workshops with the pupils to help them with their thoughts and ideas but ultimately the concept and design came from the five girls at Harrogate Ladies' College.
Elizabeth Gill, pupil at Harrogate Ladies' College said:

It's fantastic; I can't believe we did this, with help of course. It is so easy to use and there's no excuse now for not handing in homework on time!
You can download the App from the Apple App Store now here https://itunes.apple.com/gb/app/digiplan/id585231324?mt=8