Organisers of Nidderdale's Great Milk Stout bike ride, which is one of the dale's largest annual charity events, are hoping for record support this year with the addition of a music festival to the event, in aid of Macmillan Cancer Support.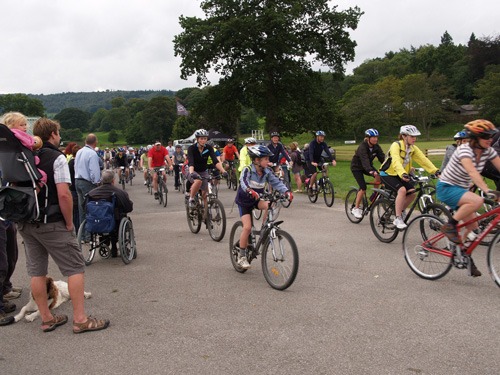 Since it began in 1993, the Great Milk Stout Ride has raised almost £500,000 for Macmillan, attracting hundreds of cyclists and fundraisers from across the North of England to take part. This year's ride will start as usual from the showground in Pateley Bridge on Sunday 8 September, but will finish at Harefield Hall Hotel in the town, where a diverse line up of bands will play throughout the afternoon and on into the evening. Eight-piece ska, reggae and funk outfit, New Groove Formation, are due to top the bill.
Jackie Kerr, the event's chair, said:

We can't quite match the scale of the Tour de France's Yorkshire grand depart, but this year's ride is going to be something unique. We've teamed up with Harefield Hall, who have a great track record in holding musical events. After the exertions of completing a 20 – or ten – mile bike ride, and raising lots of money for Macmillan in the process, cyclists and supporters will be able to enjoy themselves with some great live music.
Harefield Hall Hotel will also be providing food and a real ale bar. Entry to the music festival will be by ticket and all profits will go to Macmillan Cancer Support.
Elaine Little, owner of Harefield Hall Hotel, said:

We're really pleased to be able to show our support for Macmillan in this way. So many families have been affected by cancer and Macmillan provides essential support to people who need it. There will be some outstanding music on offer at the Great Milk Stout Festival, not least from New Groove Formation who always give a fantastic performance. We're still finalising the line up but many of the bands are performing for free to maximise the funds raised for Macmillan from the event.
The Great Milk Stout Ride caters for all abilities with the 20-mile 'Full Monty' route and an alternative ten-mile 'Half Litre' route.
There will be no X-treme route this year. To sign up for the 2013 Great Milk Stout Ride and pledge your support for Macmillan, individuals and teams of riders should go to the website at www.gmsr.co.uk