Harrogate Hotel du Vin has celebrated the arrival of its new head chef and bistro manager with the launch of its new summer al fresco menu.
Head chef Struan Macintyre and bistro manager Tom Jones joined hotel manager Grant Lowe and 65 invited guests at the hotel on a balmy evening last week (Wednesday 17 July). Guests enjoyed sample canapés from the restyled menu in ample Yorkshire-sized portions, as well as pimms and champagne .
With a degree in business and marketing, Struan was originally PA to the financial director of House of Frazer Group, before finding his true calling and re-training as a chef in 2005. Struan joins Hotel du Vin Harrogate from Malmaison in Edinburgh, having previously worked across the Malmaison Group alongside the group chef director where he advised on menu development and training,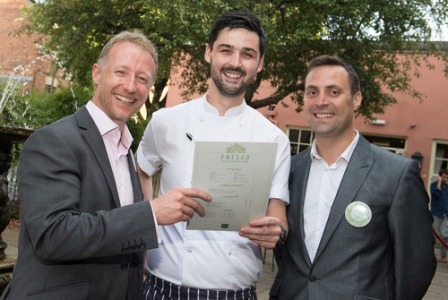 Struan said:

I am delighted to join the team at Harrogate Hotel du Vin. We have restyled the menu to take it back to our bistro roots. We are passionate about accessible good food not fine dining and we encourage local people to come in and give us a try.
Also new to the team is bistro manager Tom Jones. Tom has extensive experience managing front of house activities within the hospitality sector and joins the hotel from the Mirabelle Restaurant in Harrogate.
Hotel du Vin Harrogate general manager Grant Lowe said:

We're thrilled to welcome Struan and Tom to the team and invite the people to Harrogate to come along and experience our delicious summer menu for themselves.