Harrogate Harriers Juniors win the latest U13's and U15's UK Youth Development League Match.
A large team of nearly 50 Harrogate U15, and U13 juniors competed at Cudworth on Saturday 1 June2013 in the 2nd YDL match against Hallamshire Harriers, Chesterfield , Rotherham, Barnsley and Middlesbrough.
In the U15 boys George Mills won the A 800M in a time or 2.06.2 seconds, with Jack Brennan winning the B race with a PB of 2.21.7 whilst Louis Maurice won the a 1500M with Ed Burgess winning the B race. Matthew Martin won the high jump with a new PB of 1.61M and came 2nd in the 80M hurdles
In the U13 boys Seb Christie won the 800M and came 2nd in the high jump whilst Ben Brennan won the B race. Jacques Maurice and Elliot Brewin came 2nd in the A and B 1500M. Josh Wicks was 2nd in the long jump and 4th in the 100M and 200M whilst Sam Jones won the B 200M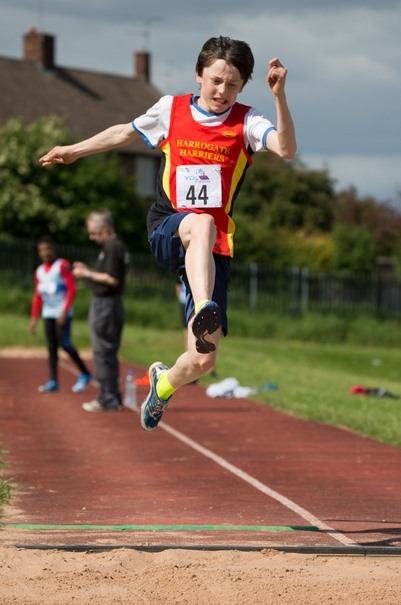 In the u15 Girls Samantha Baker Jones had 2 pb's winning the 800M in 2.25, and coming second in the Javelin with 22.81M. Sydney King won the 75MH with a pb of 12.1 and came 2nd in the High Jump. Mia Hirst won the B 75M Hurdles with a pb of 13.5. Not to be outdone, all rounder Maya Mellor won the discus with a pb of 19.23M, came 2nd in the Shot and the Hammer, ably backed up by Alice Dunmore and Abi Davies
In the U13 girls Mya Mills, Iona White, Alice Mann, Olivia Dolman, Tess Buckley, Maddy White, Maddy Hinchcliffe and Ashley Farrar all competed strongly for Club gaining valuable points.
Team spirit was evident throughout the day resulting in the team winning a close fought match by 9 points from Chesterfield, leaving them in 2nd place overall in the league and in promotion contention.