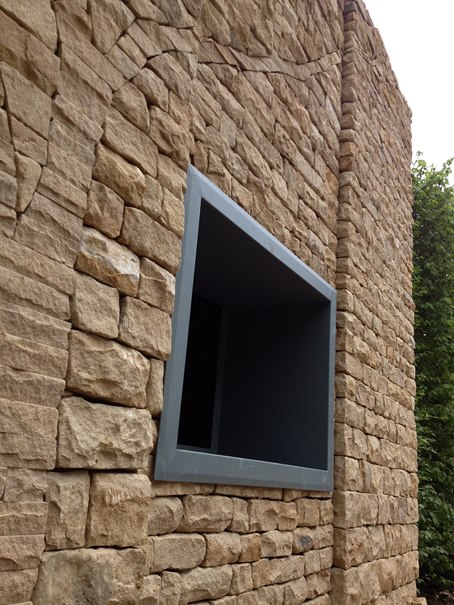 Harrogate based dry stone waller Neil Beasley had the pleasure of working on the Arthritis Research UK garden designed by the extremely talented Chris Beardshaw for this years Chelsea Flower Show. The garden has received a Gold Award.
Neil was one of three Yorkshire based dry stone wallers involved in building the dry stone wall feature within the garden.
Neil said:

It was a great experience to be involved with the Chelsea Flower Show and helping to transform Chris Beardshaw's designs into reality was a real privilege.

It was a labour of love in the end, as we shaped 9 tonnes of stone, each one sculpted by hand, into Chris's vision for the end of the garden forming part of the contemporary glass retreat. To be part of the Centenary Show at Chelsea and to be part of a garden that has won gold was amazing.
The garden was project managed by Yorkshire based Keith Chapman Landscapes.
Neil Beasley is a professional member of the Dry Stone Walling Association of Great Britain and is a DSWA Advanced Certificate holder and Qualified Instructor. Based in Harrogate, North Yorkshire, he has been involved in the construction and conservation of dry stone walls for many years.
He builds dry stone constructions that range from the simple repair of a field or boundary wall to creating contemporary landscapes.
The Arthritis Research UK Garden reflects the personal journey and emotions of someone with arthritis, from a lack of understanding and confusion following diagnosis to a point where they are informed about the disease and are able to manage their pain.
This journey is represented across three key areas. The shaded, woodland Veiled Garden features a contemporary retreat and sculpture and a stepping stone pathway that leads to the Lucid Garden. This open, formal area features a reflective pool with a focal sculpture and offers a sense of clarity. In the slightly sunken Radiant Garden, exuberant, vibrant planting provides warmth, openness and confidence as the person with arthritis learns to manage their condition and keep active, doing the things they love.