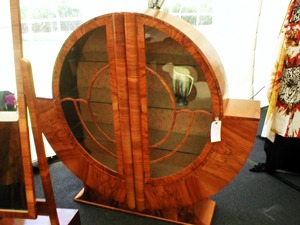 The 8th biannual Yorkshire Antiques and Art fair, organised by the Bowman family from Shipley arrives at the Yorkshire Event Centre, Great Yorkshire Showground, Harrogate this weekend 25th & 26th May.
Coinciding with the release of the lush new film production of the classic F Scott Fitzgerald novel, The Great Gatsby. There are a number of dealers at the fair specialising in classic items from the Deco period including pictures; accessories; ceramics; metalware; furniture; glass; clocks; watches; mirrors and lighting – ideal to get the look for the house. As well as period handbags; jewellery; luggage and textiles for the wardrobe. Deco wardrobes will also be available.
The fair is much more than just a Deco delight with over 300 stands of antiques and art spanning four centuries – all things unavailable in mainstream shops. Unique and beautiful objects often priced lower than you would imagine.
The Yorkshire Antiques and Art fair is the largest premier event in the North of England and brings together good quality dealers across all disciplines for two days twice a year in May and November.
This is the first opportunity to see all these dealers in the rare and the beautiful gathered together in two exhibition halls this year and, as it is only available on this weekend, it would be a minor tragedy to miss it. Entrance price is £5 per person with children under 16 free of charge. Opening times are 10am-5pm on Saturday and Sunday.