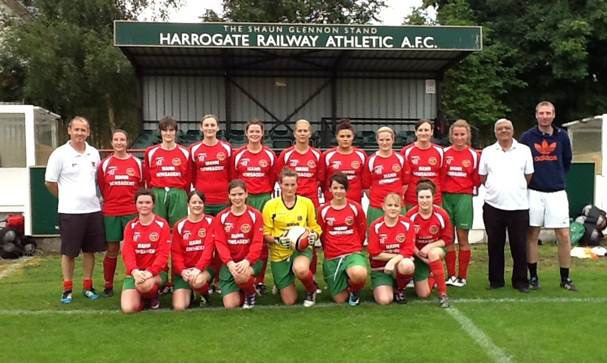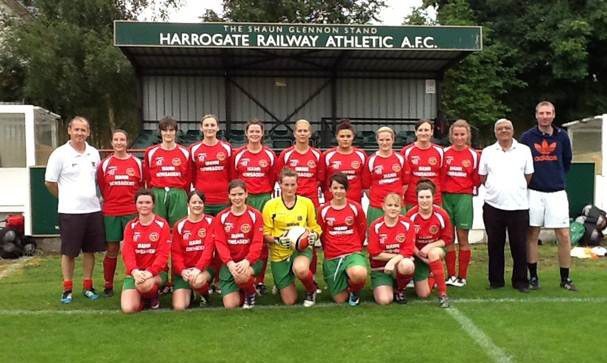 Harrogate Railway Ladies travelled to Brighouse today in the league knowing that a point would pretty much wrap up the WRCFA Premier Division Championship.
Within the first 5 minutes Railway knew the scale of their task as Brighouse put all 11 players behind the ball. This was going to have to be a game of patience. Railway consistently worked the ball creating numerous chances that unfortunately could not be converted. After a sloppy 10 minutes mid half, Ellie Macleod's voice could be heard everywhere with her organisational skills & on 35 minutes slick Railway play involving Sandra Clarke & Ellie MacLeod found its way to Rachel Dorkings who put a pin point pass through to Hannah Campbell to break the deadlock, 1-0 Railway. On 44 minutes Captain Ali Purvis delivered a killer corner for Lauren Taylor to flick on that Centre Back Kat Purvis volleyed straight into the top corner, amazing finish & Railway 2-0! 60 seconds later Lauren Taylor delivered a neat pass to Hannah's feet for her to spin & strike the ball in the top corner, Railway 3-0 half time.
At the start of the second half the gaps were starting to appear in the Brighouse midfield & defence due to the work rate of the Railway team. On 65 minutes Jodi Hodgson played a slide rule pass for Hannah to collect & round the goal keeper for 4-0. Railway were still hungry though for more & on 75 minutes Emma Landsall turned the Brighouse defence with a great ball for Hannah to collect & again find the corner of the net, Railway 5-0.
Finally player of the match Hannah Campbell closed down a poor goal kick from the Brighouse keeper on 85 minutes to emphatically smash the ball into the top of the net!! Railway 6-0! Another fantastic all round display from the girls which has crowned them champions & proved that they are without doubt the best team within the league & still have a game to go.
Railway are at home next Sunday 12pm KO against Brayton Belles which will surely be a celebration party atmosphere! Congratulations girls & well deserved!!