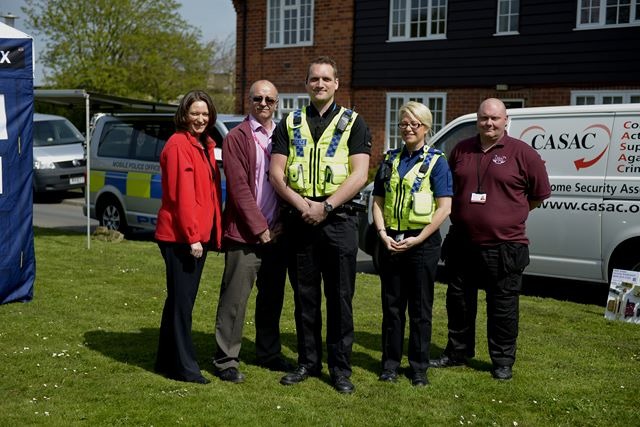 Harrogate police have been carrying out high visibility patrols in the rural areas to the north of the town.
The project, termed Operation Eclipse, was the idea of PC Chris Hind. Chris identified an area north of Harrogate where there had been a spate of home burglaries during the first few months of 2013. Residents had also expressed concerns about cold callers.
Chris setup the 3-week operation and engaged local Police Officers, Trading Standards, the Community Safety Partnership, CASAC (Community Action Support Against Crime) and Traffic Police.
The operation had two main elements:
Offer reassurance to the local community through carrying out high visibility foot and vehicle patrols and speaking to local residents. As well as carrying out security assessments of  homes and handing out information leaflets about crime prevention and rogue traders.
Roads policing officers and the ANPR team to deny criminals the use of the roads in the area and dealing pro-actively with offences. Officers also checked every cold caller and scrap metal dealer they encountered.
During the operation, officers carried out many hours of extra foot and car patrols, and delivered crime prevention packs. The prevention packs included details of CASAC, allowing many home-owners to contact then and arrange a home security survey.
CASAC is a non-profit making organisation that undertakes home security a survey and then install new locks, alarm systems or lighting. They are particularly urging people with old euro locks to get them checked as they have a vulnerability allowing them to be snapped. Newer euro locks are much harder to break and will be required with new insurance legislation coming in shortly.
Many vehicles were stopped at designated entry points to a region, resulting in a number of arrests for driving whilst over the drink drive limit, the arrest of a disqualified driver and another on suspicion of theft. Vehicles were also seized and fixed penalty notices were issued for a range of offences.
Operation Eclipse Totals
Patrol hours – 167.00
Letter packs – 2862
People engaged – 253
Arrests – 6
Vehicle stops – 61
Fixed Penalty Notice – 30
Vehicle seized – 7
PC Chris Hind, of Harrogate's Priority Crime Team, said:

I would encourage all residents to use the free security review of their homes offered by CASAC. Their teams will advise on how your property's security can be improved. You can then either use them to carry out the improvements or carry out the work privately.

In the meantime, people can take some simple steps to help prevent themselves from becoming victims of crime.

Don't use trades-people who cold call at your property. Rather use someone who has been recommended or advertises in a legitimate publication.
Basic crime prevention advice
Remember to lock all your doors and windows when you are in the garden
Hide all your valuables – including car keys – away from prying eyes
Remove all tools, ladders and other implements from your garden as these can be used to break into your property
Review your boundary security, make sure your gates and fences are in good condition and that outbuildings, sheds and gates have sturdy locks
Be nosey – report any suspicious people or vehicles in your neighbourhood. Many crimes are thwarted and people arrested after members of the public report unusual or suspicious activity to the police
Review your locks, upgrade your Euro-cylinder locks to one that is specifically designed to prevent lock snapping, known as Break Secure
Add up the value of all your belongings, then work out how much you spend on keeping them secure
For more detailed crime prevention advice, including a security self assessment, visit the North Yorkshire Police website www.northyorkshire.police.uk/homesecurity
You can also download our free iBook for lots more advice or our free mobile app at nyp.mobi.
CASAC is a non profit organisation which offers free, no obligation home security checks.
www.casac.org.uk