Two  début novelists muscls up against giants of the genre as the long-list is announced for the 2013 Theakstons Old Peculier Crime Novel of the Year Award, one of the most prestigious crime writing prizes in the country.
The Theakstons Old Peculier Crime Writing Festival is Europe's largest event dedicated to the celebration of crime fiction. Taking place annually over four days each July (this year: 18-21 July), the Festival programmes over 80 best-selling UK and international crime authors and over 20 events. It is organised and promoted by the north of England's leading arts festival organisation, Harrogate International Festivals. Ranked in the top three literary festivals in the UK by The Guardian, it is also featured in the Independent '50 Best Festivals'.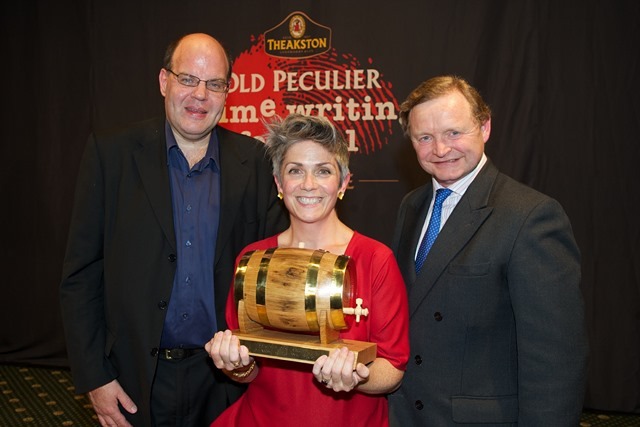 Lee Child who won the Award in 2011 returns to the longlist with The Affair, dubbed 'his best book yet'. Sizing up to the phenomenal Jack Reacher is the master of the race-against-time thrillers, Simon Kernick, with Siege.
Other giants of the genre on the long-list are Stuart MacBride with Birthdays for the Dead, and two-time award-winner Mark Billingham for his stand-alone novel, Rush of Blood, said to be his most ambitious and accomplished work to date.
Irish authors Gene Kerrigan's The Rage and Stuart Neville with his nightmare noir Stolen Souls also feature alongside last year's winner Scottish author Denise Mina who seeks to defend her title with her Glasgow thriller Gods and Beasts.
The list is dominated by powerhouse authors, but there are a few dark horses. Lisa Ballantyne and David Mark are the two début authors on the longlist. Ballantyne's  first novel, The Guilty One, has caused an international stir and was a runaway success at the Frankfurt Book Fair.
SJ Parris's historical thriller, Sacrilege, featuring Giordano Bruno, the radical philosopher and secret agent reveals the breadth of the genre alongside Stav Sherez's A Dark Redemption, an unflinching, intelligent detective novel exploring the underworld of illegal Ugandan immigrants.
Now in its ninth year, the Theakstons Old Peculier Crime Novel of the Year Award, in partnership with WHSmith, was created to celebrate the very best in crime writing and is open to British and Irish authors whose novels were published in paperback from 1 May 2012 to 30 April 2013.
The long list, comprising 18 titles, is selected by an academy of crime writing authors, agents, editors, reviewers, members of the Crime Writing Festival Programming Committee and representatives from T&R Theakston Ltd and WHSmith.
The longlist in full:
The Guilty One Lisa Ballantyne (Piatkus)
Finders Keepers Belinda Bauer (Transworld)
Rush Of Blood Mark Billingham (Little Brown)
Dead Scared S J Bolton (Corgi, Transworld)
The Affair Lee Child (Transworld)
A Foreign Country Charles Cumming (Harpercollins)
Safe House Chris Ewan (Faber and Faber)
Not Dead Yet Peter James (Macmillan)
Siege Simon Kernick (Bantam Press)
Prague Fatale Philip Kerr (Quercus)
The Rage Gene Kerrigan (Vintage)
The Dark Winter David Mark (Quercus)
The Lewis Man Peter May (Quercus)
Gods And Beasts Denise Mina (Orion)
Stolen Souls Stuart Neville (Vintage)
Sacrilege S. J. Parris (Harper)
Birthdays for the Dead Stuart MacBride (Harper)
A Dark Redemption Stav Sherez (Faber and Faber)
Long-listed titles will feature in a four-week campaign until 6 June across 600 WHSmith stores and 80 library services, representing a total of 1645 library branches. The longlist will be whittled down to a shortlist of six titles which will be announced on 4 July.
The overall winner will be decided by a panel of experts which this year comprises of Executive Director of T&R Theakston Ltd. Simon Theakston, Festival Chair Val McDermid and Head of Fiction at WHSmith, Dave Swillman, as well as members of the public. A fourth judge is to be confirmed. The public vote opens on 4 July and closes 16 July at www.theakstons.co.uk
Previous winners of the Theakstons Old Peculier Crime Novel of the Year award include Denise Mina, Lee Child, RJ Ellory, Val McDermid, Allan Guthrie, Stef Penney and Mark Billingham (twice).
The winner of the prize will be announced by title sponsor Simon Theakston at an award ceremony hosted by radio broadcaster and Festival regular Mark Lawson on 18 July on the opening night of the 11th annual Theakstons Old Peculier Crime Writing Festival in Harrogate. The winner will receive a £3,000 cash prize, as well as a handmade, engraved beer barrel provided by Theakstons Old Peculier.
Previous Winners
2005 – Lazy Bones by Mark Billingham
2006 – The Torment of Others by Val McDermid
2007 – Two Way Split by Allan Guthrie
2008 – The Tenderness of Wolves by Stef Penney
2009 – Death Message by Mark Billingham
2010 – A Simple Act of Violence by RJ Ellory
2011 – 61 Hours by Lee Child
2012 – The End of the Wasp Season by Denise Mina