Following on from the resounding success in Glasgow in May 2012 – attended by over 1200 pupils – the Society for Radiological Protection (SRP) will be running another Schools Event at the Harrogate International Centre, Harrogate on Tuesday 21st May.
This free event, which is aimed at year 10 students (although all ages between 11-17 are welcome), consists of an exhibition and exclusive lecture by Professor David Spiegelhalter OBE, who recently presented the BBC Programme 'Tails You Win: The Science of Chance' (October 2012)
The event aims to enthuse and inform secondary school pupils and inspire them to continue their studies of science subjects and to consider careers in radiation protection.
This interactive exhibition of entertaining hands-on display stands and exciting practical demonstrations will enhance the subject of physics for students, with representatives from top universities, The Institute of Physics, Public Health England (formerly Health Protection Agency), AWE, Nuvia, and many more.
Last year's event included a Cluedo-style simulation showing how radiation can be used in forensics, the chance to try on protective clothing, and competitions and prizes.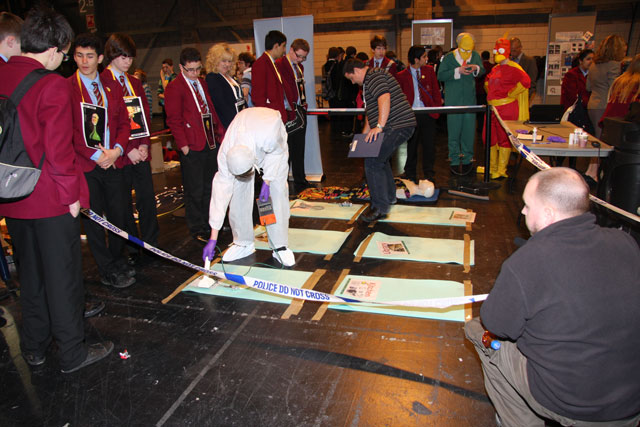 The exhibition consists of a morning and afternoon slot. Schools can choose to attend the morning exhibition from 9.45 – 11.15, followed by the lecture at 11.30-12.00. Alternatively they can attend the 11.30 lecture, followed by the afternoon exhibition from 12.45 – 14.15.
This event is not only curriculum enhancing, but enlivens the subject of physics for many students, as well as current international news affairs on radiation and nuclear weapons.
This schools event takes place during the 50th Anniversary Annual Conference of the Society for Radiological Protection – a professional learned society for all those who wish to promote the science and art of radiation protection and allied fields for the public benefit.
For more information or to book a place at this event for students, please contact Unity Stuart at SRP unity.stuart@srp-uk.org Tel: 01803 866 743
Comments from teachers who attended last year's Glasgow event:
Spot-on for active learning' – Gavin Gall, Carluke High School

So much was directly related to the S3 curriculum and they enjoyed the hands on nature of the exhibits. It was the best school trip I have taken pupils on and really livened up a topic that can seem a little dry for pupils' – David Miller, Science, Coltness High School