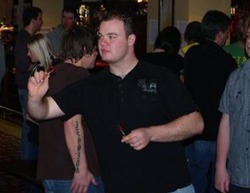 Darts in the Harrogate & District league is reaching the business end of the Winter League with only 3 fixtures remaining for teams in the closest finish in the Second division for years.
All teams below Railway Athletic who appear to have the 1st automatic promotion spot sewn up are in with a chance of 1st Division action next year.
As it stands "Top 6" Harrogate Darts League (Division 2)
Played Points
Railway Athletic 14 89
George & Dragon 14 75
Starbeck WMC 14 75
Manhattan Skyline 14 72
Stonebeck 14 72
Skipton C 14 71
At the time of writing unconfirmed results were being posted on the Harrogate Darts League facebook page. Manhattan Skyline with a home game against the team directly above them Starbeck WMC appear to have been successful in leapfrogging the Starbeck Village boys, in a turnaround from the reverse fixture the Manhattan players fought well as it was game for game in the singles. Darren Robson had a quickfire 21 dart leg in his 2 – 0 victory, and with the Skyline team winning the remaining pairs games the winning margin completed a great result for the ambitious Manhattan 6 – 3.
Commenting after the Game Skyline captain said:

We just scored solidly and kept it together and took the chances when we had them.
In one of the other big games this week the George & Dragon slayed the Skipton 'C' 7 – 2 strengthening their claim to the second automatic promotion place. Commenting on facebook, Matthew Thomas Lambert wrote "7-2 final score disastrous night not many good games at all!, Our season has finished so doesn't matter!"