The best pound for pound fighters in the fish world are being added by Yorkshire Water to its fisheries in the Washburn Valley from tomorrow (Friday 22 March 2013) as part of the company's annual fishery restocking programme.
A mixture of rainbow and blue trout will be added to the company's already burgeoning fishery at Swinsty and Fewston near Harrogate.
Blue trout in particular have a reputation for putting up a real fight when caught to such an extent that they've even snapped rods in the past, so anglers can look forward to a 'reel' challenge in the future.
In total 10,000lb of trout will be added to the two sites over the coming months.
And anglers can look forward to different challenges on Swinsty reservoir this year, with new methods of fishing for trout being introduced. For the first time anglers can fish Swinsty using worm, but no other bait will be allowed. The use of spinning has also been extended from being allowed in winter only, to being allowed all season.
Colin Winterburn, warden for Yorkshire Water's Washburn Valley site, said:

Our fisheries have never looked better and with the promise of plenty more trout to be added to our water over the next eight months, anglers and fishing enthusiasts alike can look forward with baited breath to a great season ahead.
So far the largest recorded trout catch came in 2006 when a 14lb rainbow specimen was landed – though with rumours aplenty that monster trout are to be found at all three sites, this record looks unlikely to stand the test of time.
[sam id="4″ codes="true"]
From Monday 25 March the Washburn Valley Game Fisheries will be open seven days a week between 7.30am and one hour before sunset.
And bird enthusiasts also have something to look forward to this Spring, with the expected return of a number of migratory bird species to the Washburn Valley in March.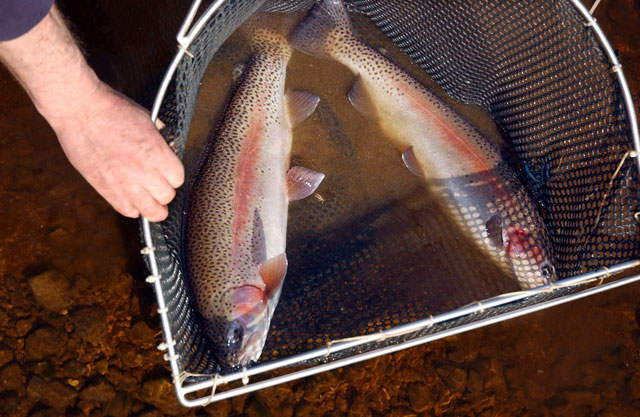 Fish eating Ospreys may be seen taking advantage of the valley's plentiful supply of food, whilst willow warbler's and chiff chaff's should be visible in the woodlands that surround the reservoirs as they set up their summer homes.
Colin added:

Despite the confusion in this year's weather, the Washburn Valley is already buzzing with animal activity, with lots of species flitting around as they begin their preparations for the start of the breeding season in April.
For more information on Yorkshire Water's Washburn Valley fisheries, details of on-site tuition, equipment sales and hire and competitions, contact the Swinsty fishing office on 01943 880658 or visit www.yorkshirewater.com/recreation