Harrogate XV Rugby Team – This was another match, played in dreadful conditions, which Harrogate won by skill, organization and a tremendous collective team spirit. There were naturally some stand out, individual performances but each player contributed hugely. This includes the 3 substitutes who all made significant 2nd half contributions.
Harrogate's post match fining ceremonies feature a "brown ale moment" for the player who has made the most glaring mistake. There was no brown ale moment this week which says it all.
Harrogate dominated possession throughout the game. They had the edge over the much vaunted Bees pack in the scrums, made several big turnovers in the loose and had almost complete control of the lines-out. Tom Harvey, Chris Wilson and the absolutely outstanding Jake Brady stole several Bees' balls and the pressure mounted. Bees defended valiantly throughout the match but the pressure had to tell.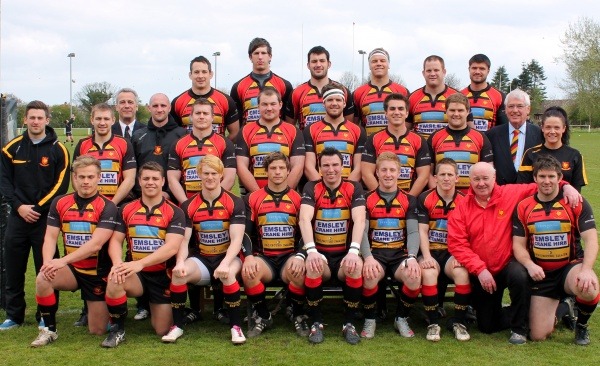 Tim Heaton scored the first try after half an hour. He crashed over after Harrogate had mounted a 15 metres driving maul from an attacking line-out. Oli Denton then glided over the mud to set up a counter attack from deep and another controlled Harrogate drive ended in a try for Nathan Smith, converted by Callum Irvine. Denton then sprinted clear from a powerful Kyle Dench break but a knock on ended the move on the stroke of half time.
The same pattern continued after the interval. Harvey and Jake Brady linked to drive through the Bees defence and replacement full back, Mike Aspinall made an incisive run from defence. The ball was quickly recycled and Irvine scythed through the defence for a fine converted try. The roles were reversed for Harrogate's next try when Irvine made the break and created space for Aspinall to score.
[sam id="4″ codes="true"]
The gutsy Bees pack then had their best period of the game and mounted a series of driving mauls on the Harrogate line. No8, Dan Cookson tucked in behind his pack for a consolation try. The home pressure continued with scrum half, Phil Wickham linking effectively between forwards and backs. Strong running from Irvine and Sam Bottomley continued to test the visiting defence. Apart from their scrummaging duties, props, Dan Metcalfe and Jimmy Browne drove strongly at the Bees defence in the loose. It was a strong break from Metcalfe which set up Aspinall's 2nd try on the right to make the final score 29-5.
Harrogate
Denton, Minikin, Dench, Bottomley, Audsley-Beck, Irvine, Wickham, Metcalfe, Maycock, Browne, Harvey, Wilson, J Brady, Smith, Heaton, Aspinall, Yorke, S Brady
Bradford & Bingley
Scull, J Malthouse, Tafa, I'Sealy, Wellington, Bills, Kanauros, Paglau, Cochrane, Wederell,
A Malthouse, B Mitchell, Ford, M Mitchell, Cookson, Raper, Fisher, Morton
Referee
Mick Harris (Northern Division)