Harrogate High School put on an upbeat and lively show, The H Factor', wonderfully received by a packed audience of students, staff and family supporters.
Eighteen students across three age groups in addition to the 'bands' section took to the stage to battle it out in front of the judges – Head of Maths, Mr Richards (Gary Barlow}, Head of History, Miss Potts (Tulisa Contostavlos), Head of English, Mrs Moss-Blundell (Cheryl Cole) and Principal, Mr Bayston (Simon Cowell). The role of Dermott O'Leary, presenter of the ITV show, was taken by student David McCabe, who did a sterling job holding the show together and eliciting the judges' humorous comments.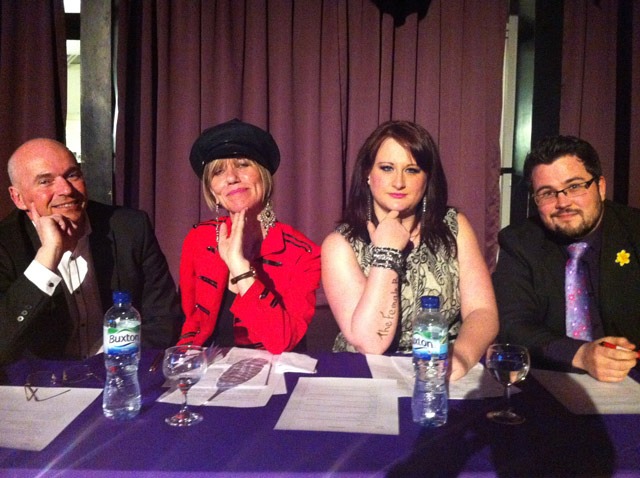 'H Factor' winner was Abbie Parcell who performed the Rihanna hit 'Stay', judged by the students, parents and staff who filled out voting slips to vote for their favourite! The hall was full of screams and cheers throughout the evening. A special mention also must go to the brave staff performers. PE staff member Mr Flax strummed the guitar to Maroon 5's 'Sunday Morning' while the performing arts department produced an entertaining and comical version of Wilson Pickett's 'In the Midnight Hour'. English teacher Miss Renou started a rendition of the popular Celine Dion classic 'My Heart Will Go On' before jokingly storming off with apparent stage fright but returning in a tracksuit after a prolonged break to mirror the rapper 'Tinie Tempah' performing his hit 'Pass Out', earning herself judge Adam Richards' description as 'an urban smurf'!
Head of Music, Amber Southern, who organised the event said:

Can we just say well done to everyone on this stage, they were all fantastic and incredibly talented people.
[sam id="4″ codes="true"]
Principal, Andrew Bayston said:

the talent on show covered a wide range of musical genres and provided excellent entertainment throughout a packed evening. It's great to see individuals take on difficult musical items and to perform so well!