Wednesday 3rd April will be a hugely significant evening for culture fans in Harrogate as it marks the Grand Finale of the 40th Anniversary of Harrogate International Youth Festival (HIYF) in joint celebration with the launch of the Royal Hall's new Heritage Lounge.
The finale concert of the Festival draws a huge crowd as fans come together to see the varied and massed performances of young local and international talent. The 2013 event will play host to some extra special guests as friends of the Royal Hall Restoration Trust will be coming to witness the unveiling of the new Heritage Lounge and then enjoy the concert.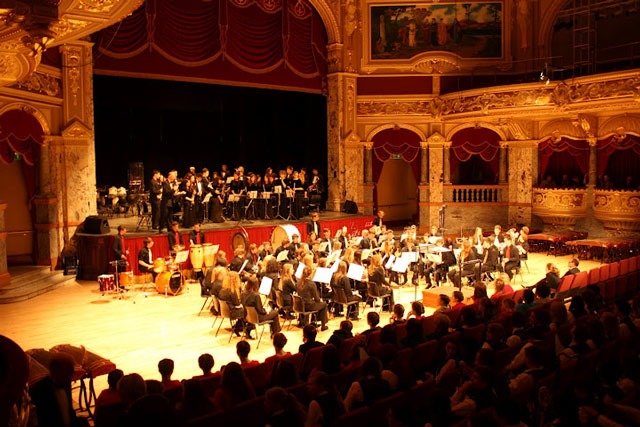 The Heritage Lounge is the latest in the long-term restoration and re-utilisation of the stunning venue and will see the Royal Hall act as a state-of-the-art visitor and heritage centre which can be used by schools, visitors, groups and local societies. There will be a range of resources on offer which detail the building's history and restoration, as well as a first class audio-visual system which explores the building. Users of the facility will be able to get a feel for the role the Royal Hall played in putting Harrogate on the map and for the eminent performers that have graced the stage and more.
Organisers of HIYF are delighted that the anniversary finale is welcoming such a momentous milestone for the venue which always plays such a starring role in the Festival's programme.
Russell Davidson, Chairman of the Royal Hall Restoration Trust, said: "Not only is this a 40th birthday for the Festival, but also the 110th anniversary of the opening of the Royal Hall in 1903 and the 5th anniversary of the reopening of the building following its restoration. I am delighted we can launch the new Heritage Lounge facility on such an auspicious occasion."
Lena Stenger, Event Manager for HIYF said:

The Festival Finale is always a spectacular evening, so to mark the anniversary with such an exciting event for the Royal Hall and its friends is a wonderful addition. We hope it will open out the event to even more music fans and those who have invested such passion into the restoration of this incredible venue.