TV's most iconic Blue Peter Ship sculpture is to be auctioned for Red Nose Day.
The Blue Peter symbol, a ship's Galleon, was designed by much-loved TV artist Tony Hart in the 1950's, who received just £100 for his work, since then the ship was lovingly recreated for the Blue Peter garden by Harrogate sculpture artist Steve Blaylock in 1999, which is now pride of place at Media City in Manchester.
Now Steve has released a limited addition Blue Peter Ship, not the original, but a faithful addition, made out of Sheffield steel and sanctioned by the BBC.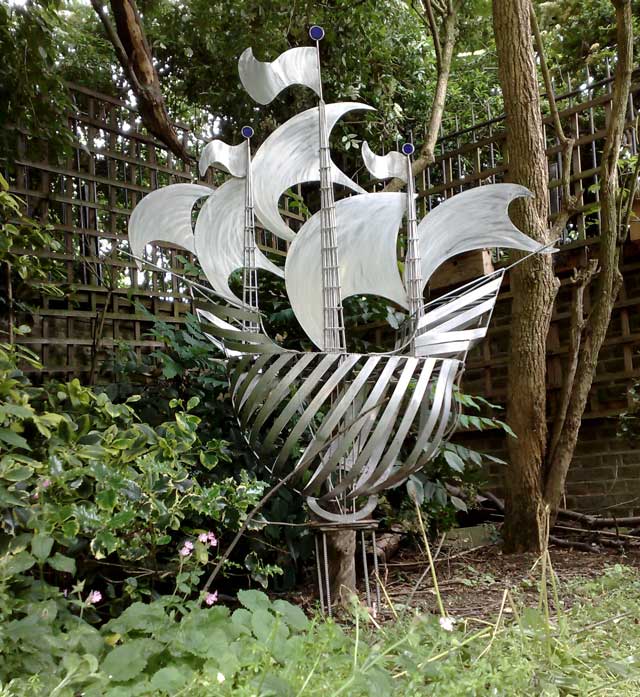 Steve is also offering other sculptures inspired by nature alongside the Blue Peter Ship to be auctioned on ebay. Steve will donate 50% of proceeds to Red Nose Day, which takes place on 15th March 2013. Harrogate metal sculptor, Steve, takes inspiration for his imaginative work from nature, creating stunning metal versions of animals and plant life.
Steve said:

I will be sad to see my Blue Peter ship go, but happy in the knowledge that it will raise money for such a worthy cause. I am hoping that it will be bought by an art gallery or sculpture park for the enjoyment of children and young people.
Steve's sculptures have been featured at the Yorkshire Sculpture Park and Grizedale Forest. His work can be seen throughout the UK at RHS gardens, Hillier Gardens near Eastleigh and the Chelsea Flower Show. His most famous customers include David Attenborough and Alan Titchmarsh.
To make a bid for the Blue Peter ship and other sculptures go to www.ebay.co.uk/itm/261173677457 or simply search for the Blue Peter Ship on ebay.co.uk.