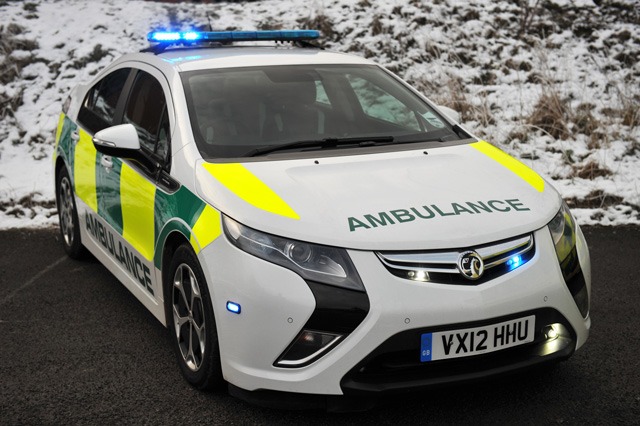 As part of its commitment to reducing carbon emissions, Yorkshire Ambulance Service NHS Trust will be trialling a low emission hybrid (extended-range) electric vehicle over the next few months as part of its emergency fleet in the York area.
The Vauxhall Ampera car will operate as a rapid response vehicle responding to emergencies in the city to see how hybrid electric vehicles might be incorporated into the Trust's 900+ vehicle fleet (emergency and Patient Transport Service) in the future. Its electric transmission is backed up by a petrol engine which boosts the car's mileage range and makes it a safe option for use by emergency services.
Yorkshire Ambulance Service is the first ambulance service in the country to run a long-term trial of an active low emission vehicle as part of its fleet and will be working closely with York City Council which is keen to promote low emission vehicles and improve the local air quality. Yorkshire Ambulance Service is committed to reducing its carbon footprint by 30% by 2015 and is also looking at ways to reduce spending on fuel.
Richard Smith, Fleet Manager for Yorkshire Ambulance Service NHS Trust, said:

We are very excited to be the first to run a trial with an electric-hybrid frontline ambulance vehicle that will respond to incidents as well as help to reduce our emissions. As it has both electric and petrol power we are reassured that it is a viable alternative. Also, by reducing our emissions, we will be contributing to the improvement of York's air quality.
City of York Council has agreed to support the trial by making plug-in electric recharging points available across the city. As part of its low emissions strategy, the Council is working to reduce air emissions across York and over the next 12 months will be introducing some electric vehicles into its own fleet, rolling out electric vehicle recharging points in council car parks and launching the Eco-stars fleet recognition programme
Councillor Dave Merrett, Cabinet Member for Transport, Planning and Sustainability, said:

I very much welcome Yorkshire Ambulance Service's move to introducing lower emission vehicles into their fleet. This is a first for the UK and one which I hope other emergency services take note of.
Dick Ellam, Vauxhall Special Vehicles Manager, said:

We are delighted that Yorkshire Ambulance Service is trialling the multi award-winning Ampera. It is the first electric vehicle suitable for use by the emergency services and its sophisticated propulsion system offers all the benefits of electric driving, without any of the range anxiety associated with pure electric vehicles.
Yorkshire Ambulance Service is the first ambulance service in the UK to participate in the Carbon Trust Carbon Management Programme and is actively working to reduce spending on fuel and reduce the carbon footprint of the Trust by 30% by 2015.